For Stamkos, three times an accident?
An accidental 'like' on Twitter Wednesday sent Leaf Nation into a frenzy and Steven Stamkos into damage control. But as TSN Senior Hockey Reporter Frank Seravalli writes, it's the third time in total that Stamkos has made a digital reference to the Maple Leafs.
Frank Seravalli, TSN Senior Hockey Reporter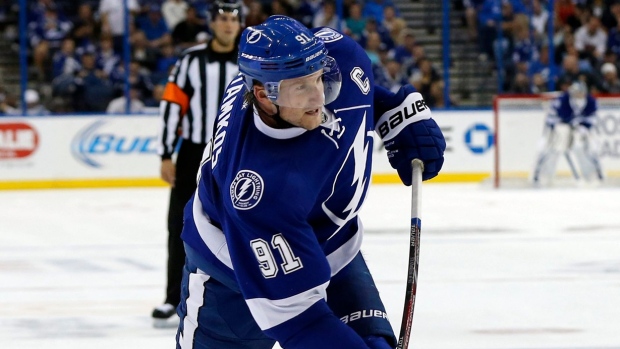 Steven Stamkos said it was an "accident," but he's "accidentally" made the same mistake at least three times now.
Stamkos sent Leaf Nation into a frenzy and was forced to enter damage control mode Wednesday after he 'liked' a tweet from TSN Hockey's long-running Quiz, which asked if his hometown Toronto Maple Leafs should make a run at the pending unrestricted free agent.
Stamkos told Joe Smith of the Tampa Bay Times that it was "accidental," and he has since unliked the tweet from his verified account.
Except that, well, Wednesday marked at least the third time Stamkos has "liked" a tweet with the subject of him returning to Toronto.
In July 2014, Stamkos favourited a tweet from The Hockey News which wondered about the idea of Stamkos coming home in the prime of his career, much in the same way LeBron James did in Cleveland.
That same week, Stamkos favourited another tweet from a fan which asked him and fellow Toronto native John Tavares to join him on the Leafs, according to The Hockey News. Stamkos' pocket must have an uncanny ability to hone in on tweets about him and the Maple Leafs.
"You talk about having a pocket dial," Stamkos told the Times in Sept. 2014. "That was a pocket favourite of a tweet."
Cue the circus music for Tampa Bay's visit to Toronto on Tuesday.
Wednesday's "accident" also coincidentally came after a bizarre post-game press conference following Saturday's win in San Jose, where Stamkos and coach Jon Cooper demonstrated they are on different pages. The two have a differing opinion as to whether Stamkos belongs at his natural centre position or on the right wing.
He played the first 24 games of the season at centre before switching to wing on Nov. 28, the same week Cooper received his contract extension from the Lightning. Stamkos was back at centre in practice on Wednesday, an interesting development given that centre Tyler Johnson is back in the lineup.
After calling a new contract for Stamkos his "No. 1 priority" in the offseason, GM Steve Yzerman and Stamkos' agent, Don Meehan of Newport Sports, have commented very little on the progress of negotiations. That leaves many to wonder whether Stamkos is more likely to test the waters of free agency as each day passes. Even if Stamkos does want to remain in Tampa Bay, some view Wednesday's subtle move on Twitter as a way to squeeze the Lightning, or to get the two sides back to the table.
Or, some suspected he was playing a big joke on the hockey media.
Stamkos, 25, is in the final year of a five-year, $37.5 million contract and could hit the market July 1 with a payday comparable to the eight-year, $84 million contract extensions signed by Chicago Blackhawks stars Patrick Kane and Jonathan Toews two summers ago.
In 28 games with the Lightning this season, Stamkos has 11 goals and 20 points. The two-time Rocket Richard Trophy winner is scoring at his lowest rate (0.39 goals per game) since his rookie season (0.29) in 2008-09.
"You press the favourite button by accident and an hour later Twitter blew up," Stamkos told the Times in 2014. "But you live and learn and I'll be more careful on the favourite button the next time around."
Frank Seravalli can be reached at frank.seravalli@bellmedia.ca