Stampeders beat Lions to clinch first in West Division
Presented by: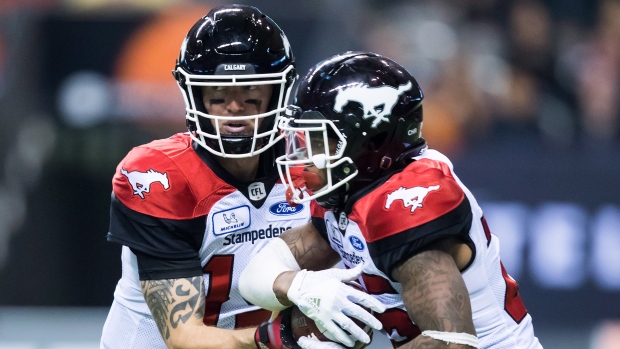 VANCOUVER — The Calgary Stampeders have cemented their spot atop the CFL's West Division, but the club's head coach feels like his squad doesn't have what it takes to win heading into the playoffs.
"We need to be a better team. I don't think anyone's scared of us right now. I really don't," Dave Dickenson said Saturday after the Stamps beat the B.C. Lions 26-9.
But the coach isn't nervous heading into playoffs because the team now has the time it needs to get both healthy and prepared.
Saturday's victory means Calgary (13-5) has clinched the division title, punching its ticket straight through to the Western final in Calgary on Nov. 18.
"I know this team has to get better, I know we still have to keep working because we're still not there, we're still not a championship-calibre yet," Dickenson said. "But we're working and I felt we took steps again (on Saturday)."
The Lions (9-9) already were locked into the crossover spot going into the game and will play in the Eastern semifinal in Hamilton on Nov. 11. The winner goes to Ottawa to meet the Redblacks in the Eastern final.
The Saskatchewan Roughriders (12-6) will host the Winnipeg Blue Bombers (10-8) in the Western semifinal the same day. The winner will travel to Calgary for the Western final.
The Stampeders knew first place and a bye week were on the line on Saturday and played accordingly, Dickenson said.
Calgary controlled the game from the beginning, holding B.C. to a scoreless first half.
The Stamps came out of the locker room ready to play a bit more conservatively, Dickenson said.
"The goal was to win and to come out as injury-free as possible," he said. "And I think we achieved that."
B.C. quarterback Travis Lulay put up 111 passing yards and two interceptions in the first half before he was replaced by Jonathon Jennings, who tallied 140 yards.
Calgary's Bo Levi Mitchell threw for 278 yards and a touchdown.
Mitchell now has 5,124 yards for the season, marking the second time the 28-year-old has surpassed the 5,000 mark in his career.
The veteran quarterback said he had texted his Edmonton counterpart Mike Reilly earlier in the season, suggesting they race to see who could hit 6,000 yards.
"Obviously things happen, it's a long season and we both had our hiccups," Mitchell said. "But I thought it was a great season. I think it was my best ever. So we'll see what happens, but I'm just focused on one thing and that's playoffs."
He's encouraging his teammates to take the same approach, telling them to enjoy their days off but keep in mind what's up next.
"Yeah, get healthy, let your body rest. But keep your mind on football. Keep looking at film. You know who our opponents are going to be. Continue to prepare desperate," he said.
Calgary's Chris Matthews said he's ready to put in more work.
"Just because you had a good game doesn't mean you can't get better. There's still things that we went out and did that we messed up on," said the receiver, who made a seemingly impossible catch on a huge pass from Mitchell on Saturday.
"But a win's a win. I'm not worried about none of that right now,"
The play lead to the Stamps' second touchdown of the night.
Calgary's win was somewhat of a spoiler for Lions head coach Wally Buono, who was working his final home game.
Buono — who has the most coaching wins in CFL history — is set to retire at the end of the season.
He noted that the festivities may have been somewhat of a distraction for his team on Saturday. The fact that the Lions playoff fate was set didn't help either, Buono said.
"Football is a funny game," he said. "If you don't have that adrenaline, those butterflies, that anxiety, it's hard to create the intensity you need to play at this level."
---
NOTES: Lions wide receiver Bryan Burnham had 43 receiving yards on Saturday, bringing his total for the regular season to 1,029. This is the third year in a row that the 28-year-old has passed the 1,000-yard mark. ... Stampeders coach Dave Dickenson said he expects Eric Rogers to be healthy for the western final. The receiver missed this week's game with a knee injury. ... The B.C. Lions also honoured Bill Reichelt on Saturday. The team's long-time training is retiring at the end of the season.