Stamps' Mitchell named Most Outstanding Player
Calgary Stampeders quarterback Bo Levi Mitchell was named the CFL's Most Outstanding Player on Thursday night. Mitchell led the CFL in TD passes and finished second in yards for his 15-2-1 squad.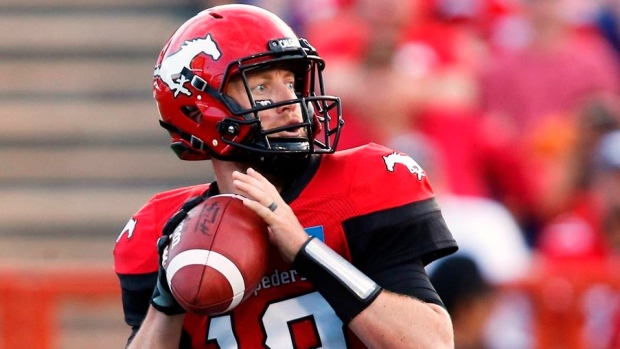 TORONTO — Bo Levi Mitchell and his Calgary Stampeders teammates led a West Division sweep at the CFL awards banquet Thursday night.
Mitchell led the Western march as he was named the league's outstanding player. The other winners included Calgary teammates Jerome Messam (Canadian), Derek Dennis (lineman) and DaVaris Daniels (rookie) along with Dave Dickenson (coach), B.C. Lions linebacker Solomon Elimimian (defensive player) and kicker Justin Medlock of the Winnipeg Blue Bombers (special-teams player).
The East Division finalists included receiver Earnest Jackson (outstanding player), centre Jon Gott (lineman), offensive lineman Jason Lauzon-Sequin (rookie) and Rick Campbell (coach) of the Ottawa Redblacks, slotback Andy Fantuz (Canadian) and kick-returner Brandon Banks (special-teams player) of the Hamilton Tiger-Cats and Montreal Alouettes linebacker Bear Woods (defensive player).
Voting was conducted by the Football Reporters of Canada and nine CFL head coaches.
The West Division dominated the CFL in 2016, with four of its five teams making the post-season. Fourth-place Edmonton (10-8) earned the crossover by accumulating more points than third-place Montreal (7-11) but actually finished with a better record than East-leading Ottawa (8-9-1).
West Divison teams were an emphatic 28-11-1 this season versus their Eastern rivals.
Mitchell, a finalist to Ottawa's Henry Burris for last year's outstanding player award, enjoyed a stellar 2016 campaign. He led Calgary to a 15-1-1 record in his 17 starts — he didn't play in the club's season-ending loss to Montreal — and anchored the CFL's most potent offence.
Mitchell, 26, was second overall in passing with 5,385 yards but threw a CFL-high 32 TD passes. He has amassed a stellar 43-7-1 regular-season record as Calgary's starter and Sunday will look to become the first Calgary starter to win two Grey Cups when the Stamps face Ottawa at BMO Field.
Mitchell guided Calgary to a 20-16 victory over Hamilton in 2014.
Jackson was seventh in CFL receiving yards with 1,225 and recorded 88 catches with 10 touchdowns. Jackson, Greg Ellingson (1,260 yards), Chris Williams (1,246) and Brad Sinopoli (1,036), all cracked the 1,000-yard receiving plateau, the first time in CFL history the same four receivers had over 1,000 yards receiving in consecutive seasons.
The six-foot-three, 254-pound Messam led the CFL in rushing with 1,198 yards. He averaged a solid 5.8 yards per attempt and also ran for 11 TDs in capturing the top Canadian for the second time (2011).
Fantuz, the CFL's top Canadian in 2010 while with Saskatchewan, had a club-record 101 catches this season for 1,059 yards and five TDs before the Chatham, Ont., native suffered a season-ending knee injury.
The six-foot-one, 341-pound Dennis was a versatile performer for Calgary, making 15 starts at left tackle, two at left guard and one at right guard. The second-year player was a big part of an offensive line that allowed a CFL-low 20 sacks and helped pave the way for Messam.
The six-foot-three, 294-pound Gott, an Edmonton native, has been at centre for all of Ottawa's regular-season and playoff games since the franchise began play in 2014.
The six-foot-one, 207-pound Daniels, who played collegiately at Notre Dame, had 51 catches for 885 yards and nine TDs in 11 games with Calgary.
Ottawa selected the six-foot-four, 300-pound Lauzon-Seguin in the first round, seventh overall, in the 2016 CFL draft. The former Laval star, a native of Pointe-Claire, Que., contributed immediately, playing at both guard and tackle as the Redblacks dealt with injuries along their offensive line.
It was a rookie season to remember for Dickenson, whose 15 victories was a CFL single-season record for a first-year head coach.
The 2016 campaign was a comeback for the six-foot, 227-pound Elimimian. The CFL's outstanding player and top defensive player in 2014 suffered a career-threatening Achilles injury last year but came back to post a league-high 129 tackles with eight sacks and an interception.
The six-foot, 245-pound Woods — a finalist as top defensive player to Elimimian in '14 — finished second overall in tackles with 126 with five sacks and two interceptions.
Medlock hit a CFL-record 60 field goals this season, his first with the Blue Bombers. The 33-year-old Californian was also the league's scoring leader (club-record 227 points) and made all 40 converts he attempted.
Winnipeg also improved to 11-7 to make the playoffs this season after posting a 5-13 mark in 2015.
Banks, who served a two-game suspension this season for violating the CFL's drug policy, returned 61 punts for 588 yards (9.6-yard average) with a TD, had 55 kickoff returns for 1,245 yards (22.6-yard average) and took two of his three missed field-goal returns back for touchdowns.
Below is a recap of each winner from TSN.ca's live blog.
Calgary Stampeders QB Bo Levi Mitchell named CFL's Most Outstanding Player.
Mitchell led the CFL in touchdown passes this season with 32 and finished second in yards with 5,385 despite resting in Week 20. His completion percentage for the year sat at 68 per cent, while he threw just eight touchdown passes as the Stampeders won 15 games. He was the unanimous winner, receiving all 73 first-place votes.
The 26-year-old was named the Grey Cup's Most Valuable Player in 2014. This is his fifth CFL season.
Mitchell beat out Ottawa Redblacks WR Ernest Jackson for his first career MOP award.
Calgary Stampeders RB Jerome Messam named CFL's Most Outstanding Canadian.
Messam rushed for a career-high 1,198 yards this season with 11 touchdowns on 206 carries – an average of 5.8 yards per rush. He added 54 receptions for 485 yards – also a career-high - and a touchdown while playing in all 18 games this season.
Messam, 31, also won the award in 2011 while playing with the Edmonton Eskimos.
He beat out Hamilton Tiger-Cats WR Andy Fantuz for the award.
Calgary Stampeders head coach Dave Dickenson named CFL's Coach of the Year.
Dickenson led the Stampeders to a 15-2-1 record in the regular season and a Grey Cup berth.
The 43-year-old is in his first year as a CFL head coach, he spent the previous four seasons as the team's offensive coordinator.
Calgary posted a league-high 586 points this season and allowed a league-low 369 points.
He edged out Ottawa Redblacks head coach Rick Campbell for the award.
BC Lions LB Solomon Elimimian named CFL's Most Outstanding Defensive Player.
Elimimian, 30, racked up a league-high 129 tackles this season along with eight sacks and an interception. He registered at least one tackle in all 18 games during the regular season.
Elimimian also won the award in 2014, while taking home the CFL's Most Outstanding Player Award that same season. He was the league's Most Outstanding Rookie in 2010.
He beat out Montreal Alouettes LB Bear Woods for the award, just as he did when he won in 2014.
Winnipeg Blue Bombers K Justin Medlock named CFL's Most Outstanding Special Teams Player.
Medlock converted a CFL-record 60 field goals this season and made all 40 of his extra point attempts. He finished the regular season with 220 points, a career-high. He missed eight field goals on the season, converting at a rate of 88.2 per cent.
The field goal record was previously held by Dave Ridgeway, who made 59 field goals with the Saskatchewan Roughriders in 1990.
The 33-year-old also punted 112 during the season, posting an average of 42.7 yards per punt.
He beat out Hamilton Tiger-Cats KR Brandon Banks for the award.
Calgary Stampeders LT Derek Dennis named CFL's Most Outstanding Offensive Lineman.
Dennis played in all 18 games for the Stampeders this season.
Dennis played three different positions this season for the Stampeders, who gave up the least sacks (20) in the league.
He beat out Ottawa Redblacks C Jon Gott for the award.
Calgary Stampeders WR DaVaris Daniels named CFL's Most Outstanding Rookie.
Daniels, 23, posted 51 receptions for 885 yards with nine touchdowns in 11 games this season.
He posted four 100-yard games this season, including in the second game of his CFL career against the Hamilton Tiger-Cats. He had three catches or more in each of his 11 games this season.
Daniels posted four catches for 107 yards and touchdown in the Stampeders' Western Final victory over the B.C. Lions.
He beat out Ottawa Redblacks OL Jason Lauzon-Seguin for the award.
Marco Iannuzzi wins the Tom Pate Memorial Award for community service.
"It's special to me and my family because of the sacrifice of time," said Iannuzzi. "Every time I go to an event I'm taken away from my family. To be rewarded is not why I am doing it, but to see the league recognize the sacrifice and time I've put in means a lot to me, my wife and kids."
Toronto Argonauts CB Matt Black honoured with the Jake Gaudaur Veterans Award.
(CFL Release): The Honourable Kent Hehr, Minister of Veterans Affairs and Associate Minister of National Defence, and the Canadian Football League (CFL) Commissioner, Jeffrey L. Orridge, presented the Jake Gaudaur Veterans' Award to Matt Black, Defensive Back for the Toronto Argonauts. The prestigious and coveted award is a highlight of the Shaw CFL Awards every year.
This year's recipient, Matt Black, has exemplified strength, courage, perseverance and comradeship throughout his entire life. As a child, Matt was diagnosed with dyslexia, a learning disability that had a profound impact on his childhood. Matt's experience breaking through misconceptions from a very young age has motivated him to use his platform to open up and inform youth about his struggles with dyslexia and his feelings of being helpless and hopeless at times.
As a professional athlete, Mr. Black has shown that he is a true leader, both on the field and in the community. His ability to bring people together is part of what separates him from others. Matt Black is currently the longest serving member of the Argonauts' renowned Huddle Up Program and he has taken it upon himself to be involved in the team's other numerous community programs.
The Minister of Veterans Affairs and the Canadian Football League are proud to recognize Matt Black as this year's recipient of the Jake Gaudaur Veterans' Award.
Normie Kwong (posthumously) awarded Hugh Campbell Distinguished Leadership Award.
(CFL Release): The life and legacy of Canadian football legend, four-time Grey Cup champion and Alberta icon Norman Kwong were honoured this evening with the Hugh Campbell Distinguished Leadership Award at the Shaw CFL Awards.
"He was a trailblazer. It could not have been easy, back in the 1950s, to be the first Chinese-Canadian to play in the league," said Ottawa REDBLACKS head coach Rick Campbell as he presented the award that bears his father's name to the Kwong family.
"Think of what he must have faced, and then think of what he did, what he accomplished. He met prejudice with persistence. He overcame barriers with optimism. And later in life, when he received many honours, he always met praise with humility and even self-deprecation."
The Hugh Campbell Distinguished Leadership Award is named after the legendary player, coach and executive who amassed ten Grey Cup victories, including five consecutive titles from 1978 to 1982 as coach of the Edmonton Eskimos. It is awarded to an individual, chosen by the Commissioner of the CFL, who has demonstrated great leadership and has made significant contributions to the league.
Kwong was indeed a trailblazer as an athlete and businessman. He became the first Canadian of Asian heritage to play for the CFL when he joined the Calgary Stampeders in 1948; he holds the distinction of being the youngest player to win the Grey Cup at the age of 18 with the Stampeders. He was a dominant running back throughout a career that lasted more than a decade in Calgary and Edmonton.
His tenacity and determination earned him the respect of his competitors, while garnering numerous accolades. Entering Edmonton's season finale in 1955, Kwong trailed the league rushing record by 149 yards; he eclipsed the mark by totaling 192 yards, while establishing new records for rushing attempts in a game, carries in a season and rushing yards in a season with 1,250. He concluded the campaign by adding records of 30 carries and 145 rushing yards in a championship game en route to a Grey Cup victory. His record-setting season earned him the Lionel Conacher Award as Canada's male athlete of the year.
Kwong held over 30 CFL records upon his retirement from football in 1960. The five-time all-Canadian was twice named the CFL's Most Outstanding Canadian and was inducted into the Canadian Football Hall of Fame in 1969.
After the conclusion of his career, Kwong led a successful life as a business leader before becoming the first Chinese-Canadian to serve as Lieutenant Governor of Alberta from 2005 to 2010. Ever an ambassador for sport who championed his home province, Kwong was a member of the ownership group that brought the Flames to Calgary and a successful president and general manager of the Stampeders.
He was a generous member of the community, counting time spent as honourary chairman of Calgary's Easter Seals Campaign and national chairman of the Canadian Consultative Council on Multiculturalism amongst his many roles with non-profit organizations. He was appointed to the Order of Canada in 1988.
He died on September 3, 2016 at the age of 86, survived by his wife Mary, four sons, and 10 grandchildren.
Toronto Argonauts' Jason Colero Honoured With Commissioner's Award.
(CFL Release): An "unsung hero" was recognized tonight for more than three decades of dedicated service to the Toronto Argonauts, the community and causes that serve youth.
Jason Colero, the Argos' Director of Education and Community Programs, was honoured with the Commissioner's Award, presented each year to an individual or group that has made an outstanding contribution to the development of football in Canada.
Colero developed the Level the Playing Field Program which has helped grow and support high school football programs across Toronto.
"Our league has always understood that the causes we champion are just as important as the champions we crown," said Jeffrey L. Orridge, Commissioner of the Canadian Football League.
"And Jason has been a true ambassador for his team and our league. He has been a tireless advocate for youth."
Colero has been with the Argonauts organization for 32 years, starting as a mascot, ball boy and locker attendant before transitioning into the club's community programming in 1999.
During his tenure, he has contributed to initiatives aimed at preventing violence, promoting physical fitness and healthy lifestyles, recognizing community coaches, ending violence against women and many more.
One of his proudest achievements has been the Argonauts' Huddle Up Bullying Prevention Program, presented by Tim Hortons. Currently in its 16th year, the program has visited more than 600,000 students across several school boards in the Greater Toronto Area. The program works closely with the Canadian Safe School Network to make a stand against bullying in schools and the community.
"There are kids in this city who were despairing, who thought they had nowhere to turn and no reason to go on, until Jason and the Argonauts visited their school," Orridge said.
"Some of them will tell you: this work didn't just improve their lives. It may have saved their lives. The winner of this award was picked on himself in school because the was always the smallest. Well, tonight, we all look up to him. Tonight, he is no longer an unsung hero. He is just a hero."