Stampeders re-sign receiver Jorden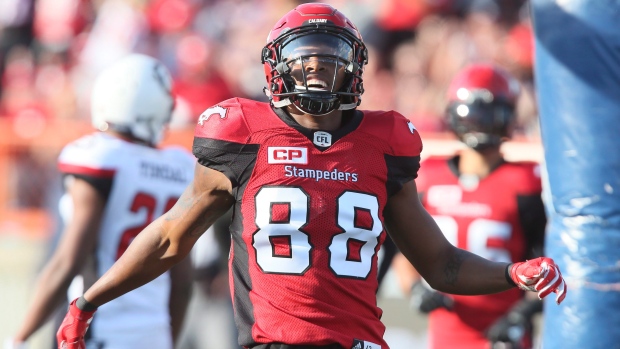 The Calgary Stampeders re-signed receiver Kamar Jorden Friday, two months before the 28-year-old was scheduled to become a free agent.
In 10 regular season games for the Stampeders last season, Jorden finished with 52 receptions for 717 yards and six touchdowns.
Jorden of course had a crucial fumble in the Stamps' Grey Cup loss to the Toronto Argonauts in late November.
"Kamar has emerged as one of our go-to receivers over the past two seasons and we're very pleased to have him back," Stampeders president and general manager John Hufnagel said in a team release. "I look forward to watching him build on his performance and see what he can do over a full season."
Jorden has spent four seasons in the CFL, all with the Stampeders, and has amassed 97 receptions for 1,310 yards and nine touchdowns in 22 games.
"Every year I've been in Calgary, I've grown as a player and I believe I still have room to improve," Jorden said in a team release. "Returning to Calgary and continuing to work with Coach Dicky (Dave Dickenson) is the best opportunity for me to keep growing as a player and to try and win more football games."