Stamps' Mitchell on NFL shot: I have to know
Calgary Stampeders QB Bo Levi Mitchell has made it clear he loves the team and the city of Calgary, but has to consider any NFL opportunities that arise this off-season.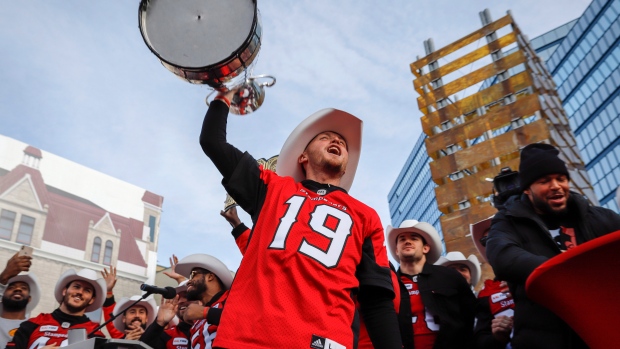 Bo Levi Mitchell has spent his entire seven-year CFL career with the Calgary Stampeders and has made it known he loves both the team and the city of Calgary. But before that, the 28-year-old grew up in Texas, played NCAA football, and said he dreamed of playing in the NFL.
"At this point if I sign a contract right now (with the Stampeders) it'd be long-term," Mitchell said at the team's Grey Cup rally on Tuesday. "To commit to this city and this team for a long time. But before I do that I have to know. I'm an athlete, I'm competitive, I grew up in Houston, Texas, and I gotta know."
Mitchell is fresh off his second Grey Cup win and second Grey Cup MVP. Sunday's championship also capped a season in which he won the league's Most Outstanding Player award, also for the second time. It's strong timing for Mitchell as his contract with the Stampeders is set to expire and he looks for potential NFL opportunities.
"When I signed the contract four years ago, I didn't have this interest, this much buzz going.
"Things are brewing. We'll see what happens. NFL-wise it doesn't matter if I have 20 workouts or five, you don't know what's going to happen, if anybody wants me after they see me. I'll try things out, see what happens."
Mitchell played college ball at SMU for two seasons, where he was recruited by current Hamilton Tiger-Cats head coach June Jones, before transferring to Eastern Washington. There he led the Eagles to an NCAA FCS championship in 2010, and won the Walter Payton Award as the FCS' Most Outstanding Offensive Player in 2011, joining names like Tony Romo and Steve McNair.
According to a report from ESPN, the only NFL team to offer Mitchell a workout in his draft year was the Houston Texans, with Mitchell opting instead to sign in the CFL with the Stampeders, who had him on their negotiation list.
Mitchell didn't become the Stamps' full-time starter until his third season, but had already secured his first Grey Cup MVP when he signed a two-year contract extension with the team ahead of the 2015 season that took him through this winter. Since then Mitchell has won two MOP awards and will likely earn his second CFL All-Star nod for this season. The buzz has steadily been building with NFL teams checking in on QB.
Bo Levi Mitchell's CFL stats
| Year | GP | Comp | Att | Yards | TDs | Ints |
| --- | --- | --- | --- | --- | --- | --- |
| | 10 | 12 | 21 | 168 | 2 | 2 |
| | 10 | 94 | 135 | 1156 | 10 | 3 |
| | 15 | 264 | 417 | 3389 | 22 | 8 |
| | 17 | 364 | 555 | 4551 | 26 | 13 |
| | 17 | 412 | 606 | 5385 | 32 | 8 |
| | 17 | 349 | 546 | 4700 | 23 | 11 |
| | 18 | 356 | 585 | 5124 | 35 | 14 |
"Just now in training camp, there were seven or eight scouts who came in," Mitchell told ESPN two summers ago. "I know there's been some talk in the NFL about me. When my time comes, the NFL has been my dream since I was a kid. I'll take that shot."
Mitchell will attempt to be the latest quarterback to use the CFL as a springboard to the NFL. The last QB to do so, and stick in the NFL for a period of time, was Casey Printers. Printers signed with the Kansas City Chiefs in 2006 after three seasons and a Most Outstanding Player award in 2004 with the BC Lions. He spent time on the Chiefs' 53-man roster but never threw a pass in the NFL.
While everyone knows the CFL to NFL success stories like Warren Moon, Doug Flutie, and Jeff Garcia, more recent QBs to attempt the jump to the NFL haven't experienced the same level of longevity. CFL on TSN commentator Henry Burris spent four seasons in the CFL before appearing in six games with one start for the Chicago Bears in 2002. Current Toronto Argonauts QB Ricky Ray spent a season with the New York Jets in 2004 after two solid years in Edmonton. And Mitchell's current coach Dave Dickenson bounced around four NFL teams in 2001 and 2002 after four seasons with the Stampeders.
"Dickenson believes that Mitchell can play in the NFL but he knows how difficult that journey is as he tried it himself," CFL on TSN's Farhan Lalji said.
"I would never, ever steer anyone away from trying it if that's what they think is best for them," Dickenson said of Mitchell's potential shot in the NFL. "He would have to really have somebody in his corner and if he does, and it seems like the right decision for him and his family, we would wish him the best of luck."
If Mitchell gets a solid NFL opportunity this winter he's expected to take it. But he also made it clear if things don't work out down south, his home in the CFL is Calgary.
"A lot of guys take their chances and whatnot but make their way back here because they know how great this organization is," Mitchell said. "I can tell you no matter what though, if I come back to the CFL, I'm playing in red and white."