Stamps re-sign Rogers, Brescacin, Turner
The Calgary Stampeders re-signed wide receiver Eric Rogers to a two-year contract on Tuesday ahead of free agency opening. The team also announced they have re-signed veteran national defensive lineman Junior Turner.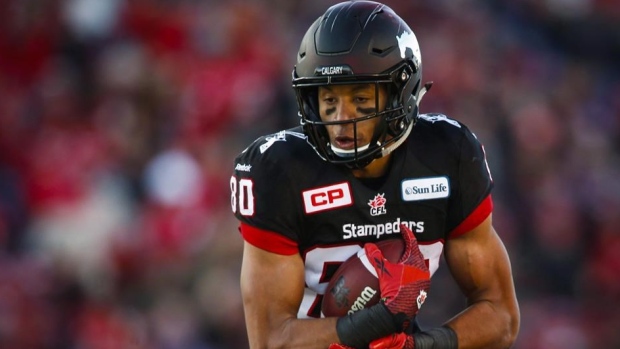 The Calgary Stampeders announced three re-signings in the hours leading up to free agency.
The Stamps announced the team has re-signed wide receivers Eric Rogers and Juwan Brescacin and DL Junior Turner.
Rogers, 28, was limited to nine games last season due to a knee injury and posted 36 receptions for 499 yards and five touchdowns.
He was in his first season back in the CFL after a two-year stint in the NFL.
"When Eric is on the field, he's a game-changing receiver," Stampeders president and general manager John Hufnagel said Tuesday. "He battled through knee problems to make very important contributions for us last season. We expect that the knee will not be a significant issue for Eric in 2019 and that he will maintain his high level of play."
Rogers is a two-time Grey Cup champion with the Stampeders. He posted a career-high 87 receptions for 1,448 yards and 10 touchdowns with the team in 2015.
The 26-year-old Brescacin had a breakout season for the Calgary Stampeders last season, finishing with 35 receptions for 567 yards and three touchdowns.
In three seasons with the Stampeders, the University of Northern Illinois product has 58 receptions for 878 yards and three touchdowns in 40 games.
Turner finished last season with 21 tackles and a career-high four sacks. The eight-year CFL veteran has spent his entire career with the Stamps.
"Junior has long been a mainstay of our defence and 2018 was an excellent bounce-back season for him after some bad luck with injuries," Hufnagel said. "He's an important part of our Canadian depth on the defensive line and I'm pleased to have him back."