Steelers lose RB Conner, expect Bell to sign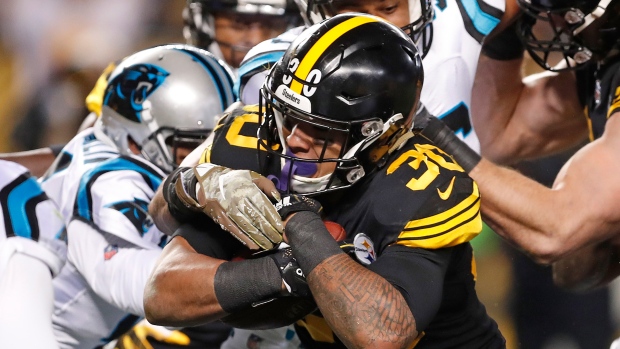 Pittsburgh Steelers running back James Conner sustained a concussion on Thursday night, but the team could soon have holdout Le'Veon Bell back on the field.
Steelers president Art Rooney II told Sirius XM radio on Thursday that the team expects Bell to sign his $14.5 million franchise tag by next week. If Bell does not sign by Tuesday, he will be ineligible to play in the NFL this season.
"I don't know what his plans are, but I would say that at this point we expect him to come back next week," Rooney said. "We know he's back in Pittsburgh, so we're hoping to have some communications with him over the weekend. We're kind of expecting he'll be back next week."
Bell has now held out longer than any player on a franchise tag in NFL history. The Steelers are not expected to use the franchise tag on him again next year, since it would be valued at over $20 million, but could still opt to use the transition tag at a price similar to this year's franchise tag.
Rooney said the team will not focus on Bell's future until the season is over.
"We're in uncharted territory here in terms of, this really has never happen before as far as I know," Rooney said. "So, there are questions that we may get to at the end of the season. We'll cross those bridges when we get to them at the end of the season."
Bell, a three-time Pro Bowl running back, posted two messaged on Twitter Wednesday "not apologizing" for his holdout.
"Just about everybody has an opinion on my life & worried about what I'm doing," Bell wrote. "... Don't judge me off my decisions because maybe this isn't what you'd do ... but most people don't take the time to just simply read between the lines ... & that's clearly on them ... I'm not apologizing for what I believe is right for myself, family, and the rest of my peers, period ... also if you're really finding the time to figure out what I'm saying, you've proved my point."
The Steelers improved their record to 6-2-1 with Thursday's 52-21 win over the Carolina Panthers.
Conner, a third-round pick in 2017, has had a breakout season replacing Bell in the Steelers backfield. The 23-year-old sits second in the NFL in rushing yards (771) and touchdowns (10) while averaging 4.7 yards per carry this season.