Streaking Royals, Giants return from extended layoffs, set to start World Series
Alex Gordon took a big rip at a batting-practice fastball, fouled it off badly into the cage, and ducked when the carom nearly hit him in the head. Gordon let out a huge laugh, and so did a bunch of his Kansas City Royals teammates watching Monday's workout.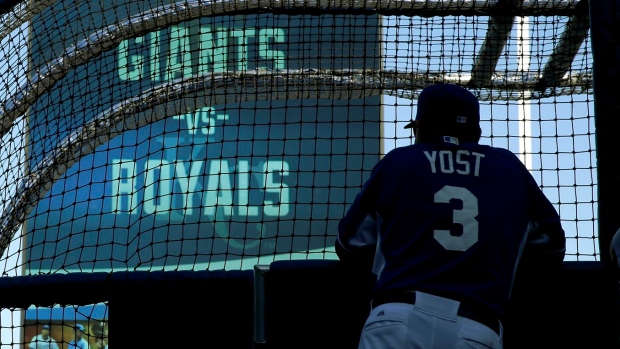 KANSAS CITY, Mo. - Alex Gordon took a big rip at a batting-practice fastball, fouled it off badly into the cage, and ducked when the carom nearly hit him in the head.
Gordon let out a huge laugh, and so did a bunch of his Kansas City Royals teammates watching Monday's workout.
"I can't believe that just happened, dude," pitcher James Shields razzed.
It'll be more frustrating than funny if those are the same awkward swings the Royals and San Francisco Giants take once the World Series begins.
Going into Game 1 on Tuesday night at Kauffman Stadium, both teams will deal with a familiar issue this deep in the post-season: Does an extended layoff translate into rest or rust?
Buster Posey and the Giants zipped through the playoffs, and now will try for their third title in five years. Lorenzo Cain and the Royals zoomed along, reaching the Series for the first time since 1985.
And then, they all got some time off. Almost an eternity, by October standards.
The Royals went 8-0 in the AL playoffs, giving them five idle days before Shields starts the opener. San Francisco went 8-2 on the NL side and had four days to relax before Madison Bumgarner pitches.
"It's definitely different because we have played so many games over the last 7 1/2, eight months. But you just understand it's one of those things," Posey said.
As recent history has shown, hitters can be very vulnerable when they get out of rhythm.
"It affects a bit with your timing, especially when trying to adjust to pitchers," Kansas City second baseman Omar Infante said. "It's hard to recover that groove you have."
The slightly favoured Giants and Royals held practices, studied video and checked out scouting reports. But as several teams that stumbled in the World Series after long breaks discovered, nothing can duplicate playing a real game.
Triple Crown winner Miguel Cabrera and Detroit got nearly a week off in 2012, then the Tigers hit a combined .159 and totalled six runs in getting swept by the Giants.
Troy Tulowitzki and the Colorado Rockies rushed into the 2007 World Series, waited a week and got outscored 29-10 in Boston's sweep.
A year earlier, Magglio Ordonez and the Tigers looked so powerful in the playoffs, but fell apart a week later and hit only .199 in a five-game loss to St. Louis.
Infante played on both of those Detroit teams that got wiped out. He actually excelled in 2012, hitting .333.
"It's a short series, you need some luck. We lost four in a row and they were coming from playing seven. In this series, I think both teams are even," he said.
Royals reserve Raul Ibanez, who's enjoyed post-season success in the past, said "determination and will" carry players in the fall. Yet the timing and confidence that lifts them for so long can be lost in a hurry.
All of a sudden, a ball that might've been a solid double becomes a soft fly. A line drive up the middle turns into a foul ball straight back. A big hit winds up a great catch.
Just like that, a magical touch is missing, and can't be recaptured until it's too late.
Royals catcher Salvador Perez hooted at himself after a popup and an easy grounder in BP on Monday, and changed bats for his next round. He homered on his final swing.
"When you've been playing for seven or eight months, it's nice to have an off day every now and then. But when you do have those workout days where you just go in and hit BP and take grounders and stuff, you try to keep it as much like game day as possible," Giants first baseman Brandon Belt said.
Royals designated hitter Billy Butler said he didn't see the five-day break being a detriment.
"Hey, they've had four days off. That's the way you look at it. They played one day later than we have — they've had a layoff, too," he said.
"I don't know if it'll play any factor. It definitely won't be the reason if we go out there and don't win tomorrow," Butler said.
Shields and Bumgarner seemed unconcerned.
This will be Shields' first start since Oct. 10 in the AL Championship Series opener against Baltimore.
"I think this late in the year almost too much throwing is too much," he said. "So I've just kind of rested my body up for tomorrow."
Bumgarner has already thrown 249 innings this year, including four post-season outings. He was the NLCS MVP, and started last Thursday when the Giants closed out St. Louis.
"Honestly, I feel the best I've felt all year for the last probably two months," the lefty said.
TSN World Series Game Notes
ROYALS & GIANTS: HEAD-TO-HEAD
Giants vs Royals Head-to-Head This Season
Giants Royals
Wins 0 3
Runs 6 16
BA .235 .280
XBH 3 9
* The Royals swept the season series against the Giants 3-0 in 2014. Above and beyond runs scored and allowed, a few stats that stood out from their 3-game series:
• The Royals hit .444 with runners in scoring position in their 3 games against the Giants - 12 hits in 27 at-bats, including 14 RBI. The Giants, in contrast, hit more than 150 points lower, with 0 HR.
• The Giants starting rotation struck out just 8 batters in 73 batters faced, good for 11%; for context, the lowest rotation strikeout rate overall this season was the Rockies at 16%.
• The Royals bullpen did what it's been doing in the postseason - shutting batters down. The KC bullpen logged 6 and a third innings, allowing 0 runs while inducing 9 strikeouts to 1 walk.
* The Royals (8-0) and Giants (8-2) are a combined 16-2 this postseason. FROM ELIAS: That's the best combined record in the Wild Card Era entering the World Series and 4th-best in the Divisional Era (both teams swept best-of-5 League Championship Series in 1969, 1970 and 1975).
Best Combined Postseason Win Pct
Entering World Series in Wild Card Era
AL Team NL Team
2014 .889 Royals Giants
2007 .824 Red Sox Rockies
1995 .824 Indians Braves
>> Source: Elias Sports Bureau
* The Royals (89-73 in regular season) or the Giants (88-74) will join a small group of teams with fewer than 90 wins in the regular season to capture the World Series since BOTH the American and National Leagues first played a 162-game schedule in 1962 (the AL did so in 1961, the NL in 1962).
Fewest Regular-Season Wins by World Series Winner
Since Both Leagues Went to 162-Game Schedule
W-L
2006 Cardinals 83-78
1987 Twins 85-77
2000 Yankees 87-74
>> Excludes strike-shortened 1981 & 1995 seasons
Fewest Combined Regular-Season Wins by WS Opponents
122 1981 << Dodgers (63) def. Yankees (59)
159 1918 << Red Sox (75) def. Cubs (84)
176 1973 Athletics (94) def. Mets (82)
177 2014 Royals (89) vs. Giants (88)
>> Shortened season
* Five Wild Card teams have won the World Series and 3 of those Fall Classics went the full 7 games.
Wild Card Teams to Win World Series
Opponent Result
2011 Cardinals Rangers 4-3
2004 Red Sox Cardinals 4-0
2003 Marlins Yankees 4-2
2002 << Angels Giants 4-3
1997 Marlins Indians 4-3
>> Both teams were Wild Cards
* This is the 1st World Series between winners of the Wild Card Game and the 2nd World Series between 2 Wild Card teams (in 2002, the Angels defeated the Giants in 7 games).
Wild Card Teams to Reach World Series
Result Opponent
2014 Giants ? Royals
2014 Royals ? Giants
2011 Cardinals Won Rangers
2007 Rockies Lost Red Sox
2006 Tigers Lost Cardinals
2005 Astros Lost White Sox
2004 Red Sox Won Cardinals
2003 Marlins Won Yankees
2002 Angels Won Giants
2002 Giants Lost Angels
2000 Mets Lost Yankees
1997 Marlins Won Indians
GIANTS NOTES
* The Giants have won 2 of the past 4 World Series titles. Only 4 different franchises in baseball history have won 3 World Series in 5 seasons, including the Athletics, who did it in 2 different cities.
3 World Series Titles in 5 Seasons - MLB History
Occurrences Last Span
New York Yankees 8 1996-2000
Boston Red Sox 2 1915-18
Oakland Athletics 1 1972-74
St. Louis Cardinals 1 1942-46
Philadelphia Athletics 1 1910-13
>> Giants: 2 World Series titles from 2010-13
* Bruce Bochy is looking to become the 10th manager in major-league history to win 3 World Series titles. The 9 managers who have won 3 are all in the Hall of Fame.
* Bochy is one of 12 men to manage 20 seasons, compile a winning record, and win multiple World Series. Ten of the other 11 are in the Hall of Fame.
FROM ELIAS:
Most Consecutive Postseason Rounds Won - Managers All-Time
Seasons
Joe Torre 11 1998-2001
Bruce Bochy 9 << 2010-14
Sparky Anderson 6 1975-84
Joe McCarthy 6 1932-41
>> Active Streak
FROM ELIAS:
Most Consecutive Playoff Series Wins - MLB History
1998-01 Yankees 11
2010-14 Giants 8 <<
1927-41 Yankees 8
1943-53 Yankees 7
>> Active streak
Most World Series Appearances
WS Titles
Yankees 40 27
Giants 20 7
Cardinals 19 11
Dodgers 18 6
Athletics 14 9
* Madison Bumgarner has gone at least 7 innings allowing 3 runs or fewer in 5 straight postseason starts.
Most Consecutive Starts with at least 7 IP & 3 R or Fewer
Giants Postseason History
1921-23 Art Nehf 6
2012-14 Madison Bumgarner 5
1905-11 Christy Mathewson 5
1912-13 Christy Mathewson 4
* Buster Posey trails only Barry Bonds on the Giants' all-time postseason RBI list. Pablo Sandoval is tied for 5th.
Most Postseason RBI - Giants Franchise History
Barry Bonds 21
Buster Posey 19
Rich Aurilia 18
Irish Meusel 17
Pablo Sandoval 16
Benito Santiago 16
* Sandoval has reached base in 23 straight postseason games, the longest streak in team history.
Most Consecutive Games Reaching Base - Giants Postseason History
Seasons
Pablo Sandoval 23 << 2012-14
Barry Bonds 21 2002-03
Buster Posey 16 2010-12
>> Active streak
ROYALS NOTES
* The Royals have won 8 straight games to start this postseason, the most in major-league history.
Most Consecutive Wins to Start a Postseason - MLB History
Won WS?
2014 Royals 8 << ?
2007 Rockies 7 No
1976 Reds 7 Yes
1970 Orioles 6 Yes
>> Active Streak
* The Royals haven't lost a playoff game since Game 4 of the 1985 World Series. So there's a 29-year gap, but they now have the third-longest win streak in baseball postseason history, trailing only the Yankees team that won titles in 1998 and 1999, and the Yankees club featuring Babe Ruth and Lou Gehrig that swept three World Series between 1927 and 1932.
* The Royals are just the 5th team to sweep the ALCS since moving to the best-of-7 format in 1985, and the first since the 2012 Detroit Tigers. Kansas City will look to break the trend though, and become the first team in this span to win the World Series after sweeping the ALCS.
* The Royals are the 3rd Wild Card team to sweep their LCS en route to the World Series. The 2 previous teams to do so lost in the World Series.
Wild Card Teams to Sweep League Championship Series
LCS Opponent WS Result
2014 Royals Orioles ?
2007 Rockies Diamondbacks Lost, 4-0 (BOS)
2006 Tigers Athletics Lost, 4-1 (STL)
* Ned Yost has won all 8 of his postseason games as a manager, the longest streak to begin a managerial career in postseason history.
Most Consecutive Postseason Wins To Begin Managerial Career
Team
2014 Ned Yost 8 Royals
2007 Clint Hurdle 7 Rockies
2009 Joe Girardi 5 Yankees
>> Source: Elias Sports Bureau
* His 8 wins in this postseason are already tied for the most postseason wins by a manager in franchise history.
Most Postseason Wins by Royals Manager
W-L
Ned Yost 8-0
Dick Howser 8-12
Jim Frey 5-4
Whitey Herzog 5-9
* According to the Westgate Las Vegas Superbook, before the start of the regular season, Kansas City was 15-to-1 to win the pennant, tied with the Indians for 8th in the AL, and 30-to-1 to win the Pro Baseball Championship.
* The Royals have as many playoff wins in this postseason as the Chiefs do in their entire franchise history.
* Lorenzo Cain won ALCS MVP, hitting .533 with 2 extra-base hits in the series. The Royals offense has seen a big improvement since Ned Yost moved Cain to the 3-hole and Alcides Escobar to the leadoff spot on September 13th.
Royals Offense This Season - Before/After Lineup Change
Before After
BA .260 .278
OBP .310 .343
Slug pct .374 .393
Runs PG 4.0 4.7
>> Escobar 1st and Cain 3rd since Sept. 13
* They also kept up their small-ball success, scoring both runs on a fielder's choice and an error. They are trying to become the 6th team in history to finish last in baseball in HR and win the World Series, and the 1st American League team since the 1924 Senators.
Finished Last in MLB in HR - Won World Series
2012 Giants
1982 Cardinals
1965 Dodgers
1924 Senators
1906 White Sox
>> Royals were last in HR this season
* The Royals snapped the 7th-longest streak without a World Series appearance, and extended the 6th-longest for the Orioles in the process.
Most Seasons Without a World Series Appearance - Active Streaks
Last App
Cubs 69 1945
Nationals/Expos 46 Never
Mariners 38 Never
Pirates 35 1979
Brewers 32 1982
Orioles 31 1983
Royals 28 << 1985
>> Snapped this season
** Below is a visual representation - it shows where outfielders make catches on at least half of the balls hit with a 3-4 second hang time (most fly balls). The blue zones show the ground the Royals outfield covers. The orange zones show the ground covered by average MLB player at that position.

OVERALL POSTSEASON NOTES
POSTSEASON BY THE NUMBERS:
56% - That's the percentage of games that have been decided by 1 run this postseason... That's easily the highest percentage in the Wild Card Era
11 - That's how many games this postseason have been decided in a team's final at-bat... That includes walk-off wins, extra-inning games, and games when the road team won it in the last inning... That's already tied for the most such games in a single postseason
8 - There have been 8 home runs hit by 5 different rookies in this postseason... Both of those are 2nd-most in a single postseason... Kolten Wong had 3 of them.
-----------------------------
ALL ABOUT THE BULLPENS
* The Royals aren't the only team getting excellent pitching from the bullpen.
Battle of the Bullpens - This Postseason
Giants Royals
ERA 1.78 1.80
WHIP 0.88 1.00
Opp BA .164 .179
K/BB 2.7 2.8
Lowest Opponents Batting Average by Bullpen
Single Postseason Since 1970 (Min. 30 IP)
2003 Red Sox .142
1990 Reds .152
2014 Giants<< .164
1988 Athletics .170
1997 Orioles .173
2014 Royals<< .179
>>Combined for 1.79 ERA in 70 1/3 IP
Relief Pitcher Comparison
2014 Postseason
Giants Royals
IP 35 1/3 35
ERA 1.78 1.80
Opp BA .164 .179
K-BB 30-11 36-13
* The Royals rode their excellent late-inning relievers all the way to the World Series. Their three relief studs have been almost untouchable in the postseason.
Royals Top Relievers This Postseason
Batters Line Hard-Hit
Faced Drives Balls
Kelvin Herrera 33 3 1
Wade Davis 34 3 3
Greg Holland 33 2 1
>> Combined: 100 batters faced, 8 line drives, 5 hard-hit balls

** If you're wondering how the Giants might fair against high velocities from the Kansas City bullpen, it's worth noting just how well a few Giants hit pitches of 95+ from right-handed pitchers this season (as Holland, Davis and Herrera all are).
Notable Giants Batters BA vs Pitches 95+ MPH
Vs RHP - MLB Ranks This Season
6. Hunter Pence .373
10. Buster Posey .344
29. Pablo Sandoval .322
>>MLB average: .243 BA
>>>Ranks out of 150 qualified batters