Streaking Ticats face big test against West Division-leading Stamps
Jeremiah Masoli and the Hamilton Tiger-Cats face a stiff test Saturday afternoon. Hamilton hosts the West Division-leading Calgary Stampeders at Tim Hortons Field. Watch the action Saturday at 4pm et/1pm pt across the TSN Network, on TSN Direct, and streaming on TSN.ca.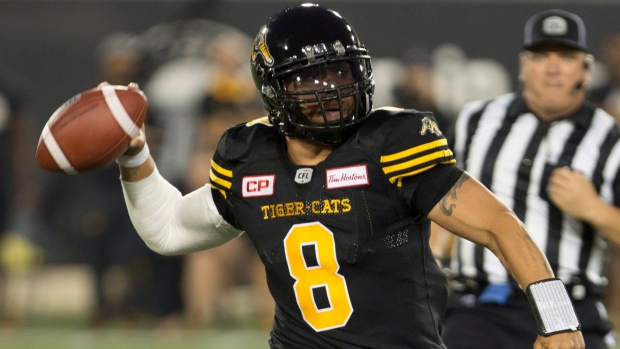 Jeremiah Masoli and the Hamilton Tiger-Cats face a stiff test Saturday afternoon.
Hamilton (6-5) hosts the West Division-leading Calgary Stampeders (9-2) at Tim Hortons Field. The Ticats, fresh off a Labour Day sweep of the Toronto Argonauts, have won three straight to move into a first-place tie with Ottawa in the East Division.
Masoli has been a big part of Hamilton's success this season. In his first full campaign as the Ticats' starter, Masoli has registered a club record-tying nine games of 300 or more yards passing.
The CFL's second-leading passer (3,576 yards) — Edmonton's Mike Reilly leads with 3,943 — was especially sharp against Toronto. Masoli was a combined 44-of-60 passing (73.3 per cent) for 692 yards with seven TDs and just one interception.
Masoli also effectively used his legs, rushing for 73 yards on 13 carries (5.6-yard average).
Brandon Banks was a favourite target, registering 15 catches for 288 yards and four TDs versus Toronto. He's recorded a CFL-best eight 100-yard receiving games so far this year.
But Hamilton's receiving corps is hurting with Jalen Saunders, Shamawd Chambers and Chris Williams all out with season-ending injuries. This week, the Ticats added veterans Chad Owens and Marquay McDaniel to their practice roster.
Owens suffered an ankle injury during Tuesday's practice but it wasn't deemed serious. It's unclear if either receiver will play Saturday. McDaniel also will continue in his role as a coach at McMaster University.
Owens and McDaniel are both former Ticats. Owens spent the 2016 season in Hamilton (58 catches, 808 yards, five TDs in 12 games) while McDaniel, a former Stampeder, played three years in Steeltown (2009-11), recording 137 catches for 1,736 yards with 10 TDs in 37 games.
Calgary comes off a wild 48-42 loss in Edmonton on Saturday night. Quarterback Bo Levi Mitchell was intercepted three times but finished 25-of-46 passing for 491 yards and four TDs. He very nearly capped a stirring comeback with two fourth-quarter touchdown passes.
Juwan Brescacin had Mitchell's Hail Mary pass in his hands for the game-winning TD but couldn't hold on in the Eskimos' end zone.
Calgary and Hamilton boast the CFL's stingiest defences, allowing 18.0 and 21.2 offensive points per game, respectively. But while the Stampeders have forced a league-best 33 turnovers, Hamilton is tied for last with 18.
And as good as Masoli has been this year, he has thrown 11 interceptions. Calgary has scored 99 points this season off turnovers, second-most in the CFL.
Hamilton is just 3-2 this season at Tim Hortons Field while Calgary sports a 5-0 road record this season.
Prediction: Calgary.
B.C. Lions vs. Montreal Alouettes (Friday night)
At Montreal, the Alouettes come off the bye looking for a third straight win under starter Antonio Pipkin. He threw for 242 yards with two interceptions in a 21-11 win over Ottawa on Aug. 31, but also ran for 75 yards and a TD. B.C. (4-6) beat the Redblacks last week and is in must-win mode. Receiver DeVier Posey, the '17 Grey Cup MVP, should make his Lions debut.
Prediction: B.C.
Ottawa Redblacks vs. Saskatchewan Roughriders (Saturday night)
At Regina, Saskatchewan (7-4) is the CFL's hottest team with four straight wins. That includes a Labour Day sweep of Winnipeg. Quarterback Zach Collaros is expected to start for Saskatchewan, which is 5-2 with him under centre. Ottawa (6-5) has lost two straight, having scored just 25 points over that span.
Prediction: Saskatchewan.
Last week: 2-2
Overall: 31-19.