Stroman, Osuna arbitration dance just 'part of the process'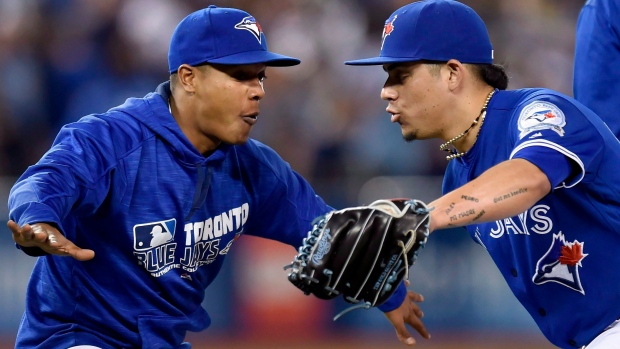 Earlier this winter, Marcus Stroman used the hashtag #communication when he learned via Twitter that former teammate and good friend Ryan Goins had been let go.
In a roundabout way, the 26-year-old's wish will be granted when he's communicating directly with the Toronto Blues Jays front office in an arbitrator's hearing room in Phoenix next month after not being able to come to terms on a contract prior to Friday's deadline to exchange arbitration numbers.
Stroman and the Jays were $400,000 apart in their filing numbers, at $6.9 million and $6.5 million, respectively.
It'll be the second straight year Stroman has gone this route.
Last year, Stroman won his arbitration case, being awarded $3.4 million, rather than the Jays' offer of $3.1 million in the first year he was arbitration eligible.
This year, he won't be alone, joined by closer Roberto Osuna, who also couldn't settle with the Jays by Friday's deadline.
Osuna, who earned just $552,400 last year, filed at $5.8 million, with the Jays countering at $5.3 million, resulting in a $500,000 gap.
"It is very much a part of the process and we respect it," said Blue Jays GM Ross Atkins, who also noted that he feels more and more teams and agents are willing to go to arbitration these days. "If the numbers don't line up, then that's what the hearing's built in for."
There is one final way to avoid it.
As a file-and-trial team — what's that term, you ask? It simply means once Friday's deadline came and went, teams that adhere to a file-and-trial policy won't go back and revisit negotiations on a one-year pact prior to a hearing — the Blue Jays can now either go in front of an arbitrator with their prized pitchers next month, or come to an agreement on a multi-year deal in the meantime.
The Blue Jays aren't alone in having some work left to do, as Stroman and Osuna represent just two of more than 20 unresolved arbitration cases around baseball.
It cost the Blue Jays $35,197,500 to resolve their seven other arbitration cases Friday, and once you account for a minimum total of $11.8 million to get Stroman and Osuna signed, it should still leave Atkins with around $20 million in resources to continue — or is it start? — adding to the 2018 roster.
"We definitely still have flexibility and we definitely have room to make moves, whether that be via free agency or trade and feel like we're in a good position to continue to make our team better," Atkins said. "And where that ends, we'll see."​