Stroman, Tanaka square off as Blue Jays visit Yankees
Rookie pitchers Marcus Stroman and Masahiro Tanaka will take the mound tonight to kick off a three-game series as the Toronto Blue Jays visit the New York Yankees. Stroman, a native of Medford, New York, faces the Yankees for the first time while Tanaka goes for his 11th win of the season.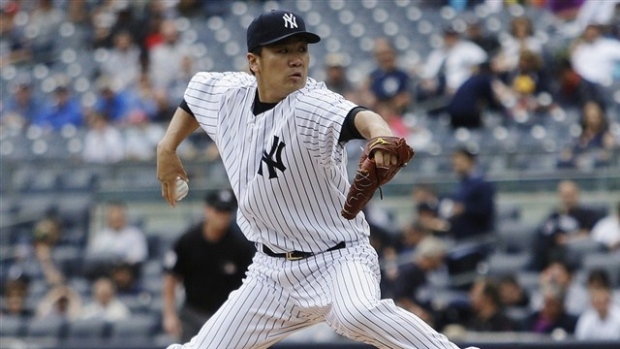 NEW YORK - Marcus Stroman and the Toronto Blue Jays will have their work cut out for them tonight when they face Yankees ace Masahiro Tanaka to open a three-game series in New York.
Tanaka has certainly lived up to the hype this season, going 10-1 with an American League-best 2.02 ERA. The Japanese right-hander went the distance to win his fourth straight start on Wednesday in Seattle, as he held the Mariners to a pair of runs and six hits. He also struck out 11.
With 103 strikeouts and 14 walks, no pitcher ever has struck out more while walking fewer through their first 13 games. Also, he's thrown a quality start in all 13 of his outings.
"If he keeps this up, he's going to have one of the greatest first years in baseball of any pitcher who's ever played this game," said Mark Teixeira.
Tanaka debuted with a win over the Toronto Blue Jays back on April 4. He gave up three runs over the first two innings, but settled down and pitched five scoreless innings after that.
Of course, the Jays will only be the second team to have faced him twice. Tanaka's lone loss came against the Chicago Cubs, the first team that had a second look at him.
"They're a very good lineup, whether you see them the first time, the fifth time," Yankees manager Joe Girardi said of the Blue Jays. "They're extremely dangerous so, yeah, I'm looking forward to it. My thought is he's going to do fine. I wouldn't think that he wouldn't. But obviously you're curious."
Tanaka will be trying to help the Yanks bounce back after losing two of three in Oakland that culminated with a 10-5 setback on Sunday.
Carlos Beltran and Brett Gardner homered, while Derek Jeter and Teixeira knocked in a run each for the Yankees, who ended a nine-game road trip 5-4.
"Today was one of those games," Jeter said. "But I think for the most part we've been playing good as of late."
Toronto heads into the Bronx holding a 4 1/2-game lead on both the Yankees and Baltimore Orioles atop the American League East standings, despite losses in seven of its last 10 games.
The Blue Jays, though, have won two of three and split a four-game series with the Orioles over the weekend.
On Sunday, Dioner Navarro finished with three hits and drove in a pair of runs, leading Toronto to a 5-2 win. Edwin Encarnacion doubled twice among his three hits and scored twice for the Jays, who received an RBI each from Melky Cabrera, Jose Bautista and Steve Tolleson in the victory.
J.A. Happ (6-3) worked six-plus innings, allowing seven hits and one run while fanning six. Casey Janssen recorded the game's final four outs to earn his 12th save.
"Today was a big game for us," Blue Jays manager John Gibbons said. "We came to life a little bit and Happ was outstanding. He really was. He gave us what we needed, just like he was the other night. He gave us a chance to win."
Getting the call for the Blue Jays on Tuesday will be right-handed rookieMarcus Stroman, who suffered his first loss of the season his last time out. After winning his previous two starts Stroman absorbed the loss to Minnesota on Wednesday, allowing three runs and nine hits over six innings to fall to 3-1 on the year to go along with a 5.18 ERA.
The Medford, New York native will be making his first-ever appearance against the Yankees.
"Any time you have an opportunity to pitch in front of a bunch of family and friends it's exciting," Stroman said. "I have a bunch of people texting me, a lot of people from high school, college reaching out to me telling me they'll be at the game."
New York won two out of three games in their lone meeting with Toronto this season.