Strome feels 'done' with junior hockey
Dylan Strome is hard set on avoiding a return trip to the OHL this fall. The former No. 3 overall pick wants to be in the Arizona Coyotes opening night lineup this Oct. 15, not taking on the London Knights.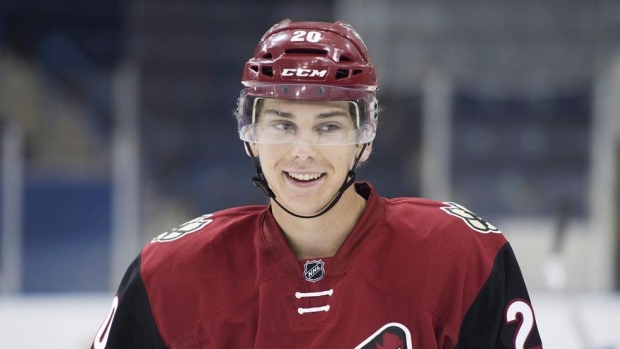 TORONTO — It was only five days before the start of last season that the Arizona Coyotes sent Dylan Strome back to the Erie Otters for another round of junior hockey.
Strome is hard set on avoiding a return trip this fall. The former No. 3 overall pick wants to be in the Coyotes opening night lineup this Oct. 15 and not squaring off against the London Knights in another OHL battle that evening.
"For myself personally I obviously feel like I'm done with junior and I don't want to be there next year," Strome said Sunday from a Hockey Canada development camp. "But at the same time, I obviously want to play in the NHL for a long time in my career and if Arizona thinks that's best for me next year then I don't really have a choice, that's obviously what I'm going to do."
Strome, the third overall pick of the 2015 draft, was among the final cuts for Arizona last fall. He was sent back to Erie, where he rung up 111 points in 56 games, finishing fourth in OHL scoring.
That was a slight dip from the 129-point campaign of his draft year, which led the league.
The 19-year-old centre didn't dispute the prospect of further development in junior hockey, but made no secret of his preference for next season. He also sought advice from fellow Canadian and Coyote Max Domi, who was sent back to the OHL for a fourth season in 2014, starring as a rookie for Arizona last season.
"It's not really up to me," Strome said of the decision. "I obviously felt like I could've been done (with junior hockey) last year. I made it to the last day of (NHL) camp and last cuts. Hopefully this year I can just try to make it a little farther and show what I can do in the exhibition games again. I think (the Coyotes) were pretty impressed with me last year and hopefully they like what they see again and I can get some games in this year."
Strome registered one point in five exhibition games last fall before the Coyotes opted to return him to junior hockey. He's hoping for the longest possible audition this fall, which would include nine regular season NHL games. Strome's entry-level contract would be exercised if he suited up in a 10th game.
A return to Erie would also likely mean another stint with Canada's world junior squad. Strome was a member of the Canadians' disappointing sixth-place entry last year in Finland. The tournament will start in Strome's hometown of Toronto on Dec. 23 and he was admittedly excited about potentially playing in the Air Canada Centre for the first time.
It's clear though that he would rather play there as a member of the Coyotes.
"You want to experience it," he said of the world juniors. "But at the same time your goal is to be in the NHL."