Strong spring has Axford in position to make Jays roster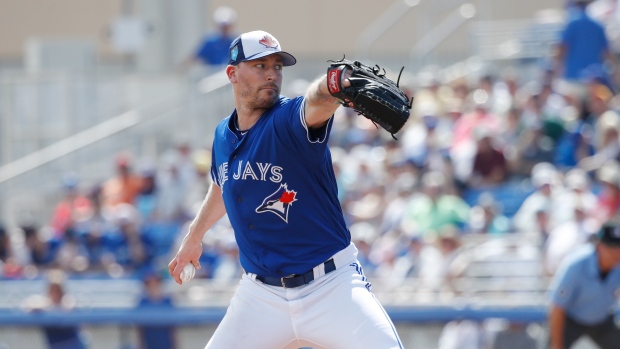 About a month ago, John Axford walked into the clubhouse at Dunedin Stadium and donned a Toronto Blue Jays uniform for the first time.
Even though it was just another February day of pitchers and catchers for the nine-year major-league veteran, coming off a 6.43 ERA that had earned him a pink slip from the Oakland Athletics last summer, the Port Dover, Ont., product couldn't overlook the special opportunity in front of him.
"It's what I grew up with," Axford said. "It's what I was a fan of my entire life."
Not only had playing for his hometown team been a dream since the 6-foot-5 right-hander can remember, but there was always a chance his nine pitching lives were about to expire, meaning he had to capitalize this spring, no matter the familiarity with the logo.
At the time, a roster spot was far from a certainty.
But this week, Blue Jays manager John Gibbons all but guaranteed that the soon-to-be 35-year-old will be an intriguing piece of the puzzle that is his opening day bullpen.
Axford has earned it with his performance thus far.
With a 1.93 ERA and seven strikeouts in 4.2 innings, the results have been good. More importantly, Axford's stuff has been top-notch – particularly the command of his mid-90s, two-seam fastball.
Minor leaguers and spring training can have that effect, but Gibbons noted the impressive month Axford has had in search of one of the two bullpen openings.
"I've seen, to this point, everything I need to see," Gibbons told reporters. "He should be pitching in the big leagues, no doubt."
The next step is finding a spot on the 40-man roster for Axford, a situation that will likely be mirrored when it comes time to find room for right-hander Tyler Clippard.
Al Alburquerque, another veteran right-hander in camp on a minor-league deal, has also pitched well. So has Luis Santos, who could be the best long-man option with his recent starting background.
In Axford and Clippard, however, it would be hard to find two more impressive resumes on the scrap heap than the two former closers, and GM Ross Atkins is hoping he's struck bullpen gold.
While you can quibble with this front office regime's plan or ability to add impact players, Atkins has done really well with signing under-the-radar bullpen projects like Jason Grilli, Joaquin Benoit and Joe Smith.
Unless you want to chalk it up to blind luck — there's certainly an element of good fortune when it comes to building a bullpen — Atkins & Co. have shown an ability to sift through the analytics and bring in arms with something left in the tank.
Axford is hoping to be the next success story in the uniform that means the most to him.
"It's always been, I guess, a thought of mine," Axford said of playing in Toronto. "I always thought it would be something kind of special and cool to play at the back end of my career for the Jays."
If Gibbons' assessment is any indication, it looks like Axford will get his wish.​