Strong start has Andersen chasing elite status
The Maple Leafs goalie's off-season regime was aimed at overcoming the slow starts that have plagued him in Toronto, Kristen Shilton writes. The early results suggest he's turned a corner in his quest for consistency.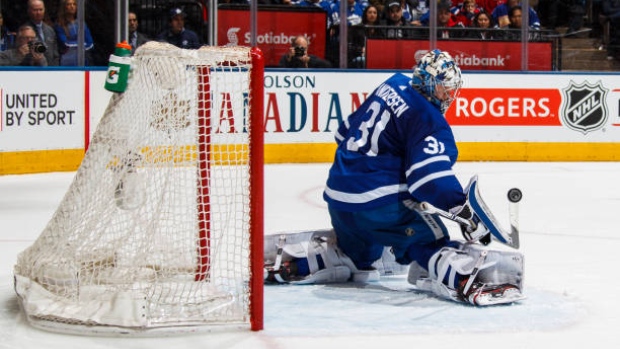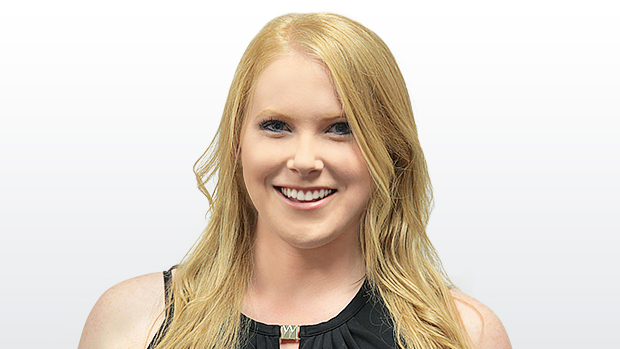 TORONTO – Frederik Andersen wanted his third season with the Maple Leafs to be different.
Slow starts plagued his first two campaigns as Toronto's starter, and his consistency from month to month wasn't always there. So Andersen worked all off-season on his conditioning and nutrition, which has paid dividends with his best first month as a Leaf.
"It's something that I've gotten to learn, getting older. The more experience you get, [the more your fitness regime] matters a lot to what you do," said Andersen after practice at MasterCard Centre on Thursday. "I'm thinking longer term now. You realize that hockey is not going to be forever if you don't take care of your body. It's one of the things you learn when you become a pro."
For Andersen, it goes beyond just putting together one great season ("[you want to] stay on a good level and try to improve every year, that's my mindset") and speaks to his larger goal of being considered one of the game's best.
The 29-year-old had never even been a true number-one goalie before the Maple Leafs acquired him from the Anaheim Ducks in 2016, but he quickly became familiar with carrying the load over back-to-back 66-start seasons.
He's been a workhorse again this year, with 13 starts through the Leafs' first 15 games. So far he looks stronger than ever – Andersen's eight wins are tied with Tampa Bay's Andrei Vasilevskiy for most in the NHL and his .929 save percentage is fifth-best among goalies with at least 10 starts.
It's a far cry from Andersen's .892 save percentage through 13 starts in 2016-17, and his .895 mark through the same span a season ago, but not completely unexpected to his head coach. From the time Mike Babcock met with Andersen at his family's Denmark home last May, he could sense a shift in the goalie ahead of a new season.
"Who he is now [versus] who he is when he arrived, you have to give him a lot of credit. Just his leadership [has grown]" Babcock said. "When I sat with Freddie and his family, he was real proud to talk about it in front of his mum and dad. Freddie is a special guy and the guys here treat him that way. One of the reasons you're appreciated is you work hard and the guys can trust you on a nightly basis."
Andersen spoke at length during training camp and the exhibition schedule about working this off-season with trainer Scot Prohaska in Southern California to stave off another slow start.
Also giving Andersen a little boost during training last summer was learning he finished fourth in Vezina Trophy voting, after wrapping the 2017-18 campaign with a .918 save percentage and 38 wins (a Leafs' franchise record).
"I wouldn't say finishing fourth in Vezina voting is anything really to rest on," Andersen said. "But it definitely felt like you're building towards something, towards becoming an elite goalie in the league. Even if you feel you can do better, it's positive to get some recognition and you're hopefully knocking on the door of becoming one of the better goalies in the league."
Andersen's stats suggest he's firmly in that conversation. Only John Gibson, the Ducks' goalie Andersen shared the crease with before being traded, has started as many games so far this season, and Andersen's 2.18 goals-against average is second-best among goalies with at least 10 starts.
Andersen has yet to propel Toronto past the first round of the playoffs, but there are signs he has found the consistency the Leafs will need to help make that happen.
"The measure in the end for all of us is in the second season, but you have to get there," said Babcock. "What puts you ahead [in the NHL]? Is it specialty teams? Is it goaltending? Is it more depth? A guy like him, the more consistent he becomes and the mentally stronger he becomes, the more confidence he has and the more confidence he gives us. That's all a big part of winning."
Babcock has said in the past he leans on Andersen so heavily because he wants to, which doesn't leave many opportunities for first-year backup Garret Sparks.
Sparks says he's not bothered by the arrangement, where Andersen essentially starts every game except one half of back-to-backs. Instead he draws motivation from observing.
"It's been nice just to watch him be able to do what he's doing. He obviously put in a ton of work this summer to get himself there," Sparks said. "It's been a really enjoyable process watching him and getting used to his tendencies and what makes him great and being able to implement that and channel as much of that as I can into my game."
With a weekend back-to-back forthcoming for Toronto, against New Jersey at home Friday and Boston on the road Saturday, Andersen will get a night off – but Babcock isn't saying which one.
For his part, Andersen has insisted he doesn't care how many starts he gets, and the Leafs relatively light schedule to start the year (they've had multiple days off between games six times already and only one back-to-back) has contributed to how good he feels. The trick is to keep it going as long as possible.
"When you go through the goalies who have won, it's a swagger. It's a mental toughness. It's a short memory. A lot of things that allow them to be successful," Babcock said. "For most guys it takes a long time for you to be a dependable guy and you have to be a workhorse. He's done a real good job of that." ​