Devils turn to Schneider, Johansson returns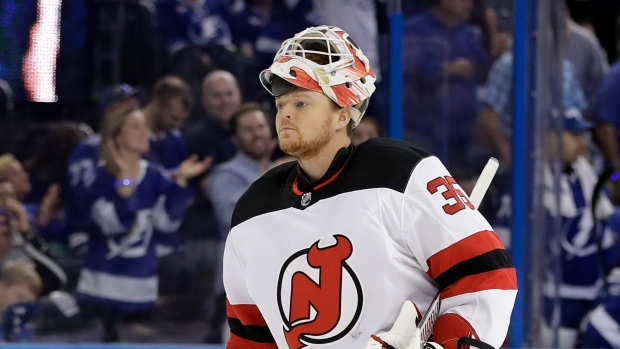 New Jersey Devils goaltender Cory Schneider was in the starter's net at their morning skate and will start Game 3 against the Tampa Bay Lightning, head coach John Hynes confirmed.
Starter Keith Kinkaid was pulled in the second period of Game 2 after surrendering his fifth goal of the night and ninth of the series, but Schneider shut the door the rest of the way, making 10 saves in what turned out to be a 5-3 loss. Schneider has not played in the postseason since 2013.
"My main objective was to keep us in it and not give up that next one," Schneider said. "Sometimes you've got to make a few saves to do that. It felt good to make a save or two like that going in, but at the same time it doesn't change what I'm trying to do. I'm just trying to feel good about my game and my team's game."
Schneider, who missed a month of action from Jan. 23-Mar. 1 due to a lower-body injury posted 10 straight losses to end the season. His last win came on Dec. 27 against the Detroit Red Wings.
Since returning on March 1, Schneider has a .850 save percentage. He finished the regular season with a 17-16-6 record and a .907 save percentage.
Forward Marcus Johansson (concussion) was also on the ice during the Devils' morning skate and will play Monday night in Game 3 according to Amanda Stein of NHL.com.
"It feels like forever that I've been sitting on the sidelines," Johansson told reporters Monday morning. He hasn't played since Jan. 23 against the Boston Bruins.
In 29 regular season games, the 27-year-old had five goals and nine assists.
The Lightning lead 2-0 in the series.