Subban, Plekanec exchange post-game jabs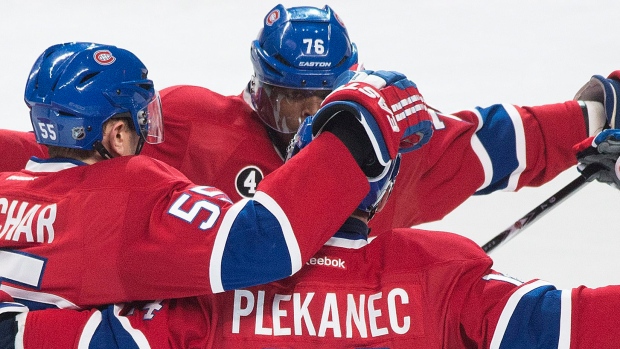 The Montreal Canadiens' post-game celebration got a bit heated after their 6-2 victory over the New Jersey Devils at the Bell Centre on Saturday night.
As the team skated off the ice after their victory salute, a TV camera caught defenceman P.K. Subban hitting centre Tomas Plekanec on the side of the helmet with his glove while high-fiving each teammate as they walked towards the dressing room.
Plekanec took exception to it and jabbed at Subban's midsection with the butt end of his stick (Video Link).
Subban told TSN's Jeff O'Neill on Monday that he wasn't aware of any issues and it wasn't a big deal. "Get serious...that's ridiculous," he told O'Neill.
It isn't the first time the two players have had some friction between them. Coming off a 4-7-3 record and the replacement of head coach Jacques Martin with Randy Cunneyworth the month before, Subban and Plekanec were involved in a fight during practice in January of 2012.
The Canadiens - who had Monday off after back-to-back wins over the Devils and Bruins - named Subban and Plekanec (along with Max Pacioretty and Andrei Markov) alternate captains for this season after the departure of Brian Gionta.
Both players earned Three Star selections in Saturday's win. Subban was named first star with three assists in the game, while Plekanec was the second star with two goals - including the game-winner.