Sunday Night Football Preview: Eagles, Cowboys meet with major playoff implications
Philadelphia Eagles quarterback Carson Wentz will be counted on to lead the way as his team faces the Dallas Cowboys in a crucial showdown with much at stake on Sunday Night Football on TSN, Domenic Padula writes.
Domenic Padula (@dpadula12)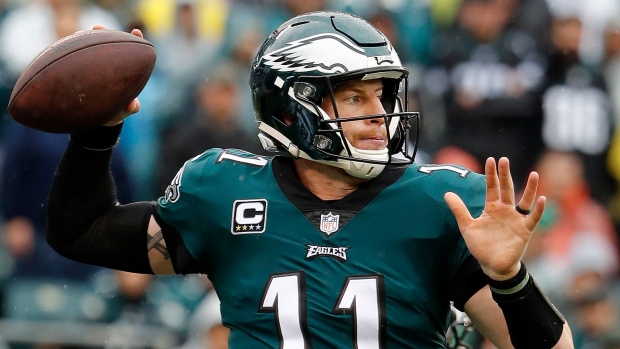 The NFC East is wide open heading into Week 10.
That fact isn't long on either the Dallas Cowboys or the Philadelphia Eagles as they gear up for their Sunday Night Football showdown (7:30 p.m. ET / 4:30 p.m. PT TSN1, TSN3, TSN4, TSN5).
According to ESPN's Football Power Index, this week's prime time divisional matchup is projected to have the biggest impact of any game on the schedule when it comes to the playoff chances of the teams involved.
At 4-4, the defending Super Bowl champion Eagles are currently listed at 60 per cent to win the NFC East. With a win, Philadelphia jumps to 70 per cent to win the division. With a loss, the Eagles fall to 35 per cent to win the division. Carson Wentz and company have the second-toughest remaining schedule in the NFL based on opponent win percentage. Coming off a bye week and with home field advantage, this is a must-win game for Philadelphia.
Meanwhile at 3-5, Dallas needs a victory to keep its season alive. With a win, the Cowboys' chances to win the division jump from 14 per cent to 34 per cent. With a loss, they fall to just six per cent. Dallas is coming off an absolutely devastating loss in prime time to the Tennessee Titans on Monday night. A similar fate this week will pretty much seal their fate.
Earlier this week, I talked about the Cowboys struggles and why things could get worse before they get better.
On the other side of the football, the Eagles will also approach this game with a sense of desperation.
Philadelphia's remaining schedule includes five games against NFC East opponents. Beyond that, the Eagles will visit the New Orleans Saints and Los Angeles Rams, with a home game against the Houston Texans to round out their schedule. Philadelphia is 8-1 in its last nine games against division opponents dating back to the start of last season.
The Eagles must continue their NFC East dominance in order to take the easiest possible path to the playoffs by clinching a division title.
All eyes will be on the Philadelphia offence with wide receiver Golden Tate set to debut for his new team after he was acquired from the Detroit Lions before the NFL trade deadline. A former Pro Bowler and Super Bowl champion, Tate will add an important dimension to the Eagles offence that it has lacked all season.
Since 2014, no NFL wide receiver has more yards after the catch than Tate. In fact, with 2,790 yards after the catch over the last four seasons, Tate has 400 yards more than Pittsburgh Steelers' Antonio Brown in that category, which illustrates just how dominant he has been in that area.
Tate has been outstanding on screen passes, leading the NFL with 142 receptions for 981 yards on screens since his NFL debut in 2010.
With Tate, Alshon Jeffery and Nelson Agholor at wide receiver and Zach Ertz at tight end, quarterback Carson Wentz will have plenty of weapons to work with moving forward. It will take some time for Tate to become fully acclimated with the Eagles offence. However, his unique skill set should translate well as he looks to make an immediate impact versus Dallas this week.
Meanwhile, the Philadelphia defence will face a stiff challenge matching up against running back Ezekiel Elliott and the Cowboys run game. Elliott ranks seventh in the NFL with an average of 113.2 scrimmage yards per game this season. His ability to move the football on the ground and as a receiving threat is the key to the Dallas offence.
The Eagles are coming off a strong performance against the Jacksonville Jaguars in which they held Carlos Hyde and T.J. Yeldon to a combined 18 yards on eight carries. This week's test will obviously be a lot tougher. If the Philadelphia defence can win in the trenches and slow down Elliott, they will have an excellent opportunity to win this game.
One final element to keep in mind heading into Sunday night is the weather. The forecast is calling for temperatures hovering around the freezing mark when these teams kick off at Lincoln Financial Field.
The winter weather likely won't have a significant impact on either team's approach but it could impact their performances. With both teams playing with a sense of desperation, it will be interesting to see which side is able to pull out the victory on Sunday Night Football.
The defending Super Bowl champs can still get their 2018 season on track with an important victory at home to begin the second half of their schedule. With a win, Philadelphia will inch one step closer to the NFC East division lead while effectively sealing the Cowboys fate for this season.