Sunday Night Football Preview: Patriots, Falcons look much different in SB rematch
Domenic Padula (@dpadula12)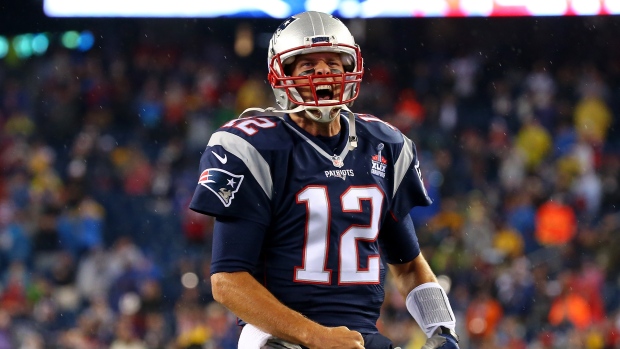 The New England Patriots will host the Atlanta Falcons in a rematch of Super Bowl 51 on Sunday Night Football.
Nobody will forget what happened the last time these teams met. Trailing 28-3 in the third quarter, New England rallied back from a 25-point deficit and clinched the Super Bowl victory in overtime.
While it's impossible to ignore how dramatically that outcome changed the perception of both franchises, the reality is that these teams look a lot different than they did back in February.
The most notable absence on either side is Patriots wide receiver Julian Edelman, whose miracle shoe catch was the best of his five catches for 87 yards in Super Bowl 51. Edelman and fellow receiver Malcolm Mitchell have been sidelined with injuries while tight end Martellus Bennett signed with the Green Bay Packers as a free agent in the off-season.
However, the New England offence hasn't missed a beat without that trio. The Patriots lead the NFL in yards per game and rank fifth in scoring. Tom Brady has thrown for 1,959 yards and 13 touchdowns with just two interceptions.
Brady, who turned 40 in August, is on pace to throw for 5,224 yards this season, which would be the fourth-highest single-season total in NFL history. While he doesn't have Edelman, Mitchell and Bennett, Brady does have tight end Rob Gronkowski and wide receiver Brandin Cooks.
Gronkowski, who missed Super Bowl 51 after he was placed on injured reserve, had two touchdowns in last week's 24-17 win over the New York Jets. It was Gronkowski's 15th career game with multiple receiving touchdowns, matching Randy Moss for the most in franchise history.
Meanwhile, Cooks has lived up to the hype as a deep threat that is capable of stretching the field with a league-high seven receptions at least 20 yards downfield. New England's offence has actually produced better numbers in terms of scoring and yards per game than they did a year ago. However, the Patriots offence looks completely different in terms of how they have moved the football.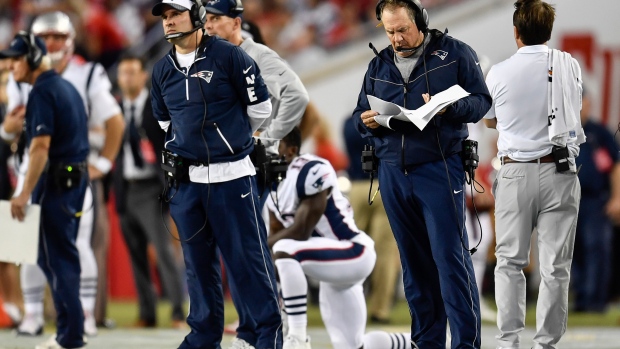 Patriots head coach Bill Belichick and offensive coordinator Josh McDaniels.
The New England offence has sacrificed a lot of the short, quick pass attempts it relied heavily on a year ago in favour of a greater focus on intermediate and deep pass plays. Brady's average intended air yards have jumped from 8.6 to 10.3.
Last season, Brady had 26 pass attempts that travelled 20 yards or more downfield through his first six starts. This season, he has had 36 pass attempts that have travelled 20 yards or more downfield through his first six starts. However, his completion percentage has dropped from 46.1 per cent to 41.6 per cent on those deep passes.
The longer developing plays have also led to Brady taking more hits. He has been sacked 16 times in six games this season, which is one more than the 15 sacks he took in double the number of games all of last season. And he is on pace to take more hits per drop back than he has at any other point in his career.
While some will point fingers at the offensive line, Brady has actually had more time to throw in the pocket (2.65 seconds) than he did last season (2.49 seconds). The Patriots offence has succeeded with a very different approach than they took a year ago. However, their reliance on longer developing plays has led to their veteran quarterback taking a great deal of punishment this season.
While the Patriots offence leads the NFL with an average of 412.0 yards per game, the New England defence has allowed a league-worst 440.0 yards per game. The Patriots have lost defensive lineman Jabaal Sheard, Chris Long and Barkevious Mingo as well as linebacker Rob Ninkovich and defensive backs Logan Ryan, Justin Coleman and Cyrus Jones. The addition of cornerback Stephon Gilmore on a five-year, $65 million deal has done little to offset those losses.
New England has allowed a league-worst 325.0 passing yards per game this season, which is the fourth-most through six games by any team in NFL history. The Patriots are the only team in NFL history to allow quarterbacks to throw for at least 300 yards in six straight games.
New England has also struggled against the run. After allowing less than 4.0 yards per carry in three straight seasons, they have allowed an average of 4.7 yards per carry, including an average of 2.9 yards before contact, this season.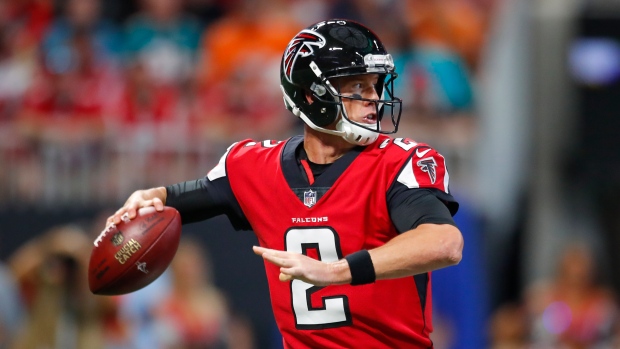 Falcons quarterback Matt Ryan has thrown six interceptions In his last three games.
Meanwhile, the Falcons also look a lot different than the team that represented the NFC in the Super Bowl last season.
Atlanta's 24.2 points per game this season is almost 10 points fewer than the league-leading 33.8 points per game they averaged last season. The Falcons scored at least 24 points in 17 of their 19 games, including in the playoffs a year ago. They have scored 17 points in each of their last two losses this season to the Buffalo Bills and Miami Dolphins.
Matt Ryan averaged 348.0 yards per game with 12 touchdowns and two interceptions in his first five starts last season. This year, the 32-year-old quarterback has averaged 271.0 yards per game with six touchdowns and six interceptions through five games.
While much of the offensive personnel remain the same, the biggest difference is the absence of former offensive coordinator Kyle Shanahan, who was replaced by Steve Sarkisian after Shanahan left to become head coach of the San Francisco 49ers.
The deep passing game has been a major issue for Ryan this season. A year ago, Ryan completed 57 per cent of his throws at least 15 yards downfield with 11 touchdowns and one interception. So far this season, Ryan has completed just 40 per cent of his throws at least 15 yards downfield with two touchdowns and three interceptions.
The Falcons have also struggled to convert in the red-zone. Much of that can be attributed to the lack of targets directed towards their best skill position player. Wide receiver Julio Jones has just one red-zone target this season. Taylor Gabriel, Austin Hooper, Mohamed Sanu and Tevin Coleman have combined for 14. In fact, there are 162 players in the league with more red-zone targets than Jones has this season.
If Atlanta is going to win on Sunday, Jones will need to become a more focal point of the offence. He is still looking for his first score of the season, and if he doesn't catch one on Sunday, Jones will set a career-high – going six straight games without a touchdown to open a season.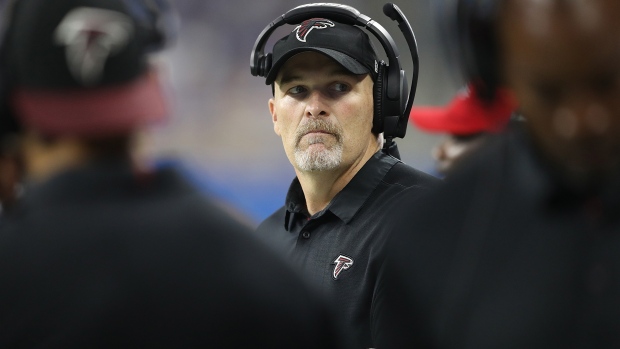 Falcons head coach Dan Quinn shows his disappointment following the Week 6 loss to the Dolphins.
The Falcons defence will have a couple of key players that weren't available in last year's Super Bowl in Pro Bowl defensive tackle Dontari Poe and Pro Bowl cornerback Desmond Trufant. They will be leaned on to help slow down Brady and the Patriots offence on Sunday. Atlanta has allowed an average of 21.8 points per game this season, but has yet to play an opponent that ranks in the top-10 in total offence.
If there is one notable trend that has carried over from a year ago, it's the Falcons' second-half struggles. After taking a 28-3 lead in last year's Super Bowl, Atlanta allowed 31 straight points in a 34-28 overtime loss.
So far this season, the Falcons have really struggled in the second half. Atlanta ranks 29th in points scored, 27th in points allowed and a league-worst 32nd in time of possession in the second half of games this season. If the Falcons are going to shed the Super Bowl hangover label and contend this season, they are going to need to be better in the second half.
Sunday night's game will mark the eighth time in NFL history that the two Super Bowl teams meet the following regular season. The reigning Super Bowl champions have come out on top in five of the seven previous rematches.
History favours the Patriots in more ways than one. Atlanta's last win against New England came in Week 19 of the 1998 season. The Patriots have won four in a row in this series, including Super Bowl 51.
Both teams look very different than they did when they met at Super Bowl 51. It will be interesting to see how they fare in the rematch on Sunday night.