Sweden holds on to beat Russia at WCH
Gabriel Landeskog and Victor Hedman scored second period goals as Sweden edged Russia 2-1 on Sunday at the World Cup of Hockey.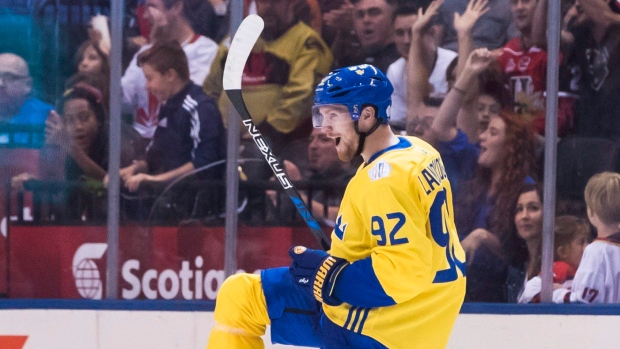 TORONTO — Jacob Markstrom showed up to the Air Canada Centre on Sunday afternoon with the notion that he was backing up Sweden's star goaltender Henrik Lundqvist.
The 26-year-old was caught off guard when he found out Lundqvist was sent home due to an illness, and that he would start his country's World Cup of Hockey opener.
Markstrom turned aside 27 shots as the Swedes opened Group B play with a 2-1 victory over Russia.
"I didn't expect it, so, you're surprised," Markstrom said of when he learned he would get the start. "Mentally, it's a little different (preparation) because you can't really get in the zone (if you're not starting), but everything physically, I try to do the same thing so if stuff like this happens, you're ready."
Gabriel Landeskog and Victor Hedman scored second period goals for the Swedes (1-0).
Alex Ovechkin had the lone goal for the Russians (0-1) while Sergei Bobrovsky made 27 saves in the loss.
Ovechkin thought he had tied the game 2-2 with seven seconds remaining in the third, but officials waved it off, ruling the puck went off Ovechkin's glove and in.
"I thought I touched it," Ovechkin said. "To be honest with you, I didn't see the replay. But I feel the touch. I don't know if it was the puck or the stick. I definitely feel the touch on my hand on my stick."
Russia tested Markstrom early as Vladimir Tarasenko one-timed a shot off of an Evgeni Malkin face-off win, but Markstrom was able to get his left pad on it and steer it aside just 30 seconds into the game.
Moments later, Tarasenko hit Markstrom in the mask with a shot, which the Vancouver Canucks goaltender was able to shake off.
Sweden coach Rikard Gronberg was pleased with how his group executed the prepared game plan after coming off a 6-2 loss to Team Europe in pre-tournament competition last Wednesday.
"(We) wanted to make sure their transition game didn't happen so quickly," Gronberg said.
"It was really important for us to have puck control. We didn't want to get into a run and gun type of game with the Russian team because that's where their strengths are."
Landeskog got Sweden on the board with a power-play goal, one timing an Erik Karlsson pass over Bobrovsky's blocker at 10:41 of the second period.
Less than two minutes later, Hedman doubled the lead by one timing a Carl Hagelin feed glove-side past Bobrovsky.
Ovechkin got the Russians on the board with 33 seconds remaining in the third, putting his wrist shot from the point off the post and past a screened Markstrom.
"I think they don't give us any room in the first two periods and we played their way," Ovechkin said. "We just don't have speed through the neutral zone or if we have speed we don't have support, so we're trying to be 1-on-1 and we see it's not going to work.
"I think the situation is going to be changing. You can see how we play in the third period, obviously we score only one goal in the last minute. But I think the chances were there."