USA Hockey announces WJC preliminary roster
USNTDP forward Jack Hughes highlights Team USA's 2019 World Junior Championship 29-player preliminary roster. Sweden and Russia have also announced their preliminary rosters for the upcoming 2019 World Junior Championship.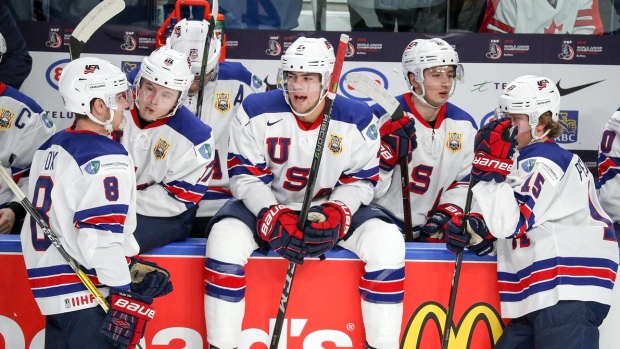 USNTDP forward Jack Hughes highlights Team USA's 2019 World Junior Championship 29-player preliminary roster.
Hughes, 17, is the frontrunner to be selected first overall at the 2019 NHL draft. In 23 games with the U-18 U.S. national team, Hughes has 45 points (nine goals, 36 assists) in 23 games this season.
Team USA has won three consecutive medals at the World Juniors, which is their longest streak at the U-20 level.
The U.S. returns five players who won bronze with last year's team: defencemen Quinn Hughes, Dylan Samberg and Michael Anderson and forwards Joshua Norris and Ryan Poehling. There are seven first- round picks on the selection camp roster.
Four players are eligible for the 2019 draft in Hughes, forwards Cole Coskey and Sean Dhooghe and goaltender Spencer Knight.
Team USA has several players who are prospects for Canadian NHL teams. Quinn Hughes and forward Tyler Madden are both Vancouver Canucks. The Montreal Canadiens have a pair of prospects in Poehling and goaltender Cayden Primeau. Philip Kemp (Oilers) and Norris (Senators) are also in the running for roster spots.
The team will host its training camp from Dec. 15-17 in Everett, Wash. After camp, the U.S. will play two pre-tournament games in British Columbia.
Goaltenders: Kyle Keyser, Spencer Knight, Cayden Primeau
Defence: Michael Anderson, Michael Callahan, Ty Emberson, Quinn Hughes, Joey Keane, Philip Kemp, K'Andre Miller, Dylan Samberg, Mattias Samuelsson, Jack St. Ivany
Forwards: Evan Barrett, Noah Cates, Alexander Chmelevski, Logan Cockerill, Cole Coskey, Sean Dhooghe, Jack Drury, Joel Farabee, Jack Hughes, Tyler Madden, Joshua Norris, Jay O'Brien, Ryan Poehling, Jason Robertson, Oliver Wahlstrom, Samuel Walker
Sweden has announced a preliminary roster for the 2019 World Junior Championship.
The 2018 silver medalists return four players in goaltender Olle Eriksson Ek, defencemen Erik Brannstrom and Timothy Liljegren and forward Fabian Zetterlund.
Six prospects belonging to Canadian NHL teams will represent Sweden, including three Leafs prospects. Liljegren and fellow defenceman Rasmus Sandin will be loaned from the AHL's Toronto Marlies and be joined by forward Pontus Holmberg. Forward Jacob Olofsson and David Gustafsson are 2018 second-round picks of the Montreal Canadiens and Winnipeg Jets respectively. Filip Svenningsson is a 2017 seventh-round pick of the Calgary Flames.
The Swedes have five first-round picks, all on defence, on their preliminary roster. The group is highlighted by 2018 eighth-overall pick Adam Boqvist (Blackhawks) and 2017 15th-overall pick Brannstrom (Golden Knights). New York Rangers first-round pick Nils Lundkvist, Liljegren and Sandin round out the quintet.
Goaltenders: Adam Ahman, Samuel Ersson, Olle Eriksson Ek
Defencemen: Adam Boqvist, Jakob Ragnarsson, Adam Ginning, Timothy Liljegren, Rasmus Sandin, Nils Lundkvist, Erik Brannstrom, Filip Westerlund
Forwards: Emil Bemstrom, Samuel Fagemo, Johan Sodergran, Hugo Leufvenius, Oskar Back, Filip Sveningsson, Jacob Olofsson, Filip Hallander, Nils Hoglander, Lucas Elvenes, Rickard Hugg, David Gustafsson, Fabian Zetterlund, Pontus Holmberg
Russia finished in fifth place at the 2018 World Juniors, breaking their streak of winning seven consecutive medals at the tournament. The Russians will bring 28 players to their selection camp in hopes of returning to the podium.
The Russians return just one player from last year's team in St. Louis Blues 2017 first-rounder Klim Kostin.
This year's roster is highlighted by four first-round picks in Kostin, 2018 ninth overall pick Vitaly Kravtsov (Rangers) and Grigori Denisenko (Panthers), Alexander Alekseev (Capitals).
CSKA defenceman Alexander Romanov is the lone prospect from a Canadian NHL team represented on Team Russia as a 2018 second-round pick of the Montreal Canadiens.
According to the team's press release, five players will leave the team before the squad departs for the tournament in Canada on Dec. 15.
Five players currently on North American-based teams will join the group for the final stage of camp: defencemen Alexander Alekseev and Dmitry Samorukov and forwards Kostin, Alexander Khovanov and Ivan Chekhovich.
Goaltenders: Peter Kochetkov, Amir Miftakhov, Daniel Tarasov
Defencemen: Daniel Valitov, Artem Volkov, Daniil Zhuravlev, Yevgeny Kalabushkin, Anton Malyshev, Ilya Morozov, Savely Olshanksy, Alexander Romanov, Mark Rubinchik, Makar Khabarov
Forwards: Artem Galimov, Grigory Denisenko, Nikolai Kovalenko, Kirill Slepets, Yevgeny Kanitsky, Vitaly Kravtsov, Kirill Marchenko, Ivan Morozov, Artem Nikolaev, Vladislav Tsitsyura, Ivan Muranov, Stepan Starkov, Nikita Shashkov, Pavel Shen, Alexander Yaremchuk