Tanaka picks up 11th win; Jays continue to struggle in New York
Masahiro Tanaka gave up a home run to Reyes on the first pitch of the game, then earned his major league-high 11th victory as the New York Yankees beat Toronto 3-1 Tuesday night for their 14th straight home win over the Blue Jays.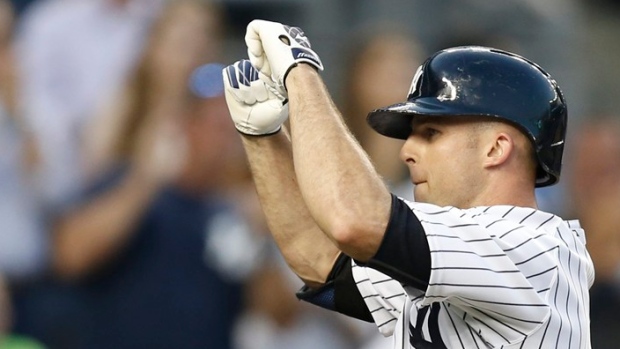 NEW YORK, N.Y. - Once Masahiro Tanaka overcame that early jolt from Jose Reyes, the Japanese rookie did just fine.
Tanaka gave up a home run to Reyes on the first pitch of the game, then earned his major league-high 11th victory as the New York Yankees beat Toronto 3-1 Tuesday night for their 14th straight home win over the Blue Jays.
That was the first time Tanaka could remember getting tagged so quickly and said it "threw me off my rhythm a little bit."
"Overall, I think my stuff wasn't really there," he said through a translator.
Even so, Tanaka (11-1) struck out 10 in six innings and left with an AL-best 1.99 ERA. The right-hander has made 14 starts this season — he's gone at least six innings in every outing and never permitted more than three earned runs.
"What he's done is remarkable," Yankees manager Joe Girardi said. "He wins."
Brett Gardner hit a two-run homer off the right-field foul pole and the Yankees sent the AL East leaders to their seventh loss in 10 games.
Tanaka made his big league debut April 4 at Toronto and Melky Cabrera hit a leadoff home run on the third pitch.
Reyes provided an even faster start with a drive into the lower deck in right, and slapped his hands as he rounded first.
"I made up my mind before the game that I was going to swing at the first pitch," he said. "You don't want to face Tanaka with two strikes."
Said Girardi: "He just threw a pitch right down the middle and up. Reyes knew what to do."
"Reyes is familiar with this ballpark," he said. "He went to the short part of the park."
Cabrera followed with a liner between Tanaka's legs that knocked off the pitcher's glove. But Tanaka scrambled to retrieve the ball behind the mound and threw out Cabrera, and never again allowed a runner past second.
Tanaka gave up five hits and walked two in moving ahead of Toronto's Mark Buehrle for the most wins in the majors. Buehrle starts Wednesday night at Yankee Stadium in the middle game of the three-game series.
The Blue Jays were the second team to face Tanaka twice. He blanked the Chicago Cubs for eight innings in April before they handed him his only loss a month later.
Dellin Betances worked two innings and David Robertson closed for his 17th save in 19 tries. New York pitchers combined for 15 strikeouts and became the latest staff to slow down the Blue Jays, limited to 24 runs in their last 11 games.
Pitching about 50 miles from his Long Island hometown, Blue Jays rookie Marcus Stroman (3-2) threw 98 pitches in 3 2-3 innings on a sticky night. Gardner gave him a workout right away, grounding out in a 12-pitch at-bat to lead off the first.
Kelly Johnson doubled in the third for the Yankees' first hit and Gardner pulled a go-ahead home run.
Derek Jeter opened the fifth with his second hit of the game and scored his 1,900th run on a single by Mark Teixeira. Jeter is 10th on the career runs list, 19 behind longtime teammate Alex Rodriguez.
NOTES: After the game, Toronto reinstated OF Colby Rasmus (hamstring) from the disabled list and optioned OF Anthony Gose to Triple-A Buffalo. ... The Blue Jays' drought at Yankee Stadium started in August 2012, and they've dropped 23 of their last 25 in the Bronx. The team cited the Elias Sports Bureau in saying it matched the Yankees' longest such winning streak against one opponent since 1961 — they also won 14 straight home game vs. Kansas City from 2002-06. ... Tanaka has fanned at least 10 in five starts. ... Girardi became the sixth manager to win 600 games with the Yankees. ... Reyes hit his 20th career leadoff homer, and second this year. ... Cabrera has a 17-game hitting streak vs. the Yankees, his former team. ... Toronto RHP R.A. Dickey is fine to make his next start Friday night in Cincinnati, manager John Gibbons said. The knuckleballer made an early exit Saturday in Baltimore because of groin tightness. ... Yankees 2B Brian Roberts started after missing two games with a bruised right knee. ... Yankees LHP CC Sabathia (knee) threw a bullpen session Sunday and is set for another one Tuesday. "No setbacks," he said. Sabathia had hoped to return by the All-Star break, but Girardi said there's no timeframe. ... There was a pregame moment of silence for Hall of Famer Tony Gwynn, who died Monday.