Target practice: Deep diving Jays' track record of acquiring starting pitching
Scott Mitchell assesses the starting pitching additions made by the Blue Jays during the nearly eight years Mark Shapiro and Ross Atkins have been at the helm.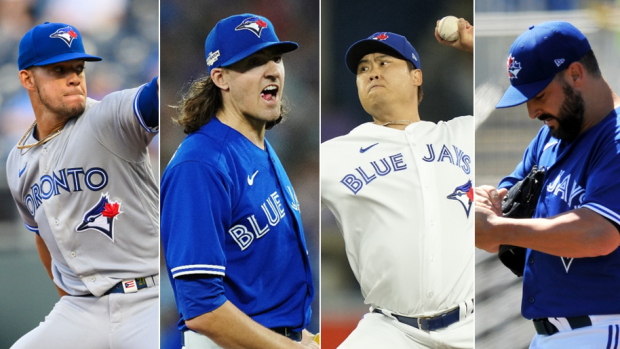 By: Scott Mitchell
TORONTO — When we're sitting here three years from now dissecting the Vladdy and Bo discount era and all the opportunity to build a championship roster that came along with it, the investments made on the pitching side by the Toronto Blue Jays front office are going to be a major storyline.
Did they identify the right starting pitchers on the free-agent market?
Were they able to uncover arms that become assets via trades?
And, ultimately, were those pitchers able to stay healthy and perform up to — or even exceed — expectations?
The core of position players currently in place gives them a baseline to start from each year.
How they piece the pitching together from season to season, however, is going to be the deciding factor between really good teams that are postseason contenders, and legitimate World Series threats.
With that in mind, the Mark Shapiro/Ross Atkins regime is now nearly eight years old and, looking back, it's been a bit of a wild ride with their pitching acquisitions over the years.
From short-term swings and misses like Jaime Garcia and Tanner Roark, to blockbuster trades and lucrative extensions, to three different $20-plus-million per year long-term free-agent deals, the rotations Atkins & Co. have put together over the years have been a mixed bag of both acquisition cost and performance.
Since the Jays started contending again in 2020, the club's starting pitchers have finished 17th (4.55 ERA in 2020), sixth (3.79 ERA in 2021) and 18th (3.98 ERA in 2022) in rotation ERA over the past three seasons.
In an effort to evaluate the rotation arms the Jays have acquired in either trades or free-agent signings, I went back and pulled every single starter from the time this front office took over at the end of the 2015 season and came up with 27 different names that qualified.
Here are the rules to make a pitcher eligible for this list. Pretty simple: They must have been traded for or signed to a big-league contract by the Shapiro/Atkins regime, and re-signings — specifically JA Happ and Marco Estrada in the very first year of their tenure — do not count.
When all of the information is laid out, acquiring pitching looks a lot like professional gambling: A 55 per cent hit rate still wins you money, but it's really close to a 50/50 proposition more than anything else.
Once acquisition cost and context were factored in, each of the 27 pitchers were assigned one of four tags: Win, loss, draw or jury still out.
Here's the final tally, and a look at all 27 of the starters that have been acquired to help out the Jays rotation since 2016.
WINS: 8
LOSSES: 9
DRAWS: 6
JURY STILL OUT: 4

LHP Francisco Liriano
2016-2017
Tenure with Blue Jays
Acquired

2016

Innings/Starts

132.0 (26)

ERA

4.77
HOW THEY GOT HIM: Looking to add some starting pitching depth at the 2016 trade deadline, the Jays acquired Liriano and his nearly $18 million owed over the rest of '16 and 2017. To offset the salary, the Jays also got two prospects, catcher Reese McGuire and outfielder Harold Ramirez, sending then-25-year-old starter Drew Hutchison to Pittsburgh.

THE LOWDOWN: This trade was a huge win for a number of reasons. Not only did Liriano pitch brilliantly down the stretch in 2016, authoring a 2.92 ERA across 49.1 innings, but the Jays also unearthed a pair of still-to-this-day big-leaguers in McGuire, who's part of the tandem behind the plate for the Boston Red Sox, and Ramirez, who the Tampa Bay Rays have turned into a valuable platoon part. In addition, the Jays were able to flip Liriano to the Houston Astros a year later at the 2017 deadline in exchange for power-hitting outfielder Teoscar Hernandez. This trade is great use of both financial flexibility and multiplying player assets.
VERDICT: WIN

RHP Mike Bolsinger
2016-2017
Tenure with Blue Jays
Acquired

2016

Innings/Starts

41.1 (5)

ERA

6.31
HOW THEY GOT HIM: In a minor deadline-day deal in 2016, the Jays shipped reliever Jesse Chavez out west to the Los Angeles Dodgers in exchange for Bolsinger.
THE LOWDOWN: Bolsinger pitched at Triple-A to finish out 2016 but made a handful of cameos the following year in a depth role as things fell apart for the Jays. He was DFA'd exactly 10 months later in the middle of the 2017 season.
VERDICT: LOSS

Tenure with Blue Jays
Acquired

2017

Innings/Starts

14.0 (3)

ERA

5.14
HOW THEY GOT HIM: The Jays traded a handful of cash to the Minnesota Twins in July of 2017 in exchange for Tepesch, who made three rather unmemorable starts in Toronto.
THE LOWDOWN: No risk and no reward is about all you need to know here. They didn't give anything up and the righty didn't throw enough to matter. Tepesch never pitched in the big leagues again and retired from independent ball in 2019.
VERDICT: DRAW

Tenure with Blue Jays
Acquired

2017

Innings/Starts

17.0 (1)

ERA

2.65
HOW THEY GOT HIM: As the Jays were playing out the string in 2017, they needed warm bodies to get them through the season, and Koehler was one of them. The righty was acquired along with cash in exchange for right-handed pitching prospect Osman Gutierrez, who's now 28 and never made it out of A-ball.
THE LOWDOWN: Similar to Tepesch, Toronto was Koehler's last MLB stop as he bounced around a couple camps after 2017 and eventually retired in 2020. A pair of notable names in Mat Latos and Brett Anderson were also given trial runs in 2017, but both were signed to zero-risk minor-league deals, so they don't qualify for this exercise.
VERDICT: DRAW

RHP Sam Gaviglio
2018-2020
Tenure with Blue Jays
Acquired

2018

Innings/Starts

222.1 (24)

ERA

5.06
HOW THEY GOT HIM: On the eve of the 2018 season, searching for all the pitching help they could find, the Jays acquired Gaviglio from the Kansas City Royals in exchange for cash.
THE LOWDOWN: After being acquired, it didn't take long until the soft-tossing righty was needed, as Gaviglio was recalled in May and eventually landed in the rotation for good by June. The final numbers aren't anything to write home about, but Gaviglio ate some innings and served his purpose, which is why his 5.06 ERA is chalked up as a firm draw when the context is included.
VERDICT: DRAW

Tenure with Blue Jays
Acquired

2018

Innings/Starts

74.1 (13)

ERA

5.93
HOW THEY GOT HIM: As the Jays retooled their veteran group heading into 2018, the thought was that they had put together a pretty good rotation led by Marcus Stroman, Aaron Sanchez, Marco Estrada and JA Happ. Garcia was added to that group in free agency for $8 million in mid-February, rounding out a strong veteran five. The contract included a club option for 2019, but it would not get that far.
THE LOWDOWN: Things got off to a pretty good start for Garcia as he threw six strong innings of one-run ball in his Jays debut, but the wheels came off quickly and the veteran lefty was out of the rotation by July, and he was released entirely by the end of August. Not exactly what you expect for nearly $10 million.
VERDICT: LOSS

LHP Thomas Pannone
2018-2019
Tenure with Blue Jays
Acquired

2018

Innings/Starts

116.0 IP (13)

ERA

5.43
HOW THEY GOT HIM: A ninth-round pick by Cleveland in 2013, Pannone was shipped to the Jays along with infielder Samad Taylor in exchange for veteran reliever Joe Smith at the 2017 trade deadline.
THE LOWDOWN: Pannone's shining moment came Aug. 22, 2018, when he shut down the Baltimore Orioles with seven one-hit innings in front of the home fans during an otherwise dismal season. Other than that, the lefty served as an up-and-down arm and hasn't pitched in the big leagues since 2019. Taylor, meanwhile, was used as a chip to get Whit Merrifield at least year's trade deadline, giving the Jays some ongoing value from the deal to this day.
VERDICT: DRAW

RHP Trent Thornton
2019-2022
Tenure with Blue Jays
Acquired

2019

Innings/Starts

255.0 (35)

ERA

4.84
HOW THEY GOT HIM: As the Jays cleaned up their roster after the 2018 season, shipping veteran infielder Aledmys Diaz to the Houston Astros in exchange for Thornton was one of the first orders of business in November. The then-24-year-old had just wrapped up an okay season as a Triple-A starter, but he wasn't going to gain a 40-man spot in Houston.
THE LOWDOWN: Initially given a long leash as a starter, Thornton has been mostly pitching out of the 'pen for the past two seasons. As a starter, things did not go very well for the spectacled right-hander with a 5.21 ERA, but he's fared better in the bullpen with a 4.30 mark. While Thornton is one of the few holdovers from four years ago and has at least been able to provide some innings, Diaz has proven to be a versatile backup and not much more, leaving this one as a draw.
VERDICT: DRAW
RHP Jacob Waguespack
2019-2020
Tenure with Blue Jays
Acquired

2019

Innings/Starts

95.2 (13)

ERA

5.08
HOW THEY GOT HIM: The Jays swung a number of minor trades at the 2018 deadline, including shipping lefty Aaron Loup to the Philadelphia Phillies in exchange for Waguespack. With a number of their trades during this timeframe, the Jays tried to identify under-the-radar high-minors arms, but never really hit on anything special.
THE LOWDOWN: Since the Jays traded Loup away as a 30-year-old, all he's done is become one of the game's more reliable lefty relievers, posting a stingy 2.54 ERA across 165 appearances since 2019. With the benefit of hindsight, getting a real asset for Loup would've been nice and clearly makes this one an L.
VERDICT: LOSS

Tenure with Blue Jays
Acquired

2019

Innings/Starts

59.0 (12)

ERA

6.56
HOW THEY GOT HIM: Buchholz parlayed a bounce-back season in 2018 that saw him register a 2.01 ERA over 16 starts with the Arizona Diamondbacks into a one-year, $3-million pact with the Jays in March of 2019.
THE LOWDOWN: The veteran's debut with the Jays went swimmingly, as he tossed six strong frames of one-run ball, but things quickly went south, and Buchholz didn't last long in the rotation of a team that lost 95 games in 2019. Similar to a number of pitchers on this list, Toronto ended up being Buchholz's last MLB stop.
VERDICT: LOSS

Tenure with Blue Jays
Acquired

2019

Innings/Starts

45.1 (10)

ERA

5.96
HOW THEY GOT HIM: The Jays front office knew it was going to be a rough 2019 campaign, leaving them searching for some low-cost innings eaters heading into that season. Richard was a name they targeted, eventually sending Canadian minor-league outfielder Connor Panas to the San Diego Padres in exchange for the lefty in December.
THE LOWDOWN: Panas didn't make it out of Triple-A so it's not like the Jays gave anything up here, but Richard was a disaster and was eventually released in September of that year.
VERDICT: LOSS

RHP Matt Shoemaker
2019-2020
Tenure with Blue Jays
Acquired

2019

Innings/Starts

57.1 (11)

ERA

3.14
HOW THEY GOT HIM: A couple of days before trading for Richard, the Jays signed Shoemaker to a one-year, $3.5-million deal, and it was a contract that looked pretty darn good until lady luck got involved. The veteran righty had shoved in his first two turns, going seven strong innings in both, before he tore his ACL on an innocent rundown play in Oakland in late April.
THE LOWDOWN: Coming off the knee injury, Shoemaker wasn't the same in 2020 and dealt with a shoulder issue that landed him on the IL for a good chunk of the year. Given the cost, the decent production and the bad luck, this one is still a W for the Jays.
VERDICT: WIN

Tenure with Blue Jays
Acquired

2019

Innings/Starts

28.1 (5)

ERA

11.12
HOW THEY GOT HIM: Acquired from the Oakland A's for cash in May of 2019, Jackson's claim to fame was being able to say he was now the first player to suit up for 14 different MLB teams.
THE LOWDOWN: Jackson's name might mark the low point in the Jays' rebuild, with Charlie Montoyo's famous "we don't have anybody else" quote from June 9 that year showing just how few rotation options the club had four years ago. Jackson, for his part, allowed 49 hits across just 28.1 innings.
VERDICT: LOSS

LHP Anthony Kay
2019-2022
Tenure with Blue Jays
Acquired

2019

Innings/Starts

70.2 (7)

ERA

5.48
HOW THEY GOT HIM: Marcus Stroman was the big chip the Jays front office needed to cash in to help kickstart the rebuild, and nearly four years later it's still completely up for debate how they did. At the time, the Stroman for Anthony Kay and Simeon Woods Richardson trade was panned, but its ebbed and flowed in outside opinion since then.
THE LOWDOWN: While Stroman has earned millions since as a quality mid-rotation starter, Kay was claimed off waivers by the Chicago Cubs in December and is struggling to keep a major-league job. Meanwhile, Woods Richardson was flipped to the Minnesota Twins in the Jose Berrios trade, which is looking fairly smart given where the 22-year-old right-hander's stock is today. If given a do-over, the Jays would obviously target someone other than Kay.
VERDICT: LOSS

LHP Hyun Jin Ryu
2020-Present
Tenure with Blue Jays
Acquired

2020

Innings/Starts

263.0 (49)

ERA

4.07
HOW THEY GOT HIM: The Ryu signing represents a watershed moment for the Shapiro/Atkins regime as it was the first time they truly opened the pocketbooks and spent, a sign of things to come as they proved serious about using ownership's financial clout to surround their young, cheap core with talent. The Jays needed to go above and beyond, adding a lucrative fourth year to the mix to top a couple of three-year offers with a pact totalling $80 million.
THE LOWDOWN: After finishing third in AL Cy Young voting in his first season as a Blue Jay during the shortened 2020 campaign, Ryu was up and down in 2021, before undergoing Tommy John surgery last summer. While the Ryu contract can be debated on the surface when it comes to the numbers he provided, there was a lot of value that came from the signing that's hard to quantify. If the Ryu splash doesn't happen, maybe others that came after it — George Springer, Marcus Semien — are harder to execute. It was a swing that needed to happen at that point in time, and it's still important in the grand scheme of things even if Ryu has missed a year.
VERDICT: WIN

RHP Tanner Roark
2020-2021
Tenure with Blue Jays
Acquired

2020

Innings/Starts

54.2 (12)

ERA

6.75
HOW THEY GOT HIM: If the Ryu signing needed to happen in order to push the rebuild forward, the Roark contract is on the opposite end of the spectrum as one that did not need to happen. Other names going off the free-agent board early in December 2019 led the Jays to Roark, who they viewed as a mid-rotation innings eater, handing him $24 million over two years.
THE LOWDOWN: No one benefitted more from the fan-less stands during the pandemic than Roark, who would've heard the boo birds with regularity had things been normal. From the get-go, when he was bombarded during summer camp tune-ups, the Roark signing looked like a poor one and an ERA of nearly 7.00 during his tenure is evidence of that.
VERDICT: LOSS

Tenure with Blue Jays
Acquired

2020

Innings/Starts

33.2 (7)

ERA

7.22
HOW THEY GOT HIM: Ahead of the 2020 season, Anderson looked like a decent under-the-radar acquisition as a back-end starter project, costing the Jays only first base prospect Chad Spanberger in an off-season trade with the Milwaukee Brewers.
THE LOWDOWN: They gave up nothing to get him — Spanberger flamed out in Triple-A in 2021 — but Anderson was really bad when he took the bump, completing five frames just twice with the Jays.
VERDICT: LOSS

Tenure with Blue Jays
Acquired

2020

Innings/Starts

26.1 (6)

ERA

1.37
HOW THEY GOT HIM: With the Jays playing the role of surprise contenders at Sahlen Field in Buffalo, the front office decided to reinforce the pitching staff at the trade deadline. Walker was the big addition and he delivered, registering a sparkling 1.37 ERA across six starts to help the Jays secure a wild-card spot. To get him, they gave up rookie-ball outfielder Alberto Rodriguez.
THE LOWDOWN: Even though the left-handed hitting Rodriguez is still making his way through the Seattle Mariners system at the age of 22, this trade will go down as a big win for a team making a playoff push and trying to gain footing as a contender after a couple years rebuilding. Walker was money for the Jays, even if it was short lived.
VERDICT: WIN

Tenure with Blue Jays
Acquired

2020

Innings/Starts

214.0 (36)

ERA

3.03
HOW THEY GOT HIM: It seems crazy to think the D-Backs were simply giving away Ray at the 2020 trade deadline, but you have to remember the lefty was toting around a 7.84 ERA at the time. The Jays stole him in exchange for lefty reliever Travis Bergen, who ended up back with the Jays organization a year later.
THE LOWDOWN: He wasn't as good as Walker down the stretch, but Ray's 4.79 ERA across 20.2 frames for the Jays in 2020 paved the way for him to re-sign for 2021 and put together a Cy Young season. Couple the trade with the confidence to re-up and add in the compensation draft pick they received when Ray walked in free agency, and you have a three-pronged win.
VERDICT: WIN

RHP Ross Stripling
2020-2022
Tenure with Blue Jays
Acquired

2020

Innings/Starts

251.1 (45)

ERA

3.94
HOW THEY GOT HIM: The third of three trades the Jays made to add pitching in August of 2020, Stripling, in the same vein as Ray, would make the majority of his contributions down the road. With two more years of team control, the Jays gave up right-hander Kendall Williams, who was chosen 52nd overall in 2019, and first baseman Ryan Noda.
THE LOWDOWN: Stripling saved the rotation at times in 2022, parlaying that into $25 million over two years with the San Francisco Giants. With Williams still developing and Noda now with the Oakland A's after being selected in the Rule 5 draft, this one is another win for the Jays front office as they identified a quality arm and didn't give up a whole lot (we think) to get him.
VERDICT: WIN

RHP Thomas Hatch
2020-Present
Tenure with Blue Jays
Acquired

2020

InningsStarts

40.1 (4)

ERA

5.58
HOW THEY GOT HIM: Acquired at the 2019 deadline from the Chicago Cubs in exchange for reliever David Phelps, Hatch looked like he was going to be a big win for a while, but his stuff has backed up over the last couple of years and he hasn't been able to play much of a role.
THE LOWDOWN: A couple of years ago when he debuted in 2020, Hatch was viewed as everything from a starter to a potential high-leverage bullpen option. Still toiling away as a starter at Triple-A, he's well down the rotation depth chart nowadays, but it's always a win when you get anything for a free-agent-to-be middle reliever like Phelps was at the time.
VERDICT: DRAW

Tenure with Blue Jays
Acquired

2021

Innings/Starts

150.2 (29)

ERA

3.82
HOW THEY GOT HIM: The Jays performed some roster consolidation with this trade, shipping three right-handed pitching prospects to the New York Mets in exchange for a pure reclamation project in Matz.
THE LOWDOWN: Even though Matz walked his way to the St. Louis Cardinals in free agency after one season, none of Josh Winckowski, Yennsy Diaz or Sean Reid-Foley has turned into much in the two years since. Matz's 2021 went unnoticed because of some early stumbles, but he pitched to a 2.69 ERA over his final 11 starts to help keep the Jays in the playoff race down the stretch.
VERDICT: WIN

RHP Jose Berrios
2021-Present
Tenure with Blue Jays
Acquried

2021

Innings/Starts

276.1 (50)

ERA

4.82
HOW THEY GOT HIM: It was a splashy deadline day for the Jays as they returned to Rogers Centre for the first time in a year and a half in July of 2022, sending Woods Richardson and 2020 fifth-overall pick Austin Martin to the Minnesota Twins in exchange for Berrios.
THE LOWDOWN: The timeline for the next handful of acquisitions means it's hard to assign a final verdict, given the fact they all still have more pitching to do and results to produce in a Jays uniform. But the Berrios trade is going to go down as a win simply because acquiring a pitcher with his track record is going to cost a lot, and it looks like the Jays did well in that regard. With Martin and Woods Richardson tracking as potential role players rather than stars, the Berrios trade looks pretty solid. Notice the word trade. The seven-year, $131-million extension, on the other hand? Now, that's potentially a different story.
VERDICT: JURY STILL OUT

RHP Kevin Gausman
2022-Present
Tenure with Blue Jays
Acquired

2022

Innings/Starts

216.2 (38)

ERA

3.45
HOW THEY GOT HIM: After trying to sign him in two previous off-seasons, the Jays finally got their man in Gausman, who signed a five-year, $110-million deal just prior to the lockout. They prioritized Gausman over Ray, who got $5 million more over the same term, and that decision is looking mighty smart.
THE LOWDOWN: As with any pitcher, injury could change this equation over the next three seasons, but Gausman was a Cy Young contender during his first year of the deal and looks like he's going to replicate that again in 2023. Given the price of pitching, Gausman and his elite splitter already look like a huge bargain.
VERDICT: WIN

LHP Yusei Kikuchi
2022-Present
Tenure with Blue Jays
Acquired

2022

Innings/Starts

132.0 (26)

ERA

4.91
HOW THEY GOT HIM: The lefty's upside has tantalized a couple of major-league GMs now, and when Kikuchi is on you can see why. The Mariners let him walk after an all-star year that was a tale of two halves, and it was surprising the Jays committed three years and $36 million to the southpaw when most thought a prove-it deal was in the cards.
THE LOWDOWN: Every fifth day you see glimpses of power stuff at 96-97 mph from the left side and you understand the Kikuchi appeal. Then you see the command issues and the blow-up innings, and you understand why he's a No. 5 starter and not much more. The next five months are going to provide a lot of the story, but the talent level suggests Kikuchi is going to keep getting rotation chances, even if it's not in Toronto after the 2024 season.
VERDICT: JURY STILL OUT

RHP Mitch White
2022-Present
Tenure with Blue Jays
Acquired

2022

Innings/Starts

43.0 (8)

ERA

7.74
HOW THEY GOT HIM: Looking for some swingman depth last August, the Jays targeted White, a product of the Dodgers' developmental machine. In order to add White, they paid a hefty price, trading away breakout right-hander Nick Frasso, while also receiving infield prospect Alex De Jesus.
THE LOWDOWN: With White dealing with two different maladies this spring, a sore shoulder and elbow inflammation, this one is going to take a while to assess. The Jays liked White enough as a potential starter to give up a pretty good pitching prospect to get him, and Frasso is impressing at Double-A with the Dodgers. The 28-year-old will have to give them some quality innings at the back end of the rotation at some point for this one to work out.
VERDICT: JURY STILL OUT

RHP Chris Bassitt
2023-Present
Tenure with Blue Jays
Acquired

2023

Innings/Starts

33.0 (6)

ERA

5.18
HOW THEY GOT HIM: A pair of solid mid-rotation seasons that totalled a combined 6.0 fWAR earned Bassitt a three-year, $63-million deal from the Jays this winter as they looked to add some reliability to the rotation. It looks like a very fair deal with palatable term for a 34-year-old.
THE LOWDOWN: Now just a handful of starts into his Jays tenure, Bassitt has set aside some early-season velocity worries and seems to be settling in as his usual self, a guy who will consistently give you six innings and a chance to win.
VERDICT: JURY STILL OUT