Tatar's two goals power Red Wings past Jets
Tomas Tatar scored a pair of goals and added an assist as the Detroit Red Wings defeated the Winnipeg Jets 4-3 on Thursday. Justin Abdelkader had the tying goal and an assist for the Red Wings (10-4-5), while Johan Franzen scored his sixth of the season.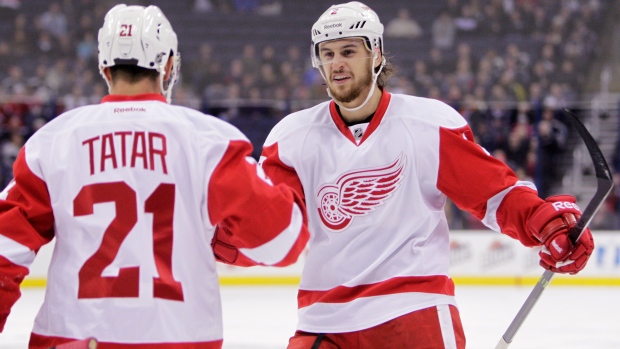 WINNIPEG - Tomas Tatar was just following his coach's advice, and it paid off with a pair of goals Thursday night.
Tatar scored twice and added an assist as the Detroit Red Wings downed the Winnipeg Jets 4-3.
Detroit coach Mike Babcock had told his players to keep shooting the puck at the net after the team lost 4-1 to Montreal on Sunday.
"I guess (Babcock's) right, he's been in the league forever," said Tatar, who had three shots. "He's a great coach.
"We want to score always, but sometimes it doesn't go our way and so you have to play simple and just put the puck on the net. We were more aggressive. We knew we had nothing to lose so we just wanted to force the puck to the net. I'm really happy."
Even though the Wings were down 3-2 after two periods, they outshot the Jets 14-9 in the third, with Justin Abdelkader tying the game and Tatar firing in the winner with his eighth goal of the season.
Tatar scored the winner at 15:10 of the third period when he was sent a pass from Abdelkader at the front of the net and buried a one-timer.
Abdelkader tied the game 3-3 with seven minutes left after he appeared to tip in Brian Lashoff's long shot that Winnipeg goalie Ondrej Pavelec might have pushed in.
Johan Franzen scored his sixth of the season for the Wings (10-4-5), who were outshot 31-27.
Dustin Byfuglien, Adam Lowry and Mathieu Perrault scored for the Jets (10-8-3). Pavelec made 23 saves.
Detroit was resting goalie Jimmy Howard and backup Jonas Gustavsson is out because a dislocated shoulder, so Petr Mrazek got to play his 12th career game and first this season. He made 28 saves for the win.
"We were down 3-2, but we were saying that we have to go hard to the net and get some rebound or some greasy goals," Mrazek said. "That last one by Tats was a great pass by Abbie."
Detroit was without centre Pavel Datsyuk (groin) for a second straight game.
The Jets built a 2-0 lead after a scoreless first period.
Byfuglien ended his 14-game goalless drought off a nifty setup by Evander Kane. Kane was at the side of the net and sent a between-the-legs backhand pass that Byfuglien used to score his third goal of the season 2:15 into the second.
"We worked the first 40 (minutes) pretty good as a team and there were a few little things that we could have done better," Byfuglien said.
"But, you know, throughout the whole year we've stuck together and played pretty good as a team. You're going to have your games where you get a few mistakes and it ends up in the back of the net."
Lowry scored his second goal off a rebound to make it 2-0 at 9:32.
Detroit's success in the face-off circle (the Red Wings won 39 and the Jets 25) played a role in the loss, according to the rookie.
"They were able to control large stretches of the game. A lot of that comes down to face-offs," Lowry said.
"I just got off the radio and they were saying they won 61 per cent, so any time a team wins that many draws they're going to have the puck and they're going to be able to make some plays."
The Red Wings didn't get their first shot on goal in the second period until almost 11 minutes in, but they quickly made up for it.
Thirty seconds after Lowry's goal, Tatar took advantage of Winnipeg defenceman Toby Enstrom's turnover, intercepting his pass and beating Pavelec with a high shot to make it 2-1.
Then with Enstrom in the penalty box for tripping, Franzen scored his sixth of the season when he went around falling defenceman Mark Stuart and fired the tying goal at 12:52.
"Our goaltender was good and our penalty kill was good and that kept us in the game," Babcock said. "Then we got upset or whatever we did, but we finally dug in and got playing. Once we got executing, we had plenty of opportunities around their net. In the end, it's a big road win for us."
Perrault, who assisted on Byfuglien's goal, put the Jets ahead 3-2 with just under four minutes left in the second on a good individual effort.
Perrault took a pass from Jacob Trouba around Winnipeg's blue-line and skated down the boards. He took a shot, got his own rebound, went behind the net and then spun around at the side and beat Mrazek at 16:12.
Winnipeg, which defeated New Jersey on Tuesday, finishes off a three-game homestand Sunday against St. Louis. Detroit travels to Toronto for a game on Saturday.