Tavares scores first two goals on home ice; Leafs down Sabres
John Tavares scored his first two goals on home ice with the Maple Leafs as Toronto defeated the Buffalo Sabres 5-3 in pre-season play on Friday night.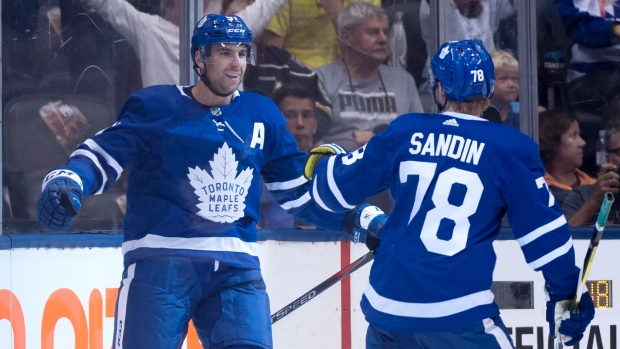 TORONTO — John Tavares didn't need to plug in GPS co-ordinates for the drive to his first game at Scotiabank Arena as a member of the Maple Leafs.
Toronto's new star centre also had little trouble finding the scoresheet for a second straight pre-season outing.
Tavares buried his first two goals on home ice to double his exhibition total as the Leafs downed the Buffalo Sabres 5-3 on Friday.
The 28-year-old stunned the hockey world by signing a US$77-million contract on July 1 with the team he cheered for as a kid growing up in the suburbs west of Toronto, and got an ovation unlike most in pre-season when his name was announced before Friday's opening faceoff.
"You know your way around a little bit," Tavares said of his commute to Scotiabank Arena, formerly Air Canada Centre. "I know my north, south, east and west. I've got an idea where I'm headed, so even if I make a wrong turn I've got an idea where I am.
"I just try to enjoy it," he added of the experience. "I don't try to think about it too much. I think you just try to live in the moment and embrace this opportunity."
Tavares has certainly done that in two exhibition games, registering four goals and an assist as Toronto improved to 3-0-0 following consecutive 4-1 wins over the Ottawa Senators.
"It's quite the atmosphere for a pre-season game," he said. "The passion for this team in this building and this city is pretty special."
Ron Hainsey, Pierre Engvall and Chris Mueller also scored for the Leafs. Curtis McElhinney stopped all 20 shots he faced after replacing Garret Sparks, who made nine saves, midway through the second period.
Andrew Oglevie, C.J. Smith and Tage Thompson replied for the Sabres. Linus Ullmark made 27 stops in taking the loss.
The teams will play an exhibition rematch Saturday night in Buffalo.
Despite the victory, Leafs head coach Mike Babcock wasn't pleased with significant stretches of Friday.
"It's real important when you find a way to win," he said. "It's also important you establish work ethic and structure at home where it becomes automatic. You win every night and you play hard every night and the other team knows they have no opportunity.
"They wouldn't be leaving here tonight thinking that."
Oglevie opened the scoring half a minute into the first period when he slid a rebound past Sparks, but Hainsey's shot through traffic tied it 18 seconds later. Engvall continued the chaotic opening 23 seconds after that when he beat Ullmark for a third goal in the game's first 1:11.
Tavares then made it 3-1 with his third of the pre-season at 3:42, finishing off a sequence he started with a stretch pass to Mitch Marner, who in turn dropped it back to Timothy Liljegren. The rookie defenceman blasted a one-timer at Ullmark, and Tavares was there to pop the rebound upstairs.
Smith continued the deluge at 11:28 when be won a battle following an offensive zone faceoff and drove to the net to pull Buffalo within one.
Tavares, who inked a seven-year deal with the Leafs after nine seasons with the New York Islanders, was helped out by his goalie early in the second after a turnover, with Sparks making a toe stop on an Alexander Nylander breakaway
But Sparks was unable to bail out another defensive miscue later in the period on a bad pinch as Thompson pulled the puck past a sliding Connor Carrick on a 2-on-1 and ripped a shot home at 6:08.
The Leafs retook the lead at 10:55 when Mueller plowed forward off a faceoff in the Sabres end before picking the pocket of the Buffalo defender and stuffing a shot past Ullmark.
Tavares and Marner lost their regular winger early in the second when Zach Hyman headed to the locker-room. It initially looked like he had taken an innocent-looking shot by teammate Rasmus Sandin off the skate, but Babcock said afterwards the injury was a hip pointer from a cross-check.
Josh Leivo got the majority of the minutes in the vacated spot, and could get a longer look there with Hyman on the shelf for a few days.
"I'm just trying to make the most of every opportunity I get no matter who it's with," he said.
McElhinney held the fort in the third before Tavares iced it into an empty net late.
"We created some opportunities and got a 3-1 lead and then let them back into it," Tavares said. "They skated well and made some plays."
Apart from Tavares, Marner, Hyman and Hainsey, other veterans in the lineup for Toronto included Morgan Rielly, Nazem Kadri and Connor Brown.
Buffalo iced a less-experienced group, but did have Vladimir Sobotka, Zemgus Girgensons and star rookie Casey Mittelstadt.
Friday marked Toronto's first home game since Air Canada Centre was renamed Scotiabank Arena as part of a 20-year, $800 million partnership between the financial institution and Maple Leaf Sports & Entertainment that took effect July 1.
Auston Matthews, Patrick Marleau, Frederik Andersen and Jake Gardiner are among the Toronto veterans expected to dress Saturday, while the home side's lineup should include Jack Eichel, Carter Hutton and Rasmus Dahlin, the No. 1 pick at June's NHL draft.
Note: The Leafs announced after the game that rookie forward Semyon Der-Arguchintsev has signed a three-year, entry-level contract. ... Toronto hosts the Montreal Canadiens in pre-season action on Monday.
---
Follow @JClipperton_CP on Twitter