Tavares scores twice as Canada beats U.S.
John Tavares scored twice to lead Team Canada to a 5-2 victory over Team USA Saturday night in World Cup of Hockey pre-tournament play in Ottawa. Canada will play its final exhibition game Wednesday against Team Russia in Pittsburgh.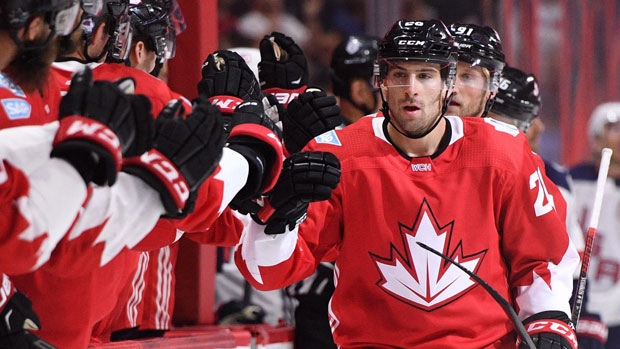 OTTAWA — John Tavares wanted some retribution against the United States, even if it was only an exhibition game.
Tavares had two goals to lead Team Canada over Team USA 5-2 Saturday night in World Cup of Hockey pre-tournament play in Ottawa.
The two teams had played Friday night in Columbus with the U.S. coming out on top 4-2. While not disappointed with his team's performance, Tavares was determined for a better outcome.
"Obviously didn't get the result we wanted (Friday)," said Tavares. "Even though it's exhibition you want to start on the right foot and that's always our expectation especially when you get a great opportunity to play against one of our rivals back-to-back."
With such a short tournament, Canada knows its imperative to find it's game as soon as possible and Saturday's performance was a step in the right direction.
"It was important to get better and that's what we're trying to do each and every game," said Canada coach Mike Babcock.
"There's rust coming out of the summer," said Matt Duchene, who also scored for Canada. "We're hitting goal posts, we're missing open nets, little things like that you saw (Friday) night. Everything was there but the finishing. We cleaned up some stuff defensively as well and we all think it was a pretty good effort (Saturday)."
Logan Couture and Jay Bouwmeester also had goals for Canada. Braden Holtby allowed two goals on 13 shots, while Corey Crawford faced 10 shots in 26:28 of ice time.
Ryan McDonagh and John Carlson scored for the U.S. Cory Schneider started the game and allowed four goals on 24 shots, while Ben Bishop, who came in for the third period, allowed one goal on 14 shots.
Despite the final result, U.S coach John Tortorella was OK with his team's performance.
"Quite honestly I felt we played better minutes (Saturday) than we did (Friday). We'll look at the video and just keep on working on our game."
Penalties played a factor. Canada was 3 for 8 with the man advantage, while the U.S was 1 for 5.
"Where I felt we were struggling with our penalty kill was they were making so many seam plays on us, through the seams," said Tortorella.
Leading 4-2, Canada gave the 18,687 on hand at Canadian Tire Centre plenty to cheer about as Tavares made it 5-2 with his second of the night.
The U.S. trailed 3-1 to start the second, but had a two-man advantage and made the most of it as Carlson wired a one-timer past Holtby to make it a one-goal game.
After an exciting first period both teams appeared a little sluggish at times through the second.
"As you saw both sides the tempo wasn't nearly as fast as (Friday) night," said U.S. forward Max Pacioretty.
"There's no excuse, both teams had to be ready for it and had the same situation in front of them, but they played better than us (Saturday)."
Canada regained a two-goal lead at the 12-minute mark as Tyler Seguin fought off T.J. Oshie and dropped a pass back to Duchene, who buried it to make it 4-2.
Canada opened the scoring with three straight goals in the first period.
Couture started the scoring with a power-play goal midway through the period as he took a great pass from Joe Thornton and beat Schneider through the legs on his backhand.
Just over two minutes later, on a 4-on-3, Tavares banked the puck in off Ryan McDonagh and into the net while trying to make a slap-pass. With less than five minutes remaining, Ryan Getzlaf passed from behind the net to Bouwmeester, who scored far side.
The U.S. made it 3-1 to end the period when McDonagh's shot made it through traffic to beat Holtby.
Canada will play its final exhibition game Wednesday against Team Russia in Pittsburgh, while the U.S. will host Team Finland Tuesday night in Washington.
Notes: Canada C Sidney Crosby and D Jake Muzzin did not play Saturday night. The U.S. scratched D Matt Niskanen and RW David Backes.