TFC benefiting from Bradley as defensive midfielder
It is only three games and the season is still less than a month old but not once last year did Toronto FC produce three performances in a row like this. There appears to be a change in mentality about the group. TSN's Kristian Jack explains how the club's use of Michael Bradley has been key to its success.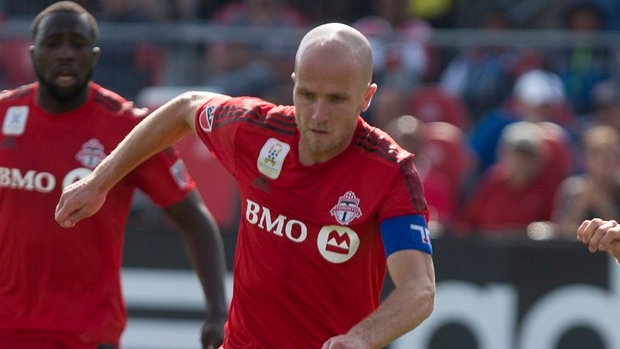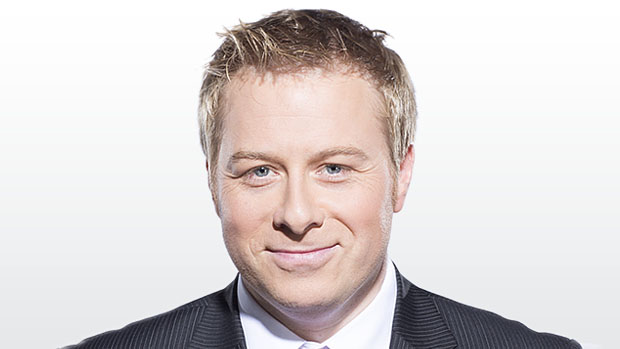 It's twenty minutes before kick-off and Michael Bradley stands alone inside the centre circle. It is Sunday evening in Kansas City and the captain of Toronto FC is getting set for another primetime game on national television.
The 28-year-old receives the ball and only takes a slight look down before positioning his head up. His eyes move to the right fixing on a target which is a trigger for his right foot to hit the ball towards the touchline and to a teammate. Bradley is meticulous in his preparation and repeats the process over and over again switching only between the right and left foot and the right and left flank. Targets move but the purpose remains the same.
Less than three hours later the midfielder finds himself in a similar spot again, only this time he is far from alone. He shakes numerous hands, including the one of a referee who ultimately called a close game decided by a solo goal against Toronto FC. It is the first loss of the season for Greg Vanney's side and while the results have gone win, draw and loss the performances have not trended in the wrong direction. In three difficult environments, against sharp-shooters like Bradley Wright-Phillips, David Villa and Dom Dwyer, Toronto FC have shown a sign of resilience and defensive solidity that was missing far too often last season. There has been a noticeable difference in their defence in open play so far. In 270 minutes this season they have averaged just one goal a game against with two of three goals conceded featuring controversial calls against them (handball, foul) and the other was a penalty kick.
For some teams those isolated moments could have become far bigger than they need to be, but instead the team seems to be growing in confidence and showing signs that they won't be defined by negative plays. Too often in the past this team has created a siege mentality that has led to some of their loyal fans believing that the league and its officials were out to get them. Referees appeared to make a mistake on the Villa handball at Yankee Stadium and the foul on Justin Morrow in Kansas City but Bradley's calm reaction to both was telling. After the game his focus was on his team.
"Coming here you know it's not going to be an easy game, you always know it's going to be a tough night but I thought we handled everything very well," Bradley reflected. "Tonight we came out on the wrong end, but I still think there are a lot of encouraging signs."
It is only three games and the season is still less than a month old but not once last year did the club produce three performances in a row like this. There appears to be a change in mentality about the group. No longer do they appear to be the big money powerhouse in the Eastern Conference that everyone expects to win every game. Against three strong opponents so far they have stayed connected, not pressed too much and stayed in games to allow the likes of Sebastian Giovinco to make a key difference later in matches when the game opens up. The team with the fewest amount of draws in 2015 (4 from 34) have now shown a desire to keep what they have from the opening whistle.
Tactically Vanney and his coaching staff have a plan they want to execute in the opening eight away games and know these defensive-minded performances won't - and cannot - define them when they begin their home schedule on May 7. A key part of that plan came before a ball was kicked when a decision had to be made around the positioning of Bradley in midfield. Seen by many evaluators at different clubs as the best midfielder in the league, the former Roma man has found himself in the centre of many discussions in Toronto and, more specifically, in his home country under boss Jurgen Klinsmann around his best position. At one point last season Vanney was comfortable admitting publicly that he disagreed with Klinsmann's decision to play Bradley higher up the field. For Toronto FC, whether in a midfield diamond, flat four or in a three, subsequently the American has found himself shuffled between a true number six, as the deepest member of the midfield, and as an eight with more licence as a box-to-box midfielder. Until now.
Toronto FC have found an identity in the early parts of the season and a big part of that has been their skipper's consistent role. With Jozy Altidore out of the lineup through injury, Vanney has successfully been able to use a 4-3-3 system so far and Bradley has been used as the defensive midfielder inside a central three. The 4-3-3 is unlikely to stick but the decision to play Bradley in this role has to. It is one he relishes.
"I love it," he told me in Kansas City. "For me, from that spot, to help us organize, be a link in terms of attack and defence, intercept passes, make sure the other team's attacking players don't have an easy time playing through the centre of the field and make sure our attacking guys get balls in good spots, those are things I am good at."
It is clear Bradley is more than aware of the tendencies required from such a position. Let's take a look at each one.
Organizer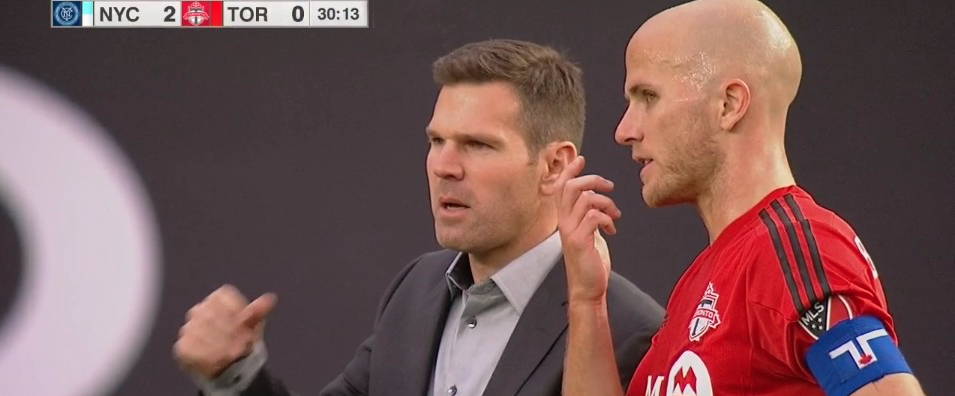 Bradley has a lot of power at Toronto FC and for Vanney to best use this on the field he needs his captain deeper where he can see the game clearer. Further up the field, between the lines, the game moves quicker and is more congested. In this role Bradley's football intelligence comes into play more and when the two come together to make adjustments on the fly, like in Yankee Stadium just after the team went down 2-0 (above), Vanney knows his key captain is seeing what he needs to see.
Link between defence and attack
They key word here is link. For Bradley to be that for Toronto FC all season long the collective balance in midfield has to be right. Bradley is a player who likes to attack the ball, close down opponents and win it back and it is important his new, deeper role doesn't stifle that. New York City FC, in particular, did a very good job of playing in between the lines in the first half and won a penalty when they played around Bradley, after he did exactly that, because the defensive discipline behind the American was poor. Bradley has always been a man coaches look to link between defence and attack but so far it is clear from the eye test and his statistical touch maps that he has predominantly stuck to his defensive responsibilities.
Touches week one against New York Red Bulls - just 17 in the opposition half.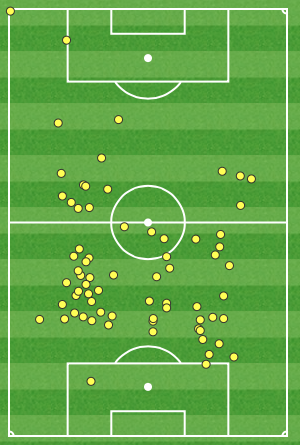 Touches week two against NYCFC - no touches in the final attacking third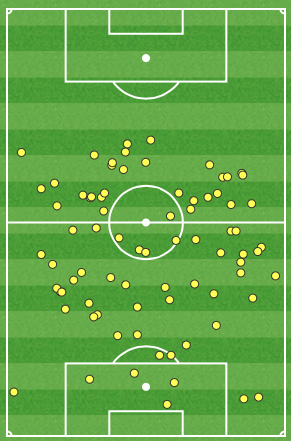 Touches week three against Sporting KC - again little involvement in the final third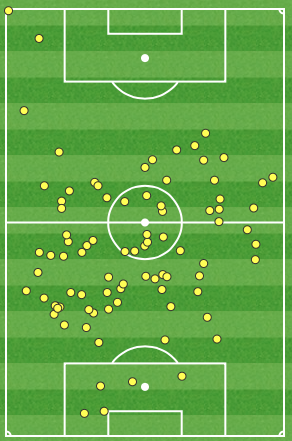 Bradley's average position (4, below) has almost been identical in all three games, around the area he prepared in prior to kick off in Kansas City.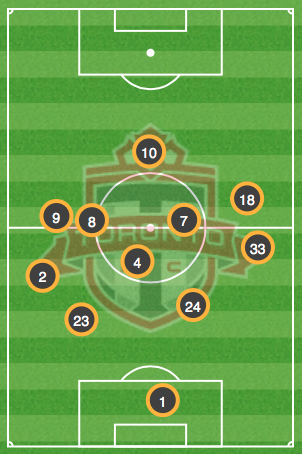 Intercepting passes
Last season Bradley was 15th on his own team in average interceptions per game at 1.3. It's a small sample size but through three games this season he is averaging five interceptions per game, leading his team and reaching the top ten in MLS in a category usually dominated by central defenders. Bradley's interceptions this season have been seven (NY Red Bulls), four (NYCFC) and four (SKC). Teams don't want to lead the league in such a category because you obviously need to have less of the ball to exceed in this area but it is telling so far that the club is significantly better at winning the ball back (and completing more tackles) than they were last season.
2015 MLS interceptions per game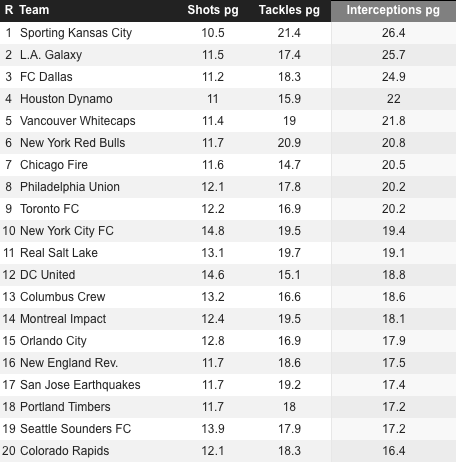 2016 MLS interceptions per game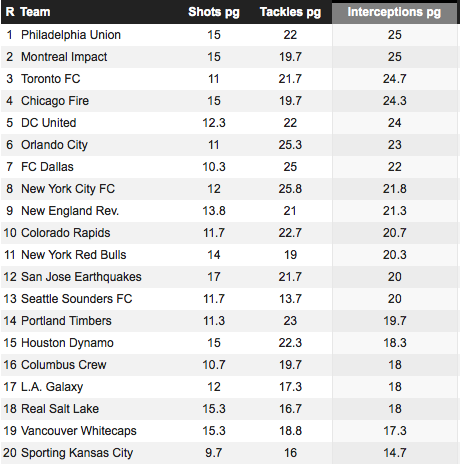 Making it tough for opposing midfielders
Much of Toronto FC's early season success has come from their strength in numbers in midfield while playing against some excellent players in the middle of the field. Bradley and Vanney have both spoken about not wanting teams featuring the likes of Dax McCarty, Felipe, Andrea Pirlo and others to play through them. Instead, Bradley and Co. have done a reasonable job in pushing much of their opponents' attacks wide and again at Kansas City we saw a team having to reduce the amount of central attacks for ones in the wide areas.
Sporting KC's attacking third zones (first half-second half)

Key passes to attacking players
Stats on the average position and touch map show that Bradley isn't always in an ideal position to use his passing range for the attacking players but part of the balance he and Vanney need to find in this role will be getting him to be an effective deep-lying playmaker when the team has the ball. Bradley has produced a couple of outstanding, quick passes into the final third so far but his passing to opponent stats show that through three games he has spent much more time on the ball close to defensive-minded players.
Where Bradley's 133 completed passes so far have finished:
Central midfield - Will Johnson/Jonathan Osorio/Benoit Cheyrou/Jay Chapman - 34
Full back - Steven Beitashour/Justin Morrow - 32
Centre back - Drew Moor/Damien Perquis/Josh Williams - 32
Winger - Tsubasa Endoh/Marky Delgado/Daniel Lovitz/Mo Babouli - 21
Striker - Sebastian Giovinco (13)/Jozy Altidore (1) - 14
Conclusion
The great Johan Cruyff once said it was a problem if the midfield playmaker is covering the most distance in a game. Last season Bradley spent a lot of time chasing around the field trying to put out fires and make a difference with his legs. This season the position asks his brain to make more of a difference. His mindset will always be for the ball to go forward quickly. It appears he no longer needs to do the same.
Watch Michael Bradley and Toronto FC take on Colorado Rapids this Saturday night on TSN2 at 8pm et/5pm pt.
'Stats powered by Opta'