TFC's Giovinco named player of week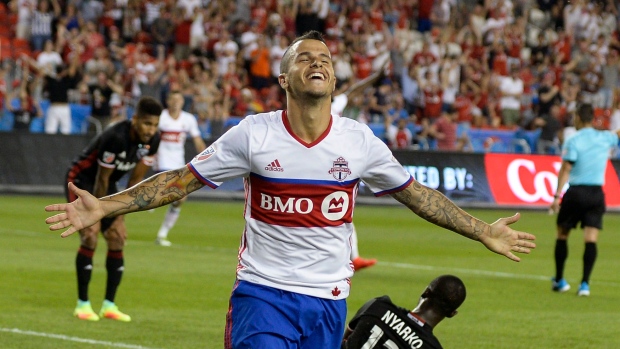 NEW YORK — Sebastian Giovinco has been voted Major League Soccer's player of the week after the star Toronto FC forward broke out of an eight-game scoring drought in spectacular fashion.
Giovinco, the reigning league MVP, exploded for three goals in a dominant 4-1 win over D.C. United on Saturday at BMO Field.
Giovinco started his third career MLS hat trick on free kick from 25 yards out in the 21st minute, curling a right-footed shot over the four-man wall for his first goal in 697 minutes.
The Atomic Ant scored on another free kick the 39th minute then completed his hat trick with a goal in stoppage time, sending a Mark Bloom cross into the back of the net with a right-footed volley from close range.
Giovinco leads MLS this season with a combined 11 goals and seven assists. He set an MLS record with a combined 38 goals and assists last season.
The Italian is third in the league in goals, trailing New York City FC's David Villa (13) and Montreal's Ignacio Piatti (12).
Toronto (7-7-6), next hosts the Columbus Crew on Sunday.