Toronto FC sells Giovinco to Saudi club team
Sebastian Giovinco's tenure with Toronto FC has come to an end. The Italian striker is being sold to Saudi club team Al-Hilal, with TSN's Kristian Jack reporting that TFC will receive a transfer fee of close to $2-3 million.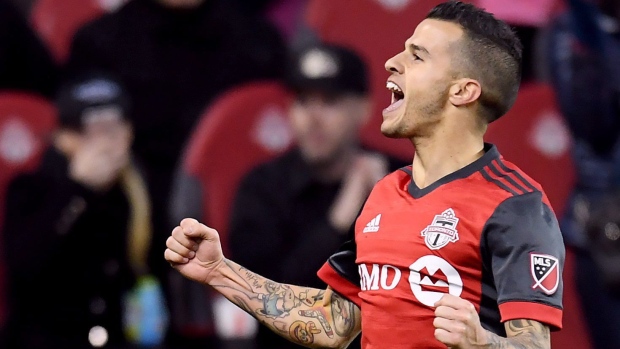 Sebastian Giovinco's tenure with Toronto FC has come to an end.
The Italian striker has been sold to Al-Hilal of the Saudi Professional League, Toronto FC announced on Wednesday. TSN's Kristian Jack reports that Toronto will receive a transfer fee of close to $2-3 million.
Giovinco signed a three-year deal according to Al-Hilal's official Twitter account.
"I'd like to thank the fans and my teammates for four special years playing for Toronto FC," Giovinco said in news release. "I'd also like to thank the club for helping me as I transition into the next phase of my career."
The news ends a week of speculation about the striker, who was entering the final year of his contract.
"Seba is any GM's dream. Coming into the organization, I was really excited to work with him and get to know him as a person and as a player," said new Toronto FC general manager Ali Curtis. "We believe in consistency, so this transfer hits hard in a lot of places. I have so much respect for Sebastian as a player and what he has meant to the organization. His departure presents both challenges and opportunities. Obviously, replacing a player like Sebastian is difficult, but we are working diligently and are confident that we will be adding a new Designated Player in the near future who will be an exciting addition to our team."
The former MLS MVP missed pre-season training this week in California with a club spokesman saying the 32-year-old Italian international had been excused due to "leg tightness."
In four seasons with Toronto, Giovinco had 68 goals and 52 assists in 114 regular-season league games (111 starts). Giovinco made 142 appearances with 83 goals to become TFC's all-time leading scorer across all competitions. He also had 64 assists across all competitions (MLS, MLS Cup Playoffs, Concacaf Champions League, Canadian Championship and Campeones Cup).
Giovinco won MVP honours in his debut 2015 season, when he was directly involved in 65 per cent of Toronto's 58 goals with 22 goals and 16 assists. TFC made the playoffs for the first time that year, reached the MLS Cup final in 2016 and won it all in 2017, capturing the MLS championship, Supporters' Shield and Canadian Championship.
Last season, he had 13 goals and 15 assists in 28 games as Toronto suffered through a down year.
"This was an extremely emotional transaction for our club. We'd like to thank Seba for all he did for TFC during his time with the club. He gave our fans many thrilling moments during his four years, especially during our championship season in 2017," said Toronto FC President Bill Manning. "He leaves Toronto as the greatest player in club history. We wish Seba and his family nothing but the best as he begins a new chapter."
TFC is reportedly making another move in an effort to build out their roster.
According to Washington Post soccer insider Steven Goff, Toronto is in the process of acquiring striker Terrence Boyd from 2.Bundesliga side SV Darmstadt 98
Boyd, a former US National Team member, had five goals in 30 apperances with the club.
- With files from The Canadian Press