Giovinco consistently delivered for Toronto FC
Superstar Italian striker Sebastian Giovinco was paid a lot of money to play for TFC but he arrived in Toronto as the most important signing in club history and now departs as the team's greatest player ever, Kristian Jack writes.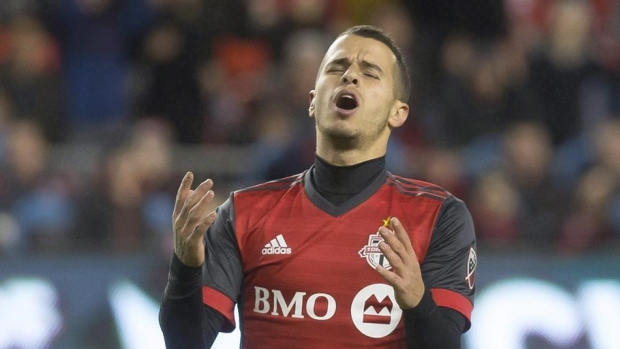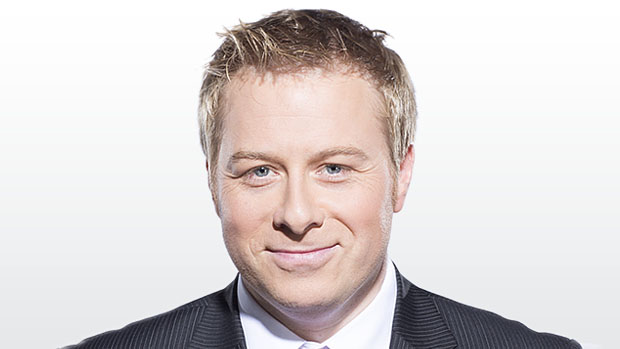 Early February is not the best time to sell someone on the merits of living in Toronto.
For Sebastian Giovinco, it didn't matter. The Italian striker was already buying what everyone was selling him.
Flashback to Feb. 6, 2015 at the Air Canada Centre and the now former Juventus forward is guided down a corridor decorated with photographs of hockey and basketball stars that have shined under Maple Leafs Sports & Entertainment, the parent company of the NHL's Maple Leafs, NBA's Raptors, CFL's Argonauts, AHL's Marlies and Major League Soccer's Toronto FC. His eyes are wide and his mind inquisitive.
What was to become his home was still new. He knew almost as little about the city that the city knew about him.
His next stop was a sit-down interview where he began the quest to inform Toronto just what they were getting.
"Hello, I am Sebastian," he said with an infectious smile that many would soon fall for. He continued with a scouting report on himself. "I am not very tall but I am intelligent as a soccer player. I am quick and very good technically and like to entertain fans that come to the stadium. I will give my maximum here. I want to win here and that will be the main way I can give back."
It was a transfer that had surprised the football world. Toronto FC had finished their eighth consecutive season with a losing record and once again were out of the playoff picture. The new dawn led by Tim Leiweke, president and CEO of MLSE at the time, and then TFC general manager Tim Bezbatchenko looked like another false one with the 'Bloody Big Deal' red bus parked for good close to a dumpster off the Gardiner Expressway. Optimism was quickly and repeatedly crushed.
TFC fans were tired of losing, admission prices had been rolled back to 2007 and the franchise was a laughing stock across Major League Soccer.
At a monumental crossroads in the club history, Toronto FC secured the signature of a player from Europe who was in his prime who absolutely had to be committed from day one.
"This city is beautiful. I feel loved here and feel like I [am] amongst family. I was not as welcomed in Turin as much as I am here," Giovinco said with emphasis.
Those playing close attention already would notice just how important it was for Giovinco to feel loved, something ultimately that would lead to his time ending in the city.
On Wednesday, Toronto FC agreed to terms with Saudi Arabian club team Al-Hilal for the sale of Giovinco to Al-Hilal for a transfer fee of between $2 million and $3 million. The 32-year-old was in the final year of his contract.
Rare these days are long-standing relationships between a player and his club but this absolutely had to be something of substance. It turned out to be a spectacular affair that would reach unimaginable peaks of euphoria.
Initially, the Italian was placed in a side that still had significant flaws and it would take some time for management to finally dig out the necessary weeds in the garden. Giovinco didn't let it bother him, creating consistent masterpieces that the green grass of BMO Field has never previously witnessed. In fact, considering the talent level around him during his 2015 season, it will go down as one of the greatest individual campaigns in the history of the league. He was that good, scoring 22 goals and adding 16 assists on his way to a dominating MVP season.
He scored five goals directly from free kicks. He got a hat trick at Yankee Stadium. His trademark hop and fierce shot from the penalty spot to the goalkeeper's right all made the 'Atomic Ant' the trendiest topic across the league.
Then came the night of Wednesday, Oct., 14, 2015. It was a night that so many in Toronto remember for the 'Bautista bat flip' in the Blue Jays' ALDS playoff game. But it was also a night that lovers of the team in red remember because TFC had finally booked a playoff spot.
Sebastian Giovinco landed on the Pearson Airport runway in Toronto seconds before Marcus Stroman threw out the first pitch on that second Wednesday of October. He had spent the previous 10 hours travelling from Rome, where the night before he had come off the bench to help his national team defeat Norway 2-1 in a qualifying match for the following year's European championships.
As Canada slept, including the Toronto Blue Jays and Texas Rangers, anxiously awaiting dawn on a defining day for the city, the Italian made his way to the airport to get back in time for the match, scheduled to start seven minutes past the 7 p.m. hour local time or 1.07 a.m. in Rome.
Giovinco greeted Greg Vanney with a smile when he arrived and hoped the head coach wasn't joking when it was suggested to him that he would start. He wanted to play, but instead spent the first half in an enormous jacket keeping warm at BMO Field while sitting on the bench. Wednesday had become Thursday in Italy by now. Across town, Edwin Encarnacion's home run had turned the game back into the Jays favour.
It would be a night for players wearing the number 10 jersey.
With the second half about to start, his coat disappeared and the magician began to prepare for his grand entrance. The game remained 0-0; a point was all that Toronto FC needed even though for any kind of relevance in this city, they needed much more. They would go ahead, through Herculez Gomez, and the game seemed to be drifting towards a moribund finish. Not on this night.
It was now 2:38 a.m. in Rome. Giovinco's national teammates had all returned to their clubs and were sound asleep when he was called from his intense workout to enter the field. The stadium had erupted twice already; no bigger than when the Jays secured more playoff games would be born next week in pursuit of a pennant. Now the TFC faithful with glowing hearts rose again to welcome the return of their talisman.
Giovinco had travelled thousands of miles to be with his team for a historical moment. The previous year this club couldn't keep their own star Designated Player away from Europe; now they had one leaving his team to come back and make a difference on the same day. Too often star players of the past have lived on their reputation in MLS, but this player always cared much deeper about creating his own reputation right now. A man for many other nights wanted this one, too. He wouldn't have it any other way.
Give me the ball, said his body language as he invaded space and opened up his arm in anticipation. A touch on the left foot to control it, one on the right, two, three, four, five, six, gliding through defenders, a dummy then a strike on his left foot that kissed the post and knocked a white towel as it landed in the net.
On a night when 50,000 white towels celebrated a famous victory down the street, it was the towel of New York Red Bulls 'keeper Luis Robles that would get the final appearance.
Cue more bedlam. Having watched fans jump into rows they'd never come close to sitting in across town, now it was time for the fans in red to do the same. Giovinco had scored some sensational goals all season but this was easily the best, arguably one of the finest in the history of MLS let alone for a team with too few examples of true glory. For Toronto FC, it was their biggest moment, coming in their ninth year in the league. It was a goal that brought the team's coaching staff to their knees, others with their mouths wide open in disbelief.
Fittingly, Giovinco had secured Toronto FC's first ever playoff appearance. A year later on another October night under the lights at BMO Field, his other foot powered in the club's first ever playoff goal in a 3-1 victory over Philadelphia Union that lifted the weight of expectation and pressure of a team growing into something special.
Playing with freedom in the next round, he scored a spectacular hat trick on a Sunday night at Yankee Stadium that won a match convincingly 5-0 but won over many other skeptics for good.
Post-match, a beaming Drew Moor, who was in his 13th MLS season and isn't one for hyperbole, put it simply: "The best this league has ever seen."
The league's best player was now on one of the league's best teams and together they were about to create the kind of moments any sporting team needs.
Playing against the Montreal Impact at home in the rain followed for a place in the MLS Cup and although Giovinco didn't score in the 5-2 thriller, he turned the game significantly seconds before half time when Toronto won a corner.
The coaching staff had designed a set play on the training ground but the Italian instead had noticed a weakness at the near post and told his partner in crime, Jozy Altidore, to make a run in that direction. Giovinco hit the ball perfectly to provide a key assist at a pivotal moment.
For the next two seasons in the club's monumental wins, Giovinco would continue to play a lead role in the show. Tensions were always high against rivals Montreal and on a summer night that saw anger spill over many times. In the end, he ensured that jubilation was once again the overriding emotion for those connected with this team, scoring a dramatic injury time winner to secure another Canadian Championship.
Another playoff run was next on the hit man's list and a direct free kick at Red Bull Arena – one of 16 he would score for the club – proved to be the difference in an extremely compelling and close two-legged affair. It wouldn't be the last time he curled a dead ball into the net in a big match.
Those were rare moments when he could do it all himself. Giovinco, an individual artist, knew the importance of the collective, and thrived playing with Altidore and Victor Vazquez, the three combining for the one and only goal in the 2017 Eastern Conference final against Columbus Crew. Nine days later, attacking the same south end, Giovinco received a pass from Vazquez and took a little glimpse over his shoulder before kissing the ball twice with his right toes that sent Altidore through to finish a play that the Italian had already seen during that split-second glance.
His promise of entertaining fans had long since been fulfilled and now the winning part was consummated as well.
"A beautiful night," are the words he will forever choose to accompany the memories that cannot help but make him smile.
His brilliant free kick against Tigres UANL, his goal and overall desire to win in the second leg of the final of the CONCACAF Champions League in 2018 were highlights as the club mastered more unchartered territory, scoring key goals on their way to an unprecedented CONCACAF run.
However, perhaps his most symbolic moment of that journey came shortly before the second half inside the iconic Estadio Azteca in Mexico City during the second leg of the CONCACAF semifinal against Club America.
Rain poured from the sky, the noise of thunder from above drowned out the drums and songs from the stands below and the Reds were 45 minutes away from making history. Giovinco, a player who had won games by himself, was only too aware that this didn't fit the profile of one of those matches. The Italian would spend much of the game starved of service but just before the half resumed this was his time.
Inside the tunnel, Giovinco waited for each of his teammates to appear and before they would be seen and jeered again by the hostile home fans he had a message for each and every one of them.
Gone was the shy Italian, uncomfortable with the English language and unsure of his surroundings. In one of the club's biggest moments, he gave back exactly what TFC needed. Belief, experience and the mentality of a winner he had taken from Antonio Conte when he had brought him back to Juventus.
Giovinco had been paid a lot of money to play for Toronto FC, but he delivered consistently in key moments on and off the field. For an emotional man, he accepted and tolerated the lack of talent around him very well, raising their game by improving his own.
When you see Toronto FC, you see it differently than you ever saw it back in 2015. Giovinco arrived as the most important signing in club history and departs as their greatest player ever. He leaves them with a club record 83 goals in 142 appearances. Only four other players have played more, but none have made the impact that he has made.
Considering the state of TFC when he arrived, very few ever will. You cannot replace players of that quality. You simply move on, hoping the next one can also become a difference maker.
Early February in Toronto is not the best time to sell the city. It's a little easier selling a winning team.