The 7-Eleven Power Rankings: Jets and Habs climbing higher
Presented by:

Powered by Blake Wheeler and Connor Hellebuyck, Winnipeg has reached No. 1. Meanwhile, Carey Price and Brendan Gallagher have made the Canadiens the biggest riser of the week.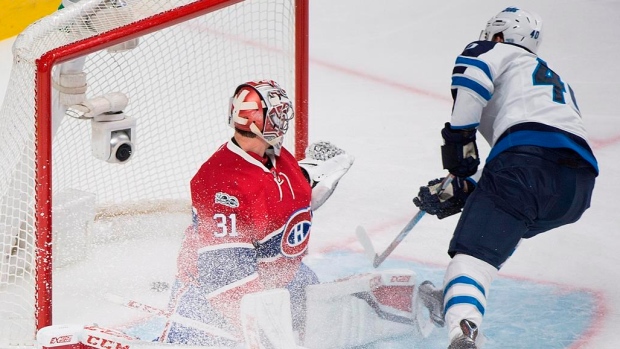 First overall in the Western Conference standings with 38 points, the Winnipeg Jets just keep getting better.
The Jets are the best team in this week's TSN 7-Eleven Power Rankings, according to consensus rankings formulated by the TSN Power Ranking panel of Ray Ferraro, Jeff O'Neill, Jamie McLennan, Craig Button and Darren Dreger.
Winnipeg, ranked No. 4 last week, has shifted its offensive machine into high gear, with captain Blake Wheeler (fourth in NHL scoring with 35 points, including a league-best 28 assists, one up on teammate Mark Scheifele) leading the charge. The club is also getting consistent goaltending from Connor Hellebuyck (15-2 record, .925 save percentage, 2.31 goals-against average). It's hard to believe the Jets were last overall in Week 2 of the power rankings in early October.
The Tampa Bay Lightning, tied with Winnipeg for first overall in the league standings but with a game in hand, remain No. 2 for the second straight week followed by the slumping St. Louis Blues, who drop to No. 3 – losing three straight – after being ranked first last week. The Columbus Blue Jackets move up a spot to No. 4 while the surging Los Angeles Kings, winners of five straight after being No. 12 a week ago, round out the top-five teams.
The Jets remain the top-ranked team in Canada, with the No. 7 Toronto Maple Leafs – who won two of three in Western Canada last week – the country's second best, moving up from No. 9. Thanks to the return of Carey Price, the rejuvenated Montreal Canadiens are the third-best team in the country, catapulting 13 spots in the rankings to No. 13 from No. 26 last week. The Canadiens are followed by the No. 17 Calgary Flames, the Vancouver Canucks at No. 21 and the improving Edmonton Oilers, who move up five places to No. 22 from No. 27 a week ago. The Ottawa Senators are Canada's worst team, falling to No. 27 overall from No. 24 last week.
Ottawa is also the fifth-worst team in the rankings this week, followed by the Arizona Coyotes at No. 28, who climb two spots from No. 30 a week ago. The tanking Detroit Red Wings, who were No. 22 last week, fall to No. 29 overall after seven consecutive losses, while the Philadelphia Flyers, who have lost 10 straight, continue their spiral to No. 30 overall.
The low-scoring Buffalo Sabres, who have yet to be ranked higher than No. 25 overall (Week 1 prior to the start of the regular season), are the league's worst team for the second consecutive week.

2017-18

17-6-4

LAST 10

7-2-1

LAST WEEK

4
A six-game home-winning streak is impressive, but even more so when you consider they've outscored their opponents 31-11 in those six games and are tied for the NHL lead in points with Tampa Bay.

2017-18

18-6-2

LAST 10

6-4-0

LAST WEEK

2
They lead the league in power-play percentage (27.8), with at least one power-play goal in 22 of 26 games. Nikita Kucherov has moved past Steven Stamkos to lead the league in scoring.

2017-18

17-8-2

LAST 10

4-5-1

LAST WEEK

1
The current three-game winless streak (one in OT) is a first for the Blues this season and the four goals they scored are the fewest over any three games in 2017-18. They visit the surging Canadiens next.

2017-18

17-9-1

LAST 10

8-2-0

LAST WEEK

5
Scoring four on Bobrovsky isn't a shock even if he leads the league with a 2.02 GAA. That's because it was against Washington, a team he has a career 6-8-4 record against and a 3.02 GAA.

2017-18

17-8-3

LAST 10

6-3-1

LAST WEEK

12
Someone flicked a switch and the Kings started scoring again. After a 2-6-1 stretch when they scored 15 goals, they've scored 16 in their last four wins and have the NHL's best penalty kill (89.5 per cent).

2017-18

18-7-4

LAST 10

7-1-2

LAST WEEK

6

2017-18

17-10-1

LAST 10

6-3-1

LAST WEEK

9
The Leafs had no problems sweeping Alberta on their Western Canada road trip - defeating Calgary 4-1 and Edmonton 6-4 - but faltered when they reached B.C., falling 2-1 to the Canucks.

2017-18

16-9-1

LAST 10

6-4-0

LAST WEEK

3
The Golden Knights suffered through a three-game skid but, as is their very early tradition, they didn't stay down for long, bouncing back with an OT win over Arizona. Malcolm Subban has been superb.

2017-18

15-7-4

LAST 10

5-3-2

LAST WEEK

7
The Devils might ponder a give-back on Scott Wedgewood from Arizona after he shut them out 5-0 the first time he faced them. They're 12th in league scoring with an average of three goals for per game.

2017-18

15-8-2

LAST 10

7-3-0

LAST WEEK

8
A light week, but they scored five goals in two games (losing Friday to the Senators for their first home regulation loss of the season), making it six of their last nine that they've scored that many.

2017-18

15-10-3

LAST 10

6-3-1

LAST WEEK

15
The Penguins' four-game winning streak comes during a Sidney Crosby hot streak, earning multiple points in five consecutive games (six goals, six assists). Tristan Jarry earned his first NHL shutout.

2017-18

15-11-1

LAST 10

6-4-0

LAST WEEK

10
The Caps were halfway through their game against L.A. with a 2-1 lead, but it all fell apart when the Kings scored twice in nine seconds in a 5-2 loss. Kuznetsov scored both goals for Washington.

2017-18

13-12-3

LAST 10

5-3-2

LAST WEEK

26
Carey Price, who has allowed just six goals in five games, has powered a five-game win streak. That includes a 10-1 win over Detroit, tied for the most goals in a game this season by any team.

2017-18

16-10-1

LAST 10

7-2-1

LAST WEEK

18
Radek Faksa scored every goal in a 3-0 win over Vegas, with two goals scored eight seconds apart. Ben Bishop earned the shutout and made 33 saves in a 3-2 shootout win over Chicago.

2017-18

14-9-2

LAST 10

5-3-2

LAST WEEK

17
A 5-2 loss in Tampa Bay was the third time this season the Sharks have allowed five road goals. Joe Pavelski (205th overall, 2003) scored his 300th career goal, the 18th U.S.-born player to reach the mark.

2017-18

14-10-2

LAST 10

7-3-0

LAST WEEK

14
An odd hat trick this week for Michael Grabner. Two goals were into an empty net, making him the only Ranger (expansion era) with two in one game. Lundqvist rebounds Friday after getting yanked Tuesday.

2017-18

14-11-1

LAST 10

5-4-1

LAST WEEK

11
After falling behind 6-1, the Flames stormed back with four straight third period goals in a 7-5 loss to Edmonton. Johnny Gaudreau is third in league scoring, now just two points back of Kucherov.

2017-18

12-8-4

LAST 10

6-3-1

LAST WEEK

19
Tuukka Rask earned Boston's first shutout of the year and helped the Bruins, who were ranked 28th just three weeks ago, to their sixth win in their last seven games, including a win over the Lightning.

2017-18

12-10-5

LAST 10

4-3-3

LAST WEEK

13
Alex DeBrincat became the first Blackhawks rookie to score 10 goals in a month when he did so in November, including a hat trick against the Ducks. He's fifth in rookie scoring with 19 points.

2017-18

13-10-3

LAST 10

6-3-1

LAST WEEK

16
In their last three road games, the Wild allowed a total of 17 goals, losing two and winning one (against the Blues 2-1 in OT) with Dubnyk making 41 saves and Dumba scoring the winner.

2017-18

13-10-4

LAST 10

5-3-2

LAST WEEK

20
After a six-game road trip, the Canucks celebrated with a 2-1 win over Toronto. Daniel Sedin became the second Canuck to reach 1,000 career points on Thursday (The first, of course, is Henrik).

2017-18

11-14-2

LAST 10

5-5-0

LAST WEEK

27
Good news: Averaging four goals per game and more players taking the load off McDavid. Bad news: Allowed four goals a game with the league's worst penalty kill (72.2 per cent).

2017-18

11-11-5

LAST 10

4-4-2

LAST WEEK

25
Adam Henrique earned a point in each of his first two games, but they lost both games (one in a shootout), have just one win in their last seven and have the NHL's fourth-worst goals for ratio (2.59).

2017-18

11-9-5

LAST 10

5-4-1

LAST WEEK

23
Noah Hanifin had quite the game against Florida. He had his first NHL fight in the second period and then scored his second career overtime goal with just two seconds remaining.

2017-18

10-13-3

LAST 10

5-4-1

LAST WEEK

29
The Panthers battled back twice from one-goal deficits versus Carolina but lost in OT with just two seconds left. Their goals-against average (3.35 a game, fourth-worst in the NHL) has been a problem.

2017-18

12-11-2

LAST 10

4-5-1

LAST WEEK

21
Nathan MacKinnon was tied for the league November lead with 20 points in 12 games and is the first Avs player to be named first star of any month in franchise history.

2017-18

9-10-6

LAST 10

2-7-1

LAST WEEK

24
After going winless in seven straight (0-6-1 since sweeping Colorado in Stockholm) and scoring just nine goals, they beat the Isles 6-5. The next game? A 5-0 loss. Craig Anderson is struggling in net.

2017-18 RECORD

7-18-5

LAST 10

5-3-2

LAST WEEK

30
They tied their season high with five goals against New Jersey as Scott Wedgewood blanked his old team. Arizona also played well against the Oilers and Vegas, losing both games 3-2 in OT.

2017-18

10-12-5

LAST 10

2-4-4

LAST WEEK

22
The Red Wings lost their seventh in a row (three in OT) - their longest skid since Nov. 2013 - and also by a 10-1 score in Montreal. Fans at Little Caesars Arena last week chanted 'Fire Holland.'

2017-18

8-11-7

LAST 10

0-5-5

LAST WEEK

28
The Flyers were shut out for the third time during their current 10-game winless streak (franchise's first 10-game skid since Feb. 6-23, 2008), 3-0 by Boston. But they earned a point in five of them.

2017-18

6-17-4

LAST 10

1-8-1

LAST WEEK

31
After being shut out three games in a row for the first time in team history, the how-low-can-you-go Sabres have the worst goals-for (2.07 per game) and the worst goals-against average (3.44).