The 7-Eleven Power Rankings: Lightning No. 1 for second straight week
Presented by:

Andrei Vasilevskiy returns to the Tampa Bay lineup as the league-leading Lightning are No. 1 for a second consecutive week in TSN's weekly 7-Eleven Power Rankings.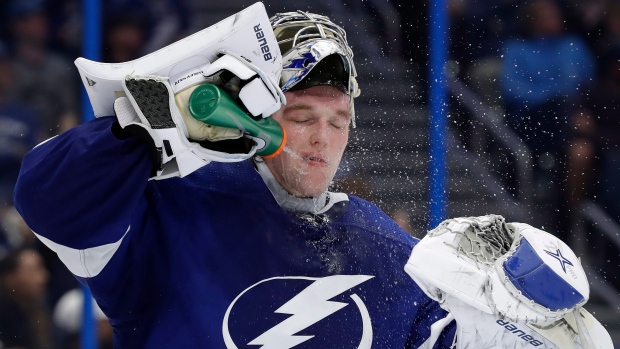 Winners of eight of their last nine games, the Tampa Bay Lightning look good, really good, in fact, as starting goalie Andrei Vasilevskiy is back in the lineup after missing 14 games due to a left foot fracture.
Vasilevskiy was outstanding in a 48-save win over the Toronto Maple Leafs last Thursday and helped earn the Lightning an overtime point against the surging Jets Sunday night in Winnipeg. Backup Louis Domingue (14-4), meanwhile, got the job done in Vasilevskiy's absence as Tampa Bay remains No. 1 for a second straight week in our 7-Eleven Power Rankings, according to consensus rankings formulated by the TSN Power Ranking panel of Ray Ferraro, Jeff O'Neill, Jamie McLennan, Craig Button and Darren Dreger.
The Lightning continue to lead the league in victories (25), points (52) and are scoring an average of 4.00 goals a game, tops in the NHL. They also have the league's second-best power play (behind Winnipeg) and the fourth-best penalty-killing unit.
The surging Jets have won a season-high five straight and nine of their last 10 to move up one spot this week to No. 3 just behind the No. 2 Calgary Flames who ascend the rankings ladder after going 3-0-0 last week. The Flames are 22-10-2 for their second-best start in franchise history.
Rounding out our panel's top five this week are the Nashville Predators at No. 4, moving up from their No. 5 ranking after winning three straight games, and the Washington Capitals, who rise to No. 5 from No. 7 a week ago following five straight wins as Alex Ovechkin registered hat tricks in consecutive games to lead the NHL with 29 goals.
The Maple Leafs, 1-1-1 last week, drop four places to No. 6 this week after Auston Matthews was held off the scoresheet for two straight games. Nevertheless, the Leafs join the Flames and Jets in our panel's top 10 this week. The Edmonton Oilers move up one spot to No. 11 after a 2-1-1 week and the Montreal Canadiens rise to No. 14 from No. 15 a week ago after winning five of six games.
After a 3-0-1 week, the Vancouver Canucks move up six spots to No. 20 for the most significant jump of the week in our rankings while the No. 24 Ottawa Senators drop one place following a 1-2-0 week.
The Dallas Stars have the biggest drop of the week, falling five spots to No. 18 after losing their fourth straight game – all road games against Western Conference opponents.
Rounding out our panel's lowest-ranked teams this week are the No. 27 New Jersey Devils, the St. Louis Blues at No. 28, the No. 29 Philadelphia Flyers, who fired head coach Dave Hakstol on Monday following a disastrous road trip in Western Canada, the No. 30 Chicago Blackhawks and the Los Angeles Kings return to the dubious No. 31 ranking after four straight losses (two in regulation, two in overtime) last week.

RECORD

25-7-2

LAST 10

8-1-1

LAST WEEK

1
Their eight-game winning streak came to an end when they lost to Winnipeg in OT Sunday. Andrei Vasilevsky returned from his injury to make 48 saves in a 4-1 win over Toronto in the previous game.

RECORD

22-10-2

LAST 10

8-1-1

LAST WEEK

3
Comebacks are a common recent theme in the NHL, with the Flames joining the party against Philadelphia. Trailing 5-3 with 1:08 remaining they scored twice to tie it up and then won it in OT.

RECORD

22-9-2

LAST 10

9-1-0

LAST WEEK

4
The Jets don't mind playing a little extra time. They've won nine of their last 10, with four of those wins in overtime and one other in a shootout. Mark Scheifele has 14 points in his last five games.

RECORD

22-10-1

LAST 10

6-4-0

LAST WEEK

5
A shootout win over New Jersey was their third in a row and fifth straight at home. It improved their record against the Eastern Conference to 10-0-0, the best start between conferences in NHL history.

RECORD

20-9-3

LAST 10

8-2-0

LAST WEEK

7
Alex Ovechkin missed out on an NHL record third hat trick in a row, but he did score the tying goal and the shootout winner against Buffalo to give the red-hot Capitals their fifth straight win.

RECORD

21-10-2

LAST 10

6-2-2

LAST WEEK

2
Six of seven games in December have been on the road where they have a record of 3-2-1 (0-0-1 at home). The team's surprise leading scorer for the month is Jake Gardiner with 10 (1-9-10) points.

RECORD

20-9-5

LAST 10

4-3-3

LAST WEEK

8
The Sabres ended a mini-slump (0-3-2) with points in four consecutive games (3-0-1), helped by Jack Eichel who has nine of Buffalo's 20 goals in December. Jeff Skinner has the team lead in goals with 24.

RECORD

18-9-6

Last 10

5-3-2

LAST WEEK

6
A win over Dallas ended a three-game losing streak (0-2-1). Gabriel Landeskog scored his 20th and 21st goals, Nathan MacKinnon scored his 20th and Mikko Rantanen extended his point streak to 14.

RECORD

18-11-5

LAST 10

8-2-0

LAST WEEK

9
Recently acquired Daniel Sprong scored twice, including the overtime winner in a 2-1 decision over Columbus to give the Ducks their fifth straight road win. At home, they've won four of their last five.

RECORD

18-11-5

LAST 10

6-3-1

LAST WEEK

14
The Sharks have won four games in a row (and six of their last seven) for their longest winning streak of the season. Timo Meier leads all San Jose goal scorers during the streak with four.

RECORD

18-13-3

LAST 10

7-2-1

LAST WEEK

12
A 4-1 win over the Flyers ran their home winning streak under Ken Hitchcock to six games, allowing a total of six goals. On the road they're 3-2-2 with Hitchcock, giving up 29 goals in those seven games.

RECORD

19-14-2

LAST 10

7-2-1

LAST WEEK

11
You couldn't blame Marc-Andre Fleury for letting in a few goals in his 12th straight start as they blew a 4-1 lead to lose 5-4 in OT to New Jersey. He won his 13th straight start two days later and has 19 wins.

RECORD

17-12-4

LAST 10

4-6-0

LAST WEEK

10
Four goals in 4:50 in the second period helped Boston overcome a 2-0 deficit and defeat Arizona. Patrice Bergeron, who's been out since Nov. 16, may practice Wednesday and could return next week.

RECORD

17-11-5

LAST 10

6-4-0

LAST WEEK

15
The Canadiens have won five of six games, with a dubious 7-1 loss to Minnesota spoiling their record. In the five wins they've scored 24 times, with 11 different players contributing with goals.

RECORD

15-11-6

LAST 10

6-3-1

LAST WEEK

17
Matt Murray made a successful return in net after missing a month with a 4-3 win over L.A. to give Pittsburgh a 5-1-1 record in their last seven. Casey DeSmith was 7-2-2 in Murray's absence.

RECORD

17-13-2

LAST 10

4-6-0

LAST WEEK

18
Losers of five of six, the Wild found their scoring touch with 7-1 and 5-1 wins. Then they faced Calgary on Saturday for the second time in five games and lost 2-1, after losing 2-0 to the Flames on Dec. 6.

17. Columbus Blue Jackets
RECORD

17-12-3

LAST 10

4-5-1

LAST WEEK

16
A lengthy home stretch (five of six games) didn't do much to help them - they've lost five of seven. They were 1-3-1 at home and were outscored 19-11. They did win one road game, over the Flyers in OT.

RECORD

16-14-3

LAST 10

4-5-1

LAST WEEK

13
The Stars have lost four in a row, all on the road and all to Western Conference teams. The worst loss was to Anaheim – they led 3-1 with 3:30 left in the second and then allowed five goals to lose 6-3.

RECORD

15-12-4

LAST 10

4-4-2

LAST WEEK

19
Although just 3-3-1 so far in December, the Isles have been successful in two respects this month: they're 2-0-1 back at Nassau Coliseum and they've allowed 24.1 shots per game – fewest in the league.

RECORD

16-16-4

LAST 10

5-3-2

LAST WEEK

26
A 4-2 win over Edmonton was the sixth straight game they have earned a point, five of those resulting in wins and one OT loss. Elias Pettersson has regained his touch with 12 points in those games.

RECORD

14-13-5

LAST 10

3-5-2

LAST WEEK

20
The 'Canes led Washington 4-1, but allowed four straight goals and then lost in the shootout. Team points leader Sebastian Aho, who had four points in the game, did not participate in the shootout.

RECORD

14-13-5

LAST 10

2-5-3

LAST WEEK

21
The good news in their game against Arizona was that they welcomed Mats Zuccarello back to the lineup and scored three power play goals. The bad news is that they blew a 3-0 lead and lost in OT.

RECORD

14-15-5

LAST 10

4-4-2

LAST WEEK

22
Detroit has just one regulation win in their last eight and that was over Los Angeles when they were outshot 43-21. Dylan Larkin is playing well on a current seven-game (4-6-10) point streak.

RECORD

14-16-4

LAST 10

5-4-1

LAST WEEK

23
They're a respectable 10-5-3 at home, but are one of the league's worst on the road (4-11-1). They're consistent in one respect: allowing the most shots at home (38.1) and the most on the road (38.2).

RECORD

12-13-6

LAST 10

4-4-2

LAST WEEK

25
The Panthers lost their fourth straight on the road, but at home they've earned points in seven of their last nine, despite just one regulation win. Six of those nine games have gone to extra time.

RECORD

14-16-2

LAST 10

5-5-0

LAST WEEK

24
Losing 3-0 to the New York Rangers and headed for their fifth consecutive defeat, the Coyotes turned it around with four unanswered goals to win 4-3 in overtime. But in their next game they lost 3-0.

RECORD

11-13-7

LAST 10

2-4-4

LAST WEEK

28
Trailing 4-1 to Vegas, the Devils scored four straight goals to win in overtime. Against Nashville they trailed before scoring the equalizer with 1:31 remaining to earn a point in the shootout loss.

RECORD

12-15-4

LAST 10

4-5-1

LAST WEEK

30
One of the few things going right is Ryan O'Reilly, who leads the team in goals, assists and points. His shorthanded OT goal gave them a win over the Avs. Going wrong is Jake Allen (.897 SV %, 3.23 GAA).

RECORD

12-15-4

LAST 10

3-5-2

LAST WEEK

27
Their road trip in Western Canada was a disaster, losing all four games (0-3-1) and getting outscored 22-9. In the one game they should have won, they led 5-3 with 1:08 left but lost 6-5 in OT to Calgary.

RECORD

10-19-6

LAST 10

1-8-1

LAST WEEK

31
The good news is Jonathan Toews had three points in a 6-3 win to end their seven-game skid. He had three more points in an OT loss to Winnipeg. The bad news is Corey Crawford has another concussion.

RECORD

11-20-3

LAST 10

2-6-2

LAST WEEK

29
An eastern four-game road trip resulted in four straight losses, but what counts for the basement-dwelling Kings as a positive is that they earned points in two of the four games when they went to OT.