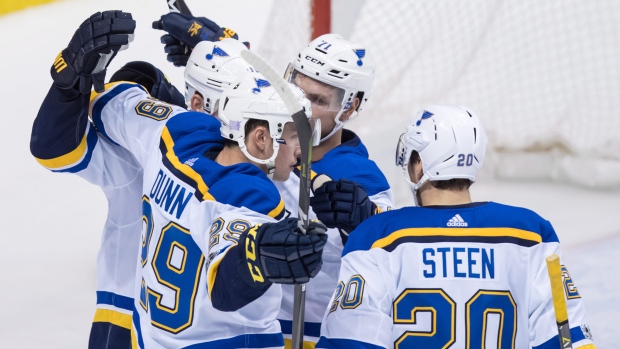 The St. Louis Blues are getting oh-so close to the top.
Led by high-scoring forwards Brayden Schenn and Jaden Schwartz (26 points apiece), the Blues (31 points in the NHL standings) remain at No. 2 for a fourth straight week, just one place behind the No. 1-ranked Tampa Bay Lightning, in TSN's 7-Eleven Power Rankings, according to consensus rankings formulated by the TSN Power Ranking panel of Ray Ferraro, Jeff O'Neill, Jamie McLennan, Craig Button and Darren Dreger.
The Blues, who rallied from a 3-1 second-period deficit to beat the Vancouver Canucks 4-3 in overtime Saturday, lead the Winnipeg Jets (No. 3) by four points in the Western Conference standings (the Jets have played two fewer games). The high-scoring Toronto Maple Leafs, winners of six straight, move up to No. 4 from No. 8 last week, while the New Jersey Devils, who were ranked No. 26 just prior to the start of the regular season, sit at No. 5 and have remained in the top five for a fourth straight week.
The Los Angeles Kings, who have slipped from No. 1 to No. 3 to No. 5 and now to No. 9 over the past four weeks, have just one win in their last six games to fall out of the top-five rankings.
With four straight wins, the Jets remain the best team in Canada, followed by the Leafs, who have both Auston Matthews back in the lineup and superb goaltending from Frederik Andersen (two consecutive shutouts). The Calgary Flames (No 12, moving up from No. 17 last week) and the struggling Ottawa Senators, who drop to No. 13, down from No. 7 a week ago, round out the top-four Canadian teams. The Edmonton Oilers (No. 28, falling from No. 25 last week) and the No. 27 Montreal Canadiens, who plummet nine spots from No. 18 in last week's rankings, are the country's worst teams. The No. 24 Canucks drop two spots from No. 22 overall last week.
The Arizona Coyotes, who have won two straight, climb all the way to No. 30 after five weeks at No. 31, while the Buffalo Sabres – winless in their last five – drop into last place overall. The Florida Panthers (No. 29), the low-scoring Oilers in the No. 28 spot and the Canadiens (No. 27) make up the bottom-five teams.
Check out TSN Hockey's full list below.

2017-18

15-3-2

LAST 10

7-2-1

LAST WEEK

1
The Lightning weren't kind to former teammate Ben Bishop, pumping in six goals on his return to Tampa Bay. His replacement, Andrei Vasilevskiy (14-2-1, 2.34 goals-against average), allowed just one.

2017-18

15-5-1

LAST 10

7-3-0

LAST WEEK

2
In 2012-13, Brayden Schenn was 8-18-26 for Philadelphia in 47 games last season. This year, he's also 8-18-26, but in just 21 games.

2017-18

12-4-3

LAST 10

8-1-1

LAST WEEK

3
The Jets have points in 12 of their last 13 games and are the NHL's second-best in goal differential (1.37 - behind TAM). Captain Blake Wheeler has 25 points and is tied for seventh in NHL scoring.

2017-18

14-7-0

LAST 10

7-3-0

LAST WEEK

8
Six wins in a row has put some space between the Maple Leafs and the .500 mark, with two shutouts by Frederik Anderson. Auston Matthews returned to the lineup Saturday to score two goals.

2017-18

11-5-3

LAST 10

4-3-3

LAST WEEK

4
A couple of letdowns in two losses this week. They allowed an OT goal with three seconds remaining in Toronto and they allowed three goals in 1:35 in a defensive collapse to Winnipeg.

2017-18

12-7-1

LAST 10

5-4-1

LAST WEEK

9
The Blue Jackets have won three straight thanks to Sergei Bobrovsky, who's tied with Corey Crawford for the NHL's best save percentage (.933) and blanked the Rangers on Friday.

2017-18

11-6-2

LAST 10

7-3-0

LAST WEEK

6
Nashville's averaging four goals per game in November, second most in the NHL. Ten players have at least five points while Ryan Johansen had a three-point night on Thursday.

2017-18

12-6-1

LAST 10

4-5-1

LAST WEEK

10
Vegas is on a seven-game home winning streak, the longest in the NHL this season. They're also averaging 3.58 goals scored per game – fourth best in the league. Malcolm Subban returns from injured reserve.

2017-18

12-7-2

LAST 10

3-6-1

LAST WEEK

5
The Kings lost the first four games of a five-game homestand, failing to score more than two goals in any of them. After starting the season 11-2-2, they have now gone 1-5-0.

2017-18

11-8-3

LAST 10

7-3-0

LAST WEEK

15
The Penguins finally lost their first regulation home game this season, 2-1 to Chicago, but are still a healthy 6-1-1 in Pittsburgh, compared to 5-7-2 on the road.

2017-18

11-7-2

LAST 10

6-3-1

LAST WEEK

16
The Isles have scored at least five goals in three straight games for the first time since 1996. Anders Lee (18 points in past 13 games) and rookie Mathew Barzal (17 in 13) are on a tear.

2017-18

11-8-0

LAST 10

6-4-0

LAST WEEK

17
An injury to Mike Smith wasn't serious as he returned to beat last season's goalie, Brian Elliott, 5-4 in OT in Philadelphia, where Sean Monahan recorded his first NHL hat trick.

2017-18

8-5-6

LAST 10

4-4-2

LAST WEEK

7
Since winning two games in Sweden against Colorado, they've lost three straight while scoring just three total goals. And former Avalanche Matt Duchene has yet to register a point with Ottawa.

2017-18

11-9-1

LAST 10

6-4-0

LAST WEEK

12
Away losses of 6-2 and 6-3 illustrate the problems they've had with road defence, allowing 4.00 goals per game, third worst in the NHL. Evgeny Kuznetsov leads the Caps in scoring with 23 points.

2017-18

10-8-2

LAST 10

4-4-2

LAST WEEK

21
A 2-1 win over Pittsburgh was the eighth consecutive for Chicago over the two-time defending Stanley Cup champs. Artem Anisimov got a hat trick against the Rangers, the team that drafted him in 2006.

2017-18

10-9-2

LAST 10

7-3-0

LAST WEEK

11
A six-game winning streak ended abruptly with a 6-3 loss to Chicago, followed by a 2-0 loss to Columbus and then a 3-0 win over Ottawa, with Lundqvist recording his 63rd career shutout.

2017-18

10-8-3

LAST 10

6-2-2

LAST WEEK

23
Little Caesar's Arena is getting kinder to the Wings. They've earned points there in five in a row, including an 8-2 thrashing of Calgary. Andreas Athanasiou has five goals in 11 games.

2017-18

9-8-2

LAST 10

5-5-0

LAST WEEK

19
A 3-1 loss in Washington ended a four-game winning streak that saw six goals scored by Jason Zucker and three consecutive shutouts by Devan Dubnyk.

2017-18

9-7-3

LAST 10

5-3-2

LAST WEEK

24
John Gibson allowed two goals to Boston on 42 shots and two goals to Florida on 52 shots - both for home wins this week and tying their longest win streak of the season.

2017-18

9-6-4

LAST 10

5-2-3

LAST WEEK

27
Teuvo Terevainen leads Carolina (now 4-1-1 after dropping four straight) in November scoring with 13 points and doubled his goal output on the season with a hat trick against Dallas.

2017-18

10-9-1

LAST 10

5-4-1

LAST WEEK

14
Kari Lehtonen allowed a short-handed goal, power play goal and even-strength goal over 3:48 span against Edmonton before being pulled. The Stars rallied and won 6-3 with Ben Bishop in relief.

2017-18

10-8-0

LAST 10

6-4-0

LAST WEEK

13
The Sharks have the best GAA in November at 1.86 and the third-best save percentage at .932. But they've also scored just two goals per game for the month and have lost two straight.

2017-18

10-8-1

LAST 10

5-4-1

LAST WEEK

26
The Avalanche were 28th in home goals for per game last year at 2.32. This year, they are tied for first with 4.63 per game and fifth best in overall scoring with 3.42 per game.

2017-18

9-8-3

LAST 10

3-5-2

LAST WEEK

22
Vancouver has been better on the road than at home. They have just one win in their last five at home (they lost in OT to the Blues Saturday) and are 3-5-3 at Rogers Arena, compared to 6-3-0 on the road.

2017-18

8-8-4

LAST 10

3-3-4

LAST WEEK

20
The Flyers, who have lost four straight, have been shut out this season a league-leading five times, three of those games in November already. They were shut out eight times all of last season.

2017-18

8-7-4

LAST 10

4-4-2

LAST WEEK

28
The Bruins won consecutive games for the first time this season and they did it in style, with Anton Khudobin (5-0-2, .935 SV%) winning 2-1 in Los Angeles and 3-1 in San Jose.

2017-18

8-11-2

LAST 10

5-4-1

LAST WEEK

18
The Habs were showing signs of improvement, but suffered two embarrassing home losses to Arizona and Toronto. The positive is that Carey Price (3-7-1, .877 save percentage) is skating again.

2017-18

7-11-2

LAST 10

4-5-1

LAST WEEK

25
Only Arizona and Buffalo have worse records. The bright spot for a team that's scoring just an average of 2.50 goals per game (27th) remains Connor McDavid, moving up to sixth in scoring with 25 points.

2017-18

7-11-2

LAST 10

3-6-1

LAST WEEK

30
Roberto Luongo earned his 74th career shutout in San Jose, good for 11th all-time and the most among active goalies. He also earned his 457th win - fourth all-time in the NHL.

2017-18 RECORD

4-15-3

LAST 10

3-5-2

LAST WEEK

31
It took until their 21st game, but the Coyotes finally won their first game in regulation in Montreal. They then won two in a row for the first time this season, this time in Ottawa (3-2 in overtime).

2017-18

5-11-4

LAST 10

2-6-2

LAST WEEK

29
The Sabres continue to struggle, with no wins in their last five and just one goal in seven of their last 11 games. Time for a trade, coaching change or another Jack Eichel rant?