The incredible career trajectory of Nino Niederreiter
Former fifth-overall pick has bounced back from a miserable season with the Islanders to establish himself as an all-around forward who dominates the puck every night, Travis Yost writes.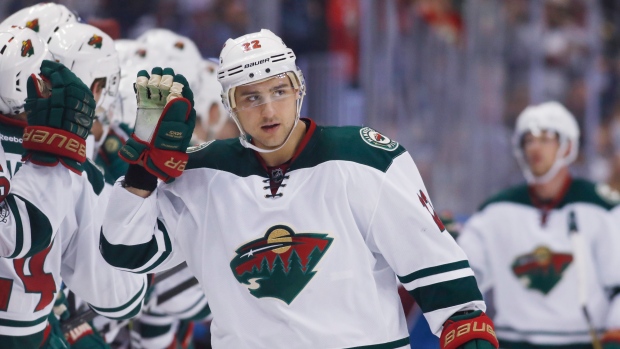 Five years ago, there was a legitimate question as to whether or not the former fifth-overall pick in the NHL Entry 2010 draft was going to wash out of the league.
Nino Niederreiter has come a long way since then.
Niederreiter's career trajectory is unlike anything I've seen before – from top-tier, blue-chip prospect, to a guy who looked miserable on the ice and was unable to generate any semblance of offence, to a bona fide top-six winger who makes everyone around him better. All this before he's turned 25 years of age.
Five years ago, Niederreiter produced one of the uglier seasons of the modern era for any rookie forward, scoring just one goal with zero assists over 55 games. The goal-scoring was particularly worrisome. How frequently do forwards with that little punching power ever stick around? If you guessed infrequently, if at all, you're right: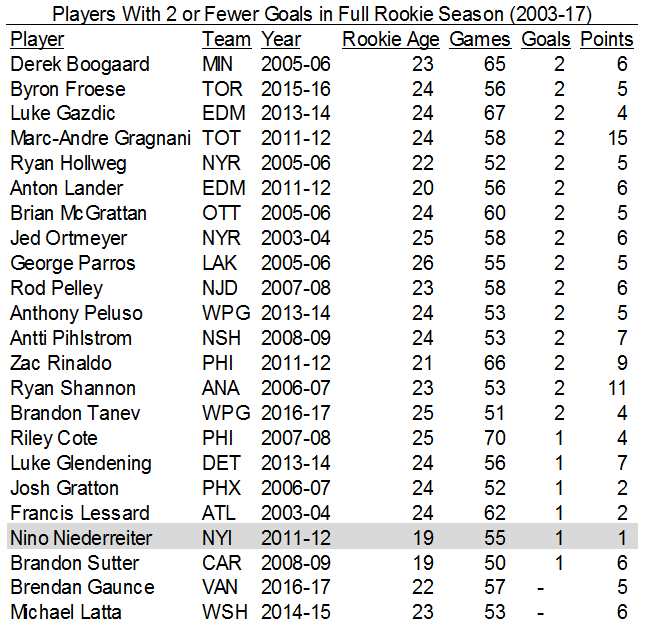 I used the term punching power for a reason. This list is littered with guys who pretty much found a spot in the league as pure enforcer types. Even putting those names aside, there just isn't much – if any – forward talent on this list. The guys who have managed to stick around – Brandon Sutter is one decent example – have done so as purely defensive specialists. Even with just one season of data, most teams can get a sense of where your game is going at the NHL level. For Niederreiter, the story looked dismal.
The Islanders ended up trading Niederreiter (in part because of poor production, but also in part because of an obvious player-team disconnect) for about 30 cents on the dollar a year later, acquiring a checking-line forward in Cal Clutterbuck in return.
Niederreiter's story on Long Island had ended, but his story was just beginning in Minnesota.
Almost immediately, Niederreiter morphed into a steady, reliable scoring option for the Wild. And he's continued to progress that way ever since. Niederreiter's point totals have moved upward every season since the trade – from 36, to 37, to 43, to 57 during last year's campaign.
If his age-21 season was the turnaround year, then last season was the breakout. Niederreiter took a significant step forward, evolving from that reliable middle-six weapon to a bona fide top-six scorer. His 25 goals ranked tied for 47th amongst all forwards (86th percentile), surrounded by names like Jamie Benn, Mike Hoffman, Logan Couture, and Jack Eichel.
There's no doubt that Niederreiter benefited to some degree playing with the creativity of Eric Staal and the relentless, hard-working demeanour of Charlie Coyle. As a trio, the group created one of the more formidable lines in the entire NHL – and acted as a lethal secondary option behind the Jason Zucker, Mikko Koivu and Mikael Granlund line.
I do want to call attention to a piece of Niederreiter's game that I think has gone unnoticed. Niederreiter's scoring touch didn't blossom out of thin air. He was a fantastic junior scorer with the WHL's Portland Winterhawks, which was one of the big reasons why he was taken so high in the draft. So, in one way, maybe some fans should have expected his scoring rates to rebound after an ugly initial season on Long Island.
The big step, rather, was his progression on two separate fronts: one, as a playmaker and distributor on the wing, and two, as a cleanup man in the defensive zone. Those were the foundational pieces that empowered Mike Yeo and Bruce Boudreau to deploy him with more flexibility – he could move up and down the lineup as needed, rotate in on the power play, and be relied upon in late-game close-out situations.
One of the most impressive data points showing the impact Niederreiter's had on his team? The shot differentials when he's on the ice. Minnesota had more than 55 per cent of the shots when Niederreiter was taking a regular shift, and about 47 per cent with him off. That's a wild difference.
The key takeaway for me is that it didn't really matter where Niederreiter was or who he was playing with during last season's breakout. Look below at how each player's shot differential (Corsi%) moved upward when playing with Niederreiter, then back down when away from Niederreiter: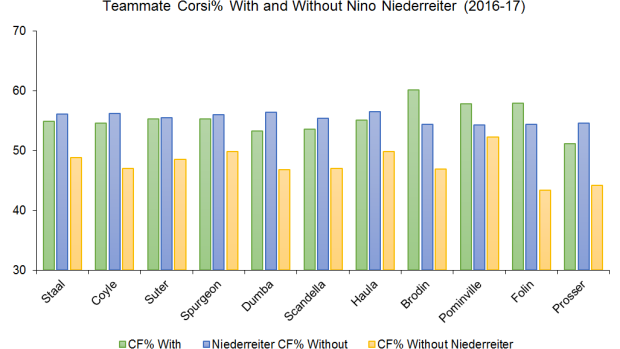 These numbers are Patrice Bergeron-like. Basically, any combination of Niederreiter and a regular teammate meant Minnesota getting about 55 per cent of the shot share, which is elite. If you took any one of those players away from Niederreiter, his shot share was identical – 55 per cent. But if you took away Niederreiter from any one of those players, the shot share crumbled for Minnesota to that aforementioned 47 per cent number.
As an organization, I think Minnesota recognizes that fixing some of their depth issues will be vital as they try to jump from playoff-quality team to legitimate Stanley Cup hopeful. But for Niederreiter, the above just reemphasizes what many thought – he has more than come into his own as an all-around forward, one who can dominate the puck every night and meet the scoring expectations of a top-six forward.
For the price of a checking-line forward, I think it's fair to say that this deal broke incredibly favourably for the Wild.