The interesting wrinkles of Matthews' new deal
The Maple Leafs centre's five-year contract extension sent shock waves through the National Hockey League this week, but not for the usual reasons, Travis Yost writes.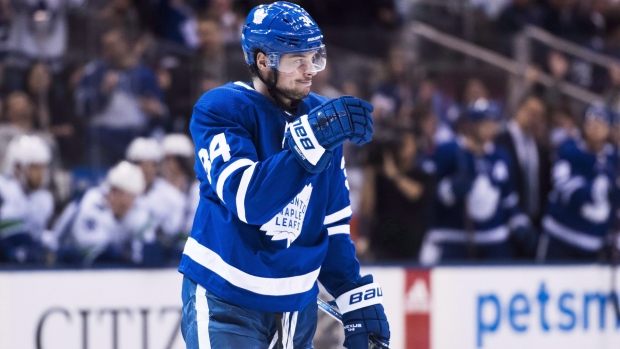 Auston Matthews' five-year contract extension with the Toronto Maple Leafs this week sent shock waves through the National Hockey League, but not for the usual reasons.
Matthews' extension had been a priority for the Maple Leafs all season long. The team has long recognized him as a superstar and wanted to make sure he was the leading part of a young core they believe can win a Stanley Cup in the immediate future. But the extension had two rather interesting wrinkles.
The first wrinkle is that the contract is only five years in length. It is quite rare to see a superstar player coming out of his entry- level contract (ELC) not sign a max deal.
Consider some of the comparables for Matthews. Connor McDavid in Edmonton signed an eight-year, $100 million contract out of his ELC. His teammate, Leon Draisaitl, signed an eight-year, $68 million contract out of his ELC. Buffalo's Jack Eichel signed an eight-year, $80 million contract out of his ELC. Florida's Aaron Ekblad and St. Louis' Vladimir Tarasenko landed on eight years and $60 million each. Anyways, you get my point.
It's interesting that Matthews accepted a shorter-term deal, and it raises a few interesting theories.
Is it possible that the NHL's version of the supermax contract – the ability to sign an eight-year extension with the team that drafted you as opposed to a seven-year extension elsewhere – may be diminishing in value?
If you follow the NBA, there is a bit of a crisis with their supermax, which was designed to create a carrot for players to sign with the team that drafted them for longer term and more total money. Superstar players have started to recognize they can sign shorter contracts at a higher percentage of the salary cap each year, continuing to bet on both their individual performance and the performance of their front office to build a contender.
Another way of saying this: NBA players have taken much more control over contracts, and teams – especially small-market teams – are getting increasingly agitated (Anthony Davis, anyone?).
If the pool of NHL superstars decides to get more aggressive chasing shorter-term deals and betting on both their own performance and the performance of their respective front offices to build a contender, Matthews' contract could prove to be the bellwether.
I'm certainly not the only one who is theorizing about this. Matthews' contract may not impact the greater group of NHL players, you wonder if the subset of superstars is going to be increasingly curious about shorter-term deals post-Matthews. At the very least it already appears to be a point of discussion amongst some NHL executives.
The second wrinkle is just as interesting, and this has more to do with the team than the player.
If you reviewed the terms of Matthews' deal, you will notice that 94 per cent of the money allocated in that deal is by way of signing bonuses. We have talked about signing bonuses at length here for a variety of reasons, but the crux of it is two-fold: (a) it allows players to get money up front; and (b) signing bonuses are buyout proof, which creates a significant layer of insulation for the player long-term. (In conjunction with both of those points, players and agents are using signing bonuses to create protection against a potential lockout season. So it is well on the radar of every interested party.)
Signing bonuses are also a substantial weapon for big-market teams if used appropriately. Since players perceive contracts structured with signing bonus money as more appetizing, teams with relatively more financial might can stomach the big up-front, lump-sum payments relatively easier. They also can shoulder more financial risk related to potential buyouts, since these teams tend to spend close to the cap ceiling every season.
That brings me back to the Maple Leafs, who have engineered a number of key contracts by way of signing bonus in the Kyle Dubas era. Ninety-two per cent of John Tavares' mega-deal came by way of signing bonus. Patrick Marleau's three-year UFA deal was 77 per cent signing bonus. Fifty-four per cent of William Nylander's six-year deal came by way of signing bonus. It is absolutely core hockey strategy at this point.
It also differentiates the Leafs from most teams. If you look at signing bonus money on the books for every team in the league, it is clear that there is a big-market versus small-market divide. The Leafs top the list: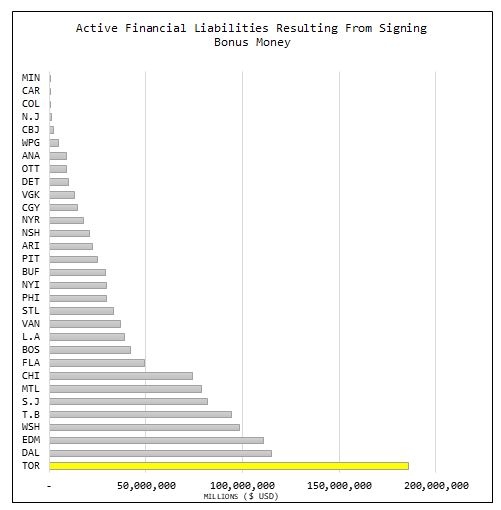 There are a couple of outliers, but for the most part signing bonus liabilities tend to be collinear with the financial might of a respective organization. A second factor – how competitive the team is presently – would also seem to have some impact.
At any rate, there is a fairly clear divide between big market and small market, and Toronto is taking full advantage – as they should. Oh, and by the way: here comes Mitch Marner.
(Contract information via CapFriendly)