The Ja Morant Grizzlies are here now, ahead of schedule
Even with the second youngest roster in the NBA, the Grizzlies currently hold a 29-14 record and are winners of ten straight.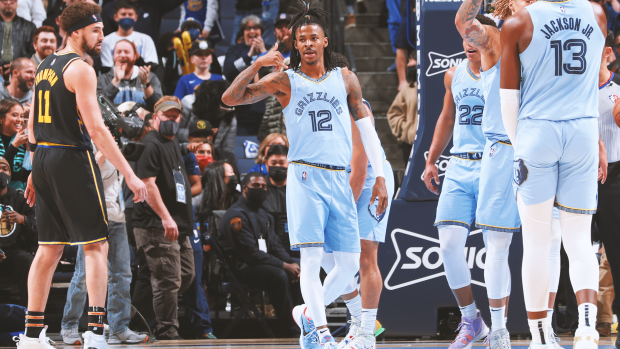 When you watch Ja Morant attack the rim, anything breathtaking can happen. He has the athleticism to dunk on anyone as well as the ill will to try it, but that part has been obvious since he came into the league. What continues to separate him from other great rim-attacking point guards is his inventiveness, an Iversonian flair that allows him to keep attacking in new ways every time so that the defense can't really ever know what's next. His stop-and-go, for example, is mean and twisted for a player with some of the best blow-by speeds in the game. He gets more function out of the 360 layup than anyone else in the league. On the fly, he comes up with moves you might have never seen, thought of or thought possible. I don't even know how to describe this one against Marcus Morris.
Right now, Morant is third in paint scoring (14.9 points per game) this season. The rest of the leaderboard primarily consists of the NBA's best big men — Giannis Antetokounmpo, Nikola Jokic, Anthony Davis and so on. Morant, meanwhile, clocks in at 6'3 and 174 lbs. There are about a dozen players in the league that weigh less than he does, and half that if you discount the COVID hardship signings. Really, we've almost never seen a point guard score this much at the rim at all. Russell Westbrook averaged 15.0 points in the paint in the 2019-20 season, that year playing on a Houston Rockets team that favoured five-out isolation and force-feeding their superstars, and that's it. Some of that comes from basketball's changes over time, with the modern game's faster pace and floor spacing, but also, some of that comes from Morant taking the leap this season.
Morant ranks near league leaders in overall scoring with 24.9 points per game, up from 19.1 last year. He's a great passer, as much as likely to throw up the alley-oop as he is to throw it down, and his three-point shooting is up to 37.8 percent this year including on some pull-ups. With how dangerous his paint attack already is, even an above-average jumper would feel unfair. While defense remains an issue in part because of his size, he at least has the athleticism to make the sort of plays that can fire you up and make you ask the existential questions, like, can a point guard win block of the year? He figures to be an All-Star for the first time in his career, and he's on the cusp of superstar.
Because of Morant, the Grizzlies are ahead of schedule. Even with the second youngest roster in the NBA, they currently hold a 29-14 record and are winners of ten straight, including big ones against the Los Angeles Lakers (twice), Phoenix Suns and most recently, the Golden State Warriors on Tuesday. Right now, they're good for fourth in the Western Conference behind only presumed contenders.
The Grizzlies were a promising young team, for sure, but they weren't supposed to be good this fast. This was more expected to be the year before their good year, or something in that range, but then again, the Ja Morant Grizzlies have always punched above their weight. As a rookie in 2020, he went shot for shot with C.J. McCollum in a dramatic play-in tournament loss; in the next year's play-in, he stole the show against Steph Curry to reach the playoffs. Two weeks ago, Morant duelled with LeBron James — playing unreal right now — and came out on the winning side, with 41 points and six threes. This authentically feels like a Ja Morant team. He has that immeasurable, nebulous quality that you want in your best player, and honestly, he had it before he was even this good. His swagger runs infinite. Late against the Warriors, he scored and-one in a key sequence and then stared down a kid in a Warriors jersey after, just because he's like that. (He apologizes to the kid.) He's exciting, and deeply likeable. It brings a team together, and done right, it brings a city together.
In the early 2010s, the Grit and Grind era of the Grizzlies adopted a persona that felt like an extension of their city's identity. The throwback bully-ball approach favoured by Zach Randolph and Marc Gasol as well as Tony Allen's singular defensive personality became metaphor for Memphis as blue-collar and defiant. A team's basketball philosophy in true harmony with the city it represents, everything fusing together in great vibes and culture.
Even as a South Carolina transplant, Morant is having a similar effect. He embraces and is embraced by Memphis, sharing a friendship with preeminent local rapper Moneybagg Yo. This is a team that feels steeped in the local traditions of Yo Gotti and Juicy J and Key Glock and Young Dolph, RIP, all at once. Instead of the physical and punishing basketball of the last team, today's Grizzlies fly up the court and play uptempo with every intention of flexing on you. They play like the game-plan is to dunk on your head and then post it to IG. This is culture raising, to a level beyond just being a basketball team. This team plays like your favourite group chat, bigging up each other's jokes.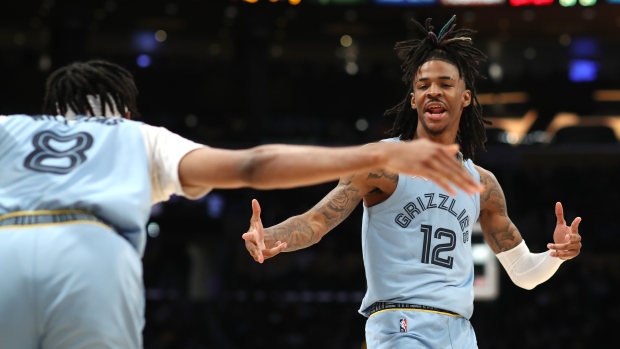 The Grizzlies went 10-2 in a stretch where Morant missed three weeks with a left knee sprain earlier this season. In his absence, the rest of the team collectively raised their game. It might be the single most significant development for the Grizzlies this season that Desmond Bane has emerged as one of the best as well as most well-rounded shooters in the league. He's cash on high volume, shooting 42.7 percent on 7.0 threes per game including ones off movement, and grinds on defense while attacking more off the bounce this season as well. Jaren Jackson Jr. is still inconsistent, but has that rare unicorn potential which represents one of the bigger questions about the next few years in the NBA: How good would the Grizzlies be if Jackson Jr. maximizes his game? He's improved this season, especially on defense, and was assertive about creating his own shot when Morant was out. Still, the three-point shooting comes and goes, and he has to be stronger on the glass to fulfill the idea that floats out there about the best future version of the Grizzlies featuring Jackson Jr. at center.
The Grizzlies have all the time in the world. Morant is 22 years old, Jackson Jr. the same and Bane 23. They've drafted well and often over the last few years, with a roster that runs heavy on other exciting young players in the same age range. In the offseason, the Grizzlies traded Jonas Valanciunas, one of their best players from the past few seasons, for a more low-usage and supplementary player in Steven Adams so that they could run a spread offense that better fit the development of their players. They could've been a worse team this season, and that would've been okay if the players that mattered got better.
Those players got better, and so much better, in fact, that they might just win now. It's still too soon to say that they're on the level with teams like the Warriors or the Suns, but with this team, when has 'too soon' ever mattered?