The John Tortorella Effect
The Columbus Blue Jackets are paying mightily for a bumbled coaching change that ignored a mountain of evidence, Travis Yost writes.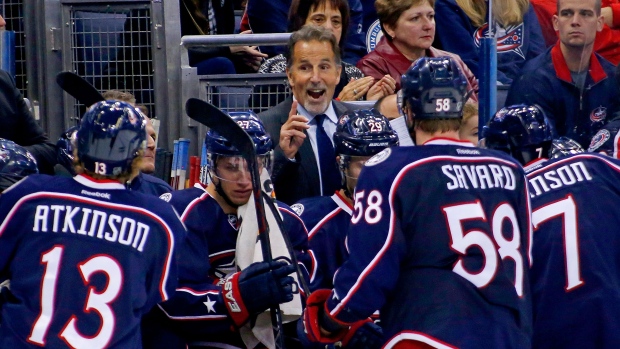 A lot of ink has been spilled about a talented, yet woefully underperforming roster in Columbus that's seemingly submarined any hopes of the team reaching the playoffs in 2015-2016.
I find it interesting that the roster is being shouldered with most of the blame for the team's ugly performance this year. But, that's generally what happens when a front office is in job-saving mode.
And they should be, of course. The team has spent to the cap this year, with more than $22 million committed to the likes of Nick Foligno, David Clarkson, Rene Bourque, Fedor Tyutin, and Jack Johnson. Foligno was extended to an insane contract after – you guessed it – riding a career-high shooting percentage in a contract year. (He's currently shooting 6 per cent.) The Clarkson trade was driven entirely by financials. I'm still not sure how Anaheim general manager Bob Murray conned the front office into taking on Rene Bourque's contract in exchange for, at the time, their best defender (James Wisniewski). When Tyutin and Johnson are your two highest-paid rearguards, you are going to have an extremely bad time.
Exacerbating the issue has been the slowed development of Ryan Johansen. Anyone who has paid attention to the Blue Jackets this year knows the story there – he didn't take the predicted big-step forward, and has since paid for it by way of diminished ice-time and healthy scratches.
So, yes, the cap situation is nightmarish. The player with the most upside on the roster is the subject of nearly every trade rumour in North America. And, generally, the team's asset management for a few years now would grade out about as poorly as any other team in the league.
But, none of this can hold a candle to the biggest misfire of the Jarmo era – the firing of Todd Richards and hiring of John Tortorella.
I can't begin to emphasize how badly mangled this coaching swap was. Let's assume, arguendo, that Todd Richards was simply the wrong guy for the job. They could have terminated him this off-season and had at least a crack at any of the coaches who signed this summer.
Remember them? Dan Bylsma. Todd McLellan. Mike Babcock. Those are three guys with unbelievable success at the NHL level. Maybe Columbus misses out. Maybe they end up with a young up-and-comer like Dave Hakstol or John Hynes. It's a dart throw, but they've been successful at lower levels.
Instead, Columbus wallowed through barely two weeks of unsustainably low PDO (does anyone think they were going to continue stopping 86 per cent of shots and scoring on 4.9 per cent of their attempts?), then fired Richards — the same guy they extended one year prior.
So, I thought: maybe Bruce Boudreau is their guy!
No. They immediately went to John Tortorella, which cost them a second-round draft pick.
Just about everyone knows the book on Tortorella. He distances young players. His system is focused on playing a tight box, throwing bodycheck after bodycheck, wearing shot after shot in the defensive zone and ultra-reliant on bail-the-team-out goaltending. It always ends in the same way: his teams being possession drags that eventually lose by way of unfavourable shot volume.
It's important to note that we have years and years (and years) of data on Tortorella, and his record is as appalling as it is consistent. This data presumably was readily available to the suits tasked with finding their next coach. Anyone in Columbus could have gone through and found what I pulled out in a matter of minutes: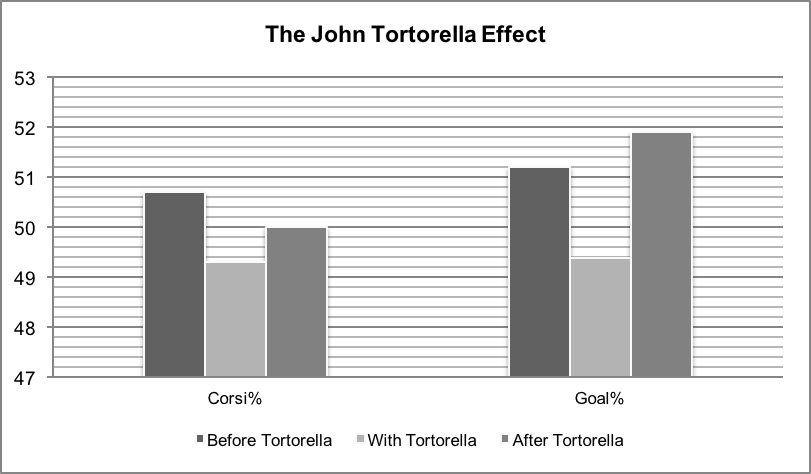 Again: this is over hundreds of games and thousands upon thousands of minutes. His teams become worse when he appears and they improve when he leaves. Like clockwork. He has his occasional peaks like any other bench boss who has spent time in the league – it's just that his valleys are much more painful.
And this is, ultimately, the most perplexing part of this whole ordeal. I don't fault Tortorella at all for the state of hockey in Columbus. John Tortorella did not hire John Tortorella! Columbus knew or should have known the positives and negatives he would bring to the team. So we are left at a final crossroads question: Did Columbus actually think John Tortorella will help this team improve, or did they simply not vet him despite years of established track record?
The Takeaway
Good organizations strike when the iron is hot and know when things are legitimately going south. Bad organizations miss real opportunities and panic at the first sight of distress. Which of those buckets describes Columbus? Pretty easy answer, I think.