The Jordan Brand makes its mark in Canada
Over three decades, the Jordan Brand has been synonymous with basketball excellence and a grassroots commitment to the game. And it lands with authority in Toronto this week as NBA All-Star Weekend gets under way.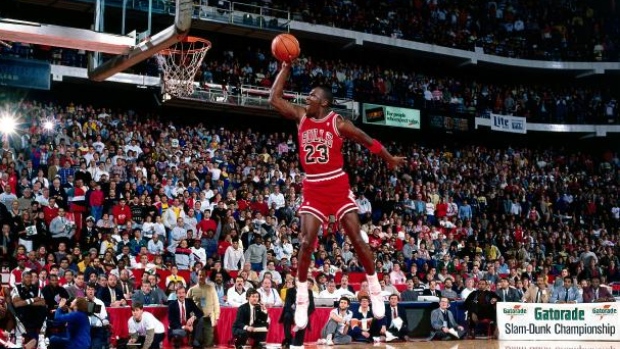 While the rivalry between Magic Johnson and Larry Bird is widely regarded as the biggest in basketball, both of these giants gave way to the greatest player of all time in Michael Jordan.
Bird eloquently said, "It's just God disguised as Michael Jordan," while Johnson referred to Jordan as "the best ever, and probably the best athlete to play any sport."
During this undisputed dominance through the 80's and 90's, Jordan won six NBA titles, five Most Valuable Player awards, rose to fourth on the all-time scoring list, was voted three times as All-Star Game MVP, earned two Olympic gold medals and an NCAA championship to his credit.
And his creativity and competitive spirit on the court were only matched by how he changed the game off the court.
In 1985, Nike worked with Jordan to create the ultimate marketing machine with the Air Jordan line. Suddenly, basketball shoes weren't just a tool of the trade. They became a must have for any player who wanted to emulate "His Airness."
Spanning three decades, Jordan has not only a leading brand in basketball, but a global sports powerhouse.
According to Forbes, Jordan shoe sales in the United States last year alone rose to $2.6 billion for a commanding 58 per cent share of the $4.2 billion basketball shoe market. Jordan Brand also has eight times the sales of signature shoes when compared to the top active NBA star LeBron James. In addition, Jordan Brand has a number of active All-Star players under their umbrella such as Russell Westbrook, Chris Paul, Carmelo Anthony, Blake Griffin and Jimmy Butler.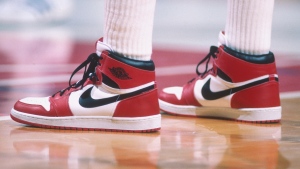 While the success of the Jordan empire and its advancement of the sneaker phenomena speak for itself, its reach doesn't end there.
Their commitment to the development of the game on a grassroots level has been equally notable with the launch of the Jordan Brand Classic in 2002. The JBC showcases the top high school basketball players across the United States and in expanded around the world in 2013.
As the premier platform for high school players, Canadians have been participating in the big game since Day 1, when Toronto native Denham Brown was selected to play alongside Amar'e Stoudamire and 2015 NBA Finals MVP Andre Iguodala. And other Canadians followed like Cory Joseph, Tristan Thompson, Anthony Bennett, Tyler Ennis, Andrew Wiggins and Trey Lyles, all who would go on to become first-round picks in the NBA Draft.
But it was likely the performance of Canadians in the 2013 International Game (where 22 of the best 16-and-under kids from around the world compete) that led to the idea of an event of their own.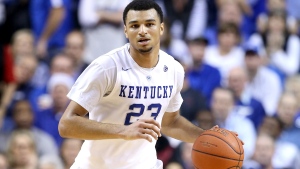 Kitchener, Ontario's Jamal Murray stole the spotlight with a game-high 24 points, seven rebounds and two steals to capture MVP honours. The following year, Brampton, Ontario's Jahvon Blair was also named MVP with a game-high 16 points, four assists and four steal performance. And fellow Canadians Justin Jackson, Simi Shittu, Anthony McNish and Keshaun Sanders have played in the game as well.
And this Thursday in Toronto, Canada gets yet another opportunity to showcase itself under the Jordan banner in the Jordan Brand Invitational. Redondo Union and Oak Hill Academy - two of the top prep schools in the U.S. - will travel to Toronto to face two of the top Canadian programs in Orangeville Prep and Father Henry Carr.
Orangeville is the No. 1 team in the top-ranked OSBA league, as coach Larry Blunt has led players like Murray (Kentucky), Thon Maker and Jalen Poyser (UNLV), with the aforementioned Blair and the 6'9 Kalif Young on his roster.
Young already has the top scholarship offers among players in the Invitational from some of the biggest NCAA schools.
Father Henry Carr is the top team in the Toronto District Catholic Association and the only Jordan Brand-sponsored school in the country. Paul Melnick has coached Carr alumni Tyler Ennis (Milwaukee), Sim Bhullar (Raptors 905), Dillon Brooks (Oregon) and will have current senior standout Shamar Bailey in his lineup on Thursday.
While there's been a steady migration of top high school talent down south (as evidenced by Dartmouth, Nova Scotia's own Lindell Wiggington playing for Oak Hill), these are still skilled players with a sense of pride and don't want to lose at home in a nationally televised game television.
So what can we expect from this game? During Jordan's NBA reign in the mid-eighties to late nineties, a team of All-Stars from Michigan would travel to Toronto for an annual high school match-up, an event that once saw the likes of a young Chris Webber face off against Canadian hoops legend Phil Dixon.
Those games were intense, hotly-contested and highly-competitive. It bred a deep-seated geographic rivalry - one that some swear was as intense as Magic versus Bird.
As only a few can attest to the veracity of that sentiment, the Jordan Brand Invitational looks to spark that Canada-U.S. rivalry anew for all eyes to see. And to think, it all started with the shoes and a giant leap.
The Jordan Brand Invitational can be seen live on TSN1 and TSN GO on Thursday at 6pm et/3pm pt with Henry Carr taking on Redondo Union and at 8pm et/5pm pt with Orangeville Prep facing Oak Hill Academy.