The Babcock Effect (in Detroit)
The early signs are troubling for the Detroit Red Wings, who have shown few signs of their trademark even-strength dominance under new coach Jeff Blashill, Travis Yost writes.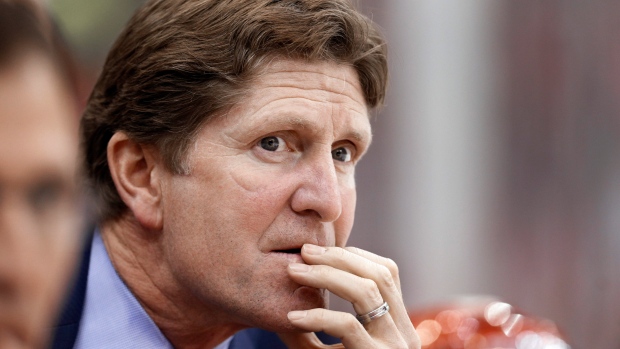 Perhaps the biggest bet the Toronto Maple Leafs have made since overhauling the entire organization has been on new head coach Mike Babcock. His $50-million contract speaks for itself, but it's hard to argue it's anything but earned. He's arguably the best coach in the National Hockey League, and has been for some time.
The bet anticipates that the "Mike Babcock Effect" will percolate throughout the organization, with the biggest impact obviously coming in the area of player performance. Great expectations will come as the roster is built out, but at least for year one, the hope is that some degree of progress will be realized.
It's not manifesting in the standings just yet, but the team has shown signs of improvement. Even with a makeshift roster they rank top 10 in both possession and scoring chance differential. The wins may not materialize until the individual talent is built out, but at the very least, Babcock's turning his ragtag group into a competitive bunch.
What's much more interesting is what has happened to the team that Babcock left behind.
The general consensus at the time of his departure was that the Red Wings organization would mostly be fine – it hurts to lose a great coach, but the system has relentlessly turned out talent at every single level, coaching included. Jeff Blashill would steer the ship towards a 25th consecutive postseason appearance, rendering the turnover little but a memory.
But the early signs in Detroit are troubling. A 4-3-1 start might be a bit kind to a Red Wings team that simply hasn't looked the part of a playoff-calibre club, a shocking development when you consider how consistently great this team has been for years.
Babcock's teams were unremitting in their even-strength dominance – that's where his Red Wings, night in and night out, took their opposition to the proverbial woodshed. They spent every waking shift in the offensive zone, and even if the team had flaws at the margins of their roster, they were extremely difficult to expose.
Blashill's team, through the first eight games, looks far less impressive. That might not be an indictment or criticism of Blashill in any way. Maybe the roster isn't as talented, or maybe the injured Pavel Datsyuk just means that much to the team.
Whatever your drivers are, it's increasingly clear that something's not right. Look at this rolling eight-game average of the team's 5-on-5 possession, and note where they sit right now: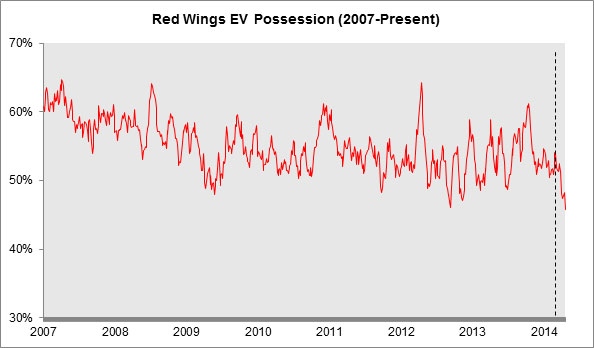 You are reading that correctly. Detroit's possession through the first eight games of this season is 45 per cent, good for 29th in the NHL. The only team they're ahead of right now is Colorado, but that low bar is cleared very easily.
The part that's really concerning though is how many times Detroit has been this bad in the past eight-and-a-half years. The answer to that is, well, never. They have never posted this poor a shot differential for as long back as this graph goes, which kind of rejects the idea that 'small sample variance' is unilaterally killing this team.
It would seem to me that there are multiple potential drivers for what's going on in Detroit.
The loss of Datsyuk to injury has to be driving something, but I'd be extremely cautious about hoping his simple inclusion into the lineup is going to unilaterally right this ship. Datsyuk is many things, but he's not an ironman – he's missed significant time in prior seasons, and for the most part, Detroit's played very well in his absence. Chalking up this massive drop-off to his loss in the lineup would be specious from that aspect, simply because the historical data doesn't really support it. He'll indisputably improve this team upon return, but to what degree?
The "Young Player" theory is one I don't subscribe to. A quick look at how the kids in Detroit are performing suggests they are anything but the problem – players like Teemu Pulkkinen, Dylan Larkin, Gustav Nyquist, Riley Sheahan, et al. have mostly acquitted themselves well.
The last thought is that the simple effect of coaching turnover has been far more pronounced than what was initially anticipated – that stylistically, the change hasn't been seamless, and the core make-up of the roster is still in an adjustment period.
If I had to pick something, this would almost certainly be it. Maybe it's all Blashill. Maybe it's all the loss of Babcock. Maybe it's a combination of both. Whatever the case, the end product is far less impressive than what we are historically used to in Detroit.
The Takeaway
My long-term concern about this Red Wings team grades out about a four on a scale of one to 10. Losing as much talent they have to the aging curve has to sting, but they've done really well to replace it through the draft-and-develop phase.
More interesting to me is to see whether the "Mike Babcock Effect" plays a role in two cities, and whether this Detroit team will see a harsher impact than originally anticipated. Early returns suggest that may be the case.