The Mitchell Report: Garcia struggles again as Braves pound Jays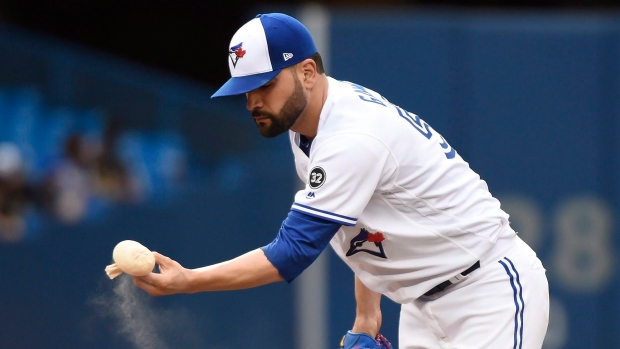 Starter Jaime Garcia struggled over three-plus innings of work as the Braves went on to pummel the Blue Jays 11-4 at Rogers Centre. TSN Baseball Reporter Scott Mitchell provides his key takeaways from the game:
GAME 72, JUNE 19: BRAVES AT JAYS
RESULT: 11-4 loss
RECORD: 33-39
STREAK: L1
1—Garcia bitten by the long ball
While some of the slumbering bats have woken up at the same time, the Blue Jays' 7-3 run over their past 10 games coming into the night had everything to do with the rotation turning things around.
Jaime Garcia could not continue that trend Tuesday, allowing a pair of home runs in just three-plus innings of work.
Most of the damage came in the second frame when, with two out, Garcia gave up a double to Kurt Suzuki, followed by a pair of walks to load the bases.
Johan Camargo provided the big blast, belting a no-doubt grand slam on a 2-0 fastball down the middle to make it 4-0 early.
In the fourth inning, Garcia didn't even record an out, allowing a leadoff homer and then a pair of singles before manager John Gibbons gave him the hook.
There really haven't been many positives to point out when Garcia has been on the mound this season.
His walk rate (4.5) is sky high, he's given up too many home runs (12 in 61.1 innings), and when you combine both of those problems, he hasn't been able to get deep into games, going more than six innings just once in 13 starts.
Garcia is slated to take a 6.16 ERA to the mound with him Sunday in Anaheim against the Angels, but you have to wonder how long the Jays will continue to ride with the struggling southpaw.
2—Calgary's Soroka will see better days
At least this one went better for the Blue Jays than the last time a Canadian was on the mound at Rogers Centre.
Instead of no-hitting the Jays like James Paxton did back in May, 20-year-old Mike Soroka, a native of Calgary, was chased in the fifth inning.
Soroka finished his 4.2 innings allowing eight hits and four earned runs in his first start on home soil, but Braves' bats bailed him out and gave him all the run support he needed.
Unfortunately, he needed one more out to get a 'W.'
When you line up Paxton, Soroka, Philadelphia Phillies righty Nick Pivetta, who struck out 13 St. Louis Cardinals on Monday night, and Jameson Taillon, there's suddenly an exciting group of Canuck rotation arms developing.
3—Solarte continues on path to career year
There haven't been many overachievers on the Jays' roster this season, but Yangervis Solarte continues to provide surprising production.
Solarte, who has been capable with the bat in his hands over his career, is on track for a career year in a number of categories, and he added two more RBI to his total Tuesday on a fifth-inning double, giving him 43 on the season.
He's already three homers away from his career high of 18, set last season in San Diego, but he's also on pace to surpass his 2016 RBI total of 71.
In addition to important infield versatility, Solarte is also tied with Justin Smoak for the second best wRC+ on the team at 114.
4—Jays promote Gurriel in roster shuffle
With Sam Gaviglio's wife expecting back home in Washington state, the Jays placed the right-hander on the paternity list ahead of Tuesday's series opener against the Braves, recalling infielder Lourdes Gurriel Jr. from Triple-A Buffalo to take his spot on the roster.
Gurriel might not be up long, but Gibbons said he preferred the bench option — they've been playing with a short bench just about every game since early May — over another bullpen arm because Monday's off day gave his relievers a break.
Gaviglio is eligible to return Friday, which will set another roster shuffle in motion.
5—Pearce, Stroman on verge of returning
After his start at Double-A New Hampshire on Monday was ruined by rain, rehabbing right-hander Marcus Stroman was able to pitch in a simulated game, putting him on track to return to the Blue Jays rotation this weekend against the Los Angeles Angels.
Stroman declared himself ready to go via Twitter, and Gibbons agreed Monday afternoon.
Stroman last pitched on May 8, before hitting the disabled list with shoulder inflammation.
The Jays wouldn't say exactly when Stroman would start, but the best guess is Saturday when Gaviglio's turn comes up again.
Meanwhile, Steve Pearce returned to the outfield Tuesday at Triple-A Buffalo, hitting a three-run home run in the process.
Pearce is expected to play the outfield again tomorrow for the Bisons and should be ready to rejoin the big club to kick off their seven-game road trip Thursday.
UP NEXT: RHP Anibal Sanchez (3-0, 1.93) vs. LHP J.A. Happ (8-3, 3.48) on Wednesday, 12:37 p.m.
VLAD JR. WATCH: Out since June 6 with strained patellar tendon in left knee, Vladdy Jr.'s Double-A slash line stands at .407/.457/.667 with 11 home runs and 55 RBI in 53 games. He's currently at the team complex in Dunedin and scheduled to be re-evaluated during the first week of July.​