The Mitchell Report: Great start for Estrada, rough finish as Jays' slide continues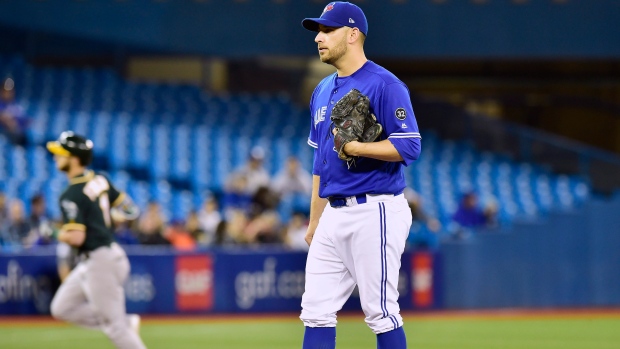 Marco Estrada allows three earned runs on seven hits but also strikes out six as the Blue Jays drop their second straight game to the Oakland Athletics 3-1 at Rogers Centre on Friday night. TSN Baseball Reporter Scott Mitchell provides his key takeaways from the game:
GAME 45, MAY 18: ATHLETICS AT JAYS
RESULT: 3-1 loss
RECORD: 22-23
STREAK: L2
1—Estrada turns in quality start but has rough finish
Through six innings, Marco Estrada was as good as he's been all season, holding the Oakland Athletics to one run on a solo homer off the bat of rookie Dustin Fowler, the first of his career.
While Estrada came out for the seventh and quickly got the first two batters he faced, the A's then bashed three straight doubles, scoring a pair, to grab a 3-1 lead and leave Estrada on the hook.
Overall, Estrada allowed six doubles and the bomb, which is a lot of hard contact, but on the other hand, he didn't walk anyone and struck out six.
To the surprise of no one, Estrada's best offering was his changeup, getting the A's to swing through it nine times on 42 pitches.
The quality start dropped his ERA from 5.32 to 5.15 heading into his next turn Thursday against the Los Angeles Angels.
2—Garcia latest loss for Jays rotation
Prior to the game, starter Jaime Garcia was placed on the 10-day DL with left shoulder inflammation, joining Marcus Stroman on the sidelines as the Jays encounter even more trouble trying to figure out how to get their rotation on the right track.
They'll now be forced to turn to Sam Gaviglio on Saturday, followed by Joe Biagini in Garcia's spot Sunday in the series finale against the A's.
Coming into Friday's game, the Jays rotation was sporting the second-worst ERA in baseball at 5.58, a far cry from what was expected coming into the season.
Deck McGuire was recalled, and while manager John Gibbons said it isn't a piggyback situation, the right-hander will provide long-man insurance over the weekend.
Considering Garcia's ERA is a ghastly 6.28, this might not be a bad thing.
3—Another A's starter injured early
After watching starter Andrew Triggs leave Thursday's series opener in the third inning due to nerve irritation in his forearm, lightning struck twice for the Athletics on Friday when Brett Anderson walked off the mound while warming up for the bottom of the second inning.
The oft-injured lefty, who had a one-month stint with the Jays to finish out 2017, motioned to his throwing shoulder when met by manager Bob Melvin, and it was later announced as a left shoulder strain.
It hasn't seemed to affect the A's, as they've won the first two games of the series.
4—Hernandez still sidelined by back issue
The Jays have gone without one of their most productive hitters through the first two games of the Oakland series as outfielder Teoscar Hernandez is still dealing with some back tightness that first appeared following Wednesday's game in the rain in New York.
Hernandez worked out on the field prior to the game to test his back, and Gibbons is hoping he'll be ready to return to the lineup at some point this weekend.
Hernandez's absence has given Dwight Smith Jr. two straight starts in left field.
After having way too many outfielders about a month ago, the Jays are suddenly shorthanded, missing Steve Pearce (left oblique), Randal Grichuk (right knee) and now Hernandez.
5—Urshela chips in
Suiting up in his fourth game in a Jays uniform, Gio Urshela made his third start as the shortstop, and then chipped in offensively, picking up his first RBI of the season on an opposite field jam shot that gave his club a short-lived 1-0 lead in the fifth inning.
Urshela and Richard Urena, who struck out as a pinch-hitter in the seventh inning, are the shortstop combo until Aledmys Diaz (ankle) returns to health.
UP NEXT: LHP Sean Manaea (5-4, 2.35) vs. RHP Sam Gaviglio (1-0, 2.08) on Saturday, 1:07 p.m.
VLAD JR. WATCH: In the first game of Friday's double-header against the Binghamton Rumble Ponies, Guerrero Jr. notched his Eastern League-leading 16th double of the season and also added a single to finish 2-for-4 with his 41st RBI. Vladdy then went 0-for-2 with a walk in the nightcap, leaving his average at .407.​