The Mitchell Report: Grichuk bloodied as Jays split series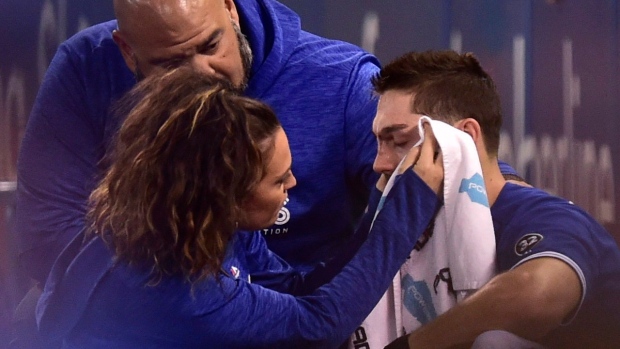 The Toronto Blue Jays beat Cleveland 6-2 on Sunday to split their four-game series, but they lost outfielder Randal Grichuk to a freak, but frightening injury.
---
GAMES 140-143, SEPT. 6-9: INDIANS AT JAYS
RESULT: Series split 2-2
RECORD: 65-78
STREAK: W1
---
Grichuk involved in scary collision with security guard
On Saturday, right fielder Randal Grichuk bashed a pair of home runs to give him 21 on the year, the third-straight season he's reached the 20-homer plateau.
Sunday did not go quite as smoothly for the 27-year-old.
In the top of the fourth inning, Grichuk chased a fly ball down the right-field line into foul territory and collided with a Rogers Centre security guard trying to get himself and his stool out of the way.
Grichuk was hit in the face by the metal stool and the security guard was sent flying as the Jays outfielder slid into him.
The freak play had Grichuk down on the turf for a few minutes, eventually walking off as trainers attended to him with a towel on his face.
A large welt between his eyebrows was evident and the Jays later said Grichuk was being evaluated for a concussion and having imaging done on this face.
He was not made available to the media for obvious reasons, but manager John Gibbons and teammate Justin Smoak both said they think Grichuk dodged a bullet.
It's the latest bump in a tumultuous season for Grichuk, who started the year ice cold, but has turned things around to hit .279/.327/.548 with 19 home runs since June 1.
Another good sign is the notorious free swinger has cut his strikeout rate by more than five percentage points this season, all the way down to a reasonable 24.4 per cent.
That, combined with an .875 OPS over three-plus months, has earned him another chance to author that long-awaited breakout season in 2019.
---
Opposing teams not happy with Donaldson deal
Another layer of intrigue was added to the already-odd Josh Donaldson trade when Ken Rosenthal of The Athletic reported Sunday that "a number of rival clubs" were unhappy with how the deal went down.
Rosenthal wrote that the Boston Red Sox, New York Yankees and Houston Astros — three teams on a playoff collision course with J.D. and the Cleveland Indians, surprise, surprise — either voiced displeasure or asked for clarification from Major League Baseball on why the trade was allowed.
Apparently, opposing teams were just as confused as fans and media about how Donaldson, after weeks of non-updates, was suddenly able to get healthy enough to play a couple of rehab games in order to be traded before the Aug. 31 playoff eligibility deadline.
Just imagine what's going to happen if Donaldson, who's slated to be activated from the DL on Tuesday now that his left calf injury has sufficiently recovered, is a difference-maker in October.
---
Tellez has memorable first week in bigs
Rowdy Tellez experienced his first oh-fer Sunday, but the big first baseman can't complain too much about the way his first week in the majors went.
Slashing .444/.474/.944 through 19 plate appearances, Tellez racked up seven extra-base hits — six doubles, one homer — over his first five games.
After slashing .270/.340/.425 with 13 home runs in 112 games at Triple-A, Tellez's early comfort level with major-league pitching has been a pleasant surprise, but don't start pencilling him in as a building block just yet.
September baseball has a lot of smoke and mirrors to it and Tellez will have to continue to rake in order to push himself into the roster conversation next year.
With his father in town all week, Tellez, who lost his mother, Lori, last month to brain cancer, has been a welcome feel-good story in a season that has yielded very few of them.
---
McKinney getting on base at record clip
The second-longest active on-base streak in the majors continued Sunday when Billy McKinney punched a double into the right-field gap off Indians reliever Jon Edwards in the eighth inning.
His sixth double of the season ran his streak to 19 games, which trails only the Houston Astros' Alex Bregman's ridiculous 35-game on-base streak.
That streak includes McKinney's one game with the New York Yankees during the opening series of the season, but his 18-game run in a Jays uniform is tied for the second longest in franchise history, equalling Roy Howell's run back in 1977.
Handed regular playing time since being recalled in mid-August, McKinney is making the most of it and giving himself a leg up in what could be a crowded outfield battle next spring.
---
Young starters provide mixed bag of results
One day after Sean Reid-Foley was tagged for six earned runs over 4.2 innings in his fourth MLB start, Thomas Pannone did the opposite, holding the Indians to just four hits and two runs over 6.1 innings.
In his three starts, Pannone has now alternated between really good and really bad.
On Aug. 22, he was brilliant, spinning seven shutout innings against the Orioles at home.
In Baltimore six days later, Pannone was torched for seven earned runs and a pair of homers.
While Cleveland got to him for two more long balls Sunday, Pannone was able to keep the hard contact to a minimum and his fastball, which sits around 88 MPH, had some extra life on it, topping out at 92.1 MPH.
Pannone and Reid-Foley will continue to get turns as part of Gibbons' six-man rotation, one that will see Ryan Borucki, Aaron Sanchez and Sam Gaviglio take the hill in Boston when that series gets underway Tuesday.
---
UP NEXT: Boston Red Sox at Fenway Park
MONDAY: Off day
TUESDAY: LHP Ryan Borucki (3-4, 4.39) vs. LHP Chris Sale (12-4, 1.97)
WEDNESDAY: RHP Aaron Sanchez (4-5, 5.17) vs. LHP David Price (14-6, 3.57)
THURSDAY: RHP Sam Gaviglio (3-8, 5.52) vs. LHP Eduardo Rodriguez (12-3, 3.34)