The Mitchell Report: Jansen hits the ground running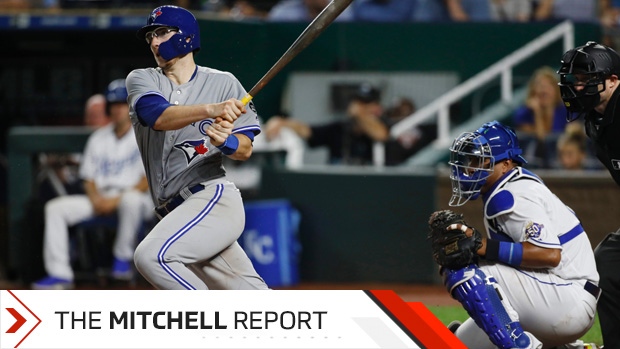 GAMES 118-121, AUG. 13-16: JAYS AT ROYALS
RESULT: Series split 2-2
RECORD: 55-66
STREAK: L1
1) Jansen finishes off productive debut series
Danny Jansen has hit the ground running, collecting hits in all three games he started during his debut series in Kansas City.
Not only did the 23-year-year catcher go 4-for-10 at the plate against Royals pitching, he also bashed his first MLB home run and drove in a pair of runs.
All in all, Jansen looked the part and there's no reason to believe that he won't continue to get the majority of the playing time behind the dish as the season winds down.
2) Path paved for Granderson trade
Mirroring exactly what the veteran outfielder went through last summer, Curtis Granderson cleared through revocable waivers earlier this week, according to The Athletic's Robert Murray, allowing Jays GM Ross Atkins to start the process of finding a match.
Since there was rumoured interest from the New York Yankees, Philadelphia Phillies, and Cleveland Indians at the July 31 deadline, there should be suitors for the 37-year-old veteran's services now.
While he's far from an everyday player at this stage of his career, Granderson has done exactly what Atkins brought him to Toronto to do this season, as he's slashing a productive .242/.339/.436 against right-handed pitching.
Don't expect any sort of significant return.
Last August, the New York Mets were able to land a Triple-A reliever in exchange for the Grandy Man.
3) Stroman ready to go after latest blister episode
Marcus Stroman continues to persevere through a blister on his right middle finger and has yet to miss a start.
Despite TV cameras showing a significant tear when he was fiddling with it in the dugout during his last start, a truncated five-inning outing Sunday against the Tampa Bay Rays, Stroman deemed himself ready to go for the series opener in the Bronx on Friday.
The blister, however, has not affected Stroman's results.
Over his last two starts, both shortened by the blister problem, Stroman has allowed just one earned run over 12 innings, dropping his ERA to a season-low 5.03.
4) Donaldson trending in the right direction
Out since May 28 with a left calf strain, Josh Donaldson was finally able to run the bases Wednesday in Dunedin, one of the final steps he needed to clear before he heads out on a rehab assignment.
Not only is that rehab assignment key in terms of getting the 32-year-old third baseman back on the field, it will also help kickstart the process of trading him.
Injured players cannot be placed on revocable trade waivers until they're on a rehab assignment, and the Jays will want to make that happen as soon as possible.
Even if that happens in the next few days, it will leave Atkins with just a little more than a week to find a trade partner if Donaldson clears, at the same time as it will only give contenders at brief glimpse at where the 2015 AL MVP's health is.
Donaldson is slashing a disappointing .234/.333/.423 in just 36 games this season.
5) Sanchez walks four in second rehab start
Aaron Sanchez made it through his second rehab start Wednesday, allowing one earned run over 3.2 innings with the High-A Dunedin Blue Jays as he continues to work his way back from a freak finger injury that's now cost him two months.
A theme all season long, Sanchez's control was erratic against the Jupiter Hammerheads, issuing four walks and striking out three.
Sanchez is expected to make a third rehab start early next week, before the Jays evaluate their oft-injured 26-year-old righty from there.
The hope is that Sanchez can return to the rotation for a string of starts in September, which would help send him into the off-season on at least a bit of a high note.
While there's currently no spot in the Jays rotation for Sanchez to slide into, there could be by the time he's ready, as contenders are sniffing around Marco Estrada ahead of the Aug. 31 waiver deadline.
UP NEXT: New York Yankees at Yankee Stadium
FRIDAY: RHP Marcus Stroman (4-8, 5.03) vs. RHP Lance Lynn (8-8, 4.46)
SATURDAY: RHP Sean Reid-Foley (0-1, 5.40) vs. RHP Luis Severino (15-6, 3.27)
SUNDAY: LHP Ryan Borucki (2-2, 3.29) vs. LHP J.A. Happ (13-6, 3.86)
VLAD WATCH: This is what Vladimir Guerrero Jr. considers a slump. Guerrero collected a pair of singles in Thursday's game against the Gwinnett Stipers, but he's just 3-for-17 over his past four games, which has dropped his Triple-A average to .353 in 15 games. Overall, Vladito is now slashing .393/.449/.661 for the season.