The Mitchell Report: Jays beat Nats with first shutout in more than 10 months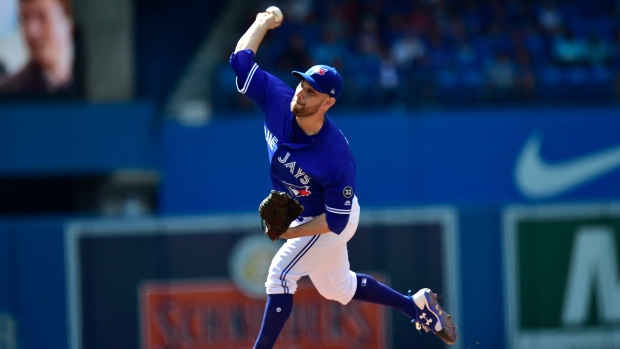 GAME 70, JUNE 16: NATIONALS AT JAYS
RESULT: 2-0 win
RECORD: 32-38
STREAK: W2
1—Jays record first shutout in more than 10 months
Marco Estrada and three relievers combined to blank the Nationals on Saturday, ending a streak of 117 games without a shutout. The last time the Jays pitching staff shut a team out was Aug. 10 of last year against the New York Yankees. The 117-game span between shutouts is a franchise record, besting the old mark of 85 games from Aug. 13, 2005 to May 16, 2006. While the Jays stunk up the joint in Tampa, they seem to have turned things around at home, as they've now won six straight at Rogers Centre to sit 18-19, overall.
2—Estrada goes toe-to-toe with Nationals ace
With Max Scherzer on the mound for the Nats, you knew runs would be hard to come by, and that's exactly how it played out Saturday afternoon.
But while Estrada may not have matched Scherzer's dominance — the Nats ace struck out 10 over six innings — he went toe-to-toe with him in his own way, allowing just three hits, walking two, and striking out four over 6.2 innings.
Estrada's now won consecutive starts for the first time this season, and his 109 pitches Saturday were a season high.
The shutout shaved Estrada's ERA from 5.09 all the way down to 4.66, a mark he'll take to the mound with him next Friday in Los Angeles.
3—Homers on back-to-back days for Travis
Devon Travis' season has featured more drama than production, but the 27-year-old second baseman is once again heating up with the mercury.
After homering in the series opener against the Nats on Friday, the notoriously slow starter came into Saturday slashing .296/.345/.463 in 58 plate appearances since being recalled from Triple-A, and he helped that line with his second home run in as many days.
The two-run shot off Scherzer in the fifth inning was his fourth of the season, as he turned on a hanging, 85.3-mph slider and sent it into the first deck above the bullpen in left field.
With a roster retool coming and a number of young middle infielders moving through the system, Travis is essentially auditioning over the next three and a half months and attempting to prove he's part of the future.
4—Loup punches out slumping Harper
It's been a quiet series for Bryce Harper, who went 0-for-4 with a pair of strikeouts Saturday.
Harper came to the plate as the tying run in a key at-bat in the eighth inning, but Aaron Loup froze him with a fastball on the outer half to end the inning.
Harper's struggles extend far beyond Saturday.
Since the start of June, Harper came into the day slashing just .179/.289/.256 with one home run and 18 strikeouts in 11 games.
5—Pearce starts rehab assignment in Buffalo
Out since May 3 with an oblique injury, outfielder Steve Pearce kicked off his rehab assignment at Triple-A Buffalo on Saturday as the DH.
Pearce is slated to DH again tomorrow and then play the outfield next week with the Bisons.
The Jays would love to see him return and catch fire heading into trade season.
With the two year, $12.5-million contract expiring at the end of this year, Peace could pique the interest of a contender looking for a right-handed platoon bat.
His injury issues are obvious, but Pearce has always been productive against southpaws, sporting a .293/.341/.537 slash line against lefties this season.
UP NEXT: RHP Tanner Roark (3-7, 3.63) vs. RHP Sam Gaviglio (2-2, 3.66) on Sunday, 1:07 p.m.
VLAD JR. WATCH: Out since June 6 with strained patellar tendon in left knee, Vladdy Jr.'s Double-A slash line stands at .407/.457/.667 with 11 home runs and 55 RBI in 53 games. He's scheduled to be re-evaluated during the first week of July.