The Mitchell Report: Jays' bullpen escapes with a win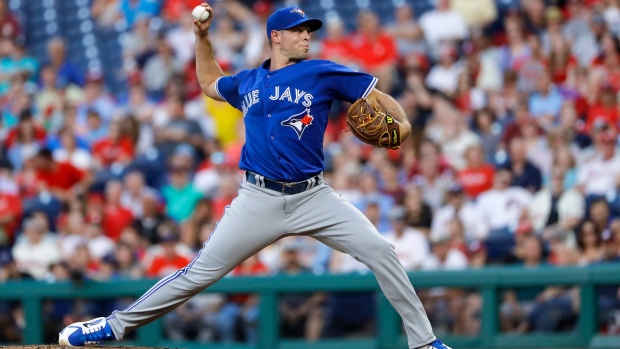 Righty Sam Gaviglio allows just three hits over six innings and Ryan Tepera earns the save as the Toronto Blue Jays hold on to edge the Phillies 6-5 in their first meeting in nearly two years Friday night in Philadelphia. TSN Baseball Reporter Scott Mitchell provides his key takeaways from the game:
GAME 51, MAY 25: JAYS AT PHILLIES
RESULT: 6-5 win
RECORD: 24-27
STREAK: W1
1—Bullpen almost implodes again
Manager John Gibbons decided to shake up his bullpen pecking order Friday in the series opener at Citizens Bank Park, but it almost didn't matter.
After watching Tyler Clippard implode in two of his last three outings, Gibbons used the veteran changeup artist in the eighth, followed by Ryan Tepera in the ninth.
Clippard made things as interesting as he could, allowing one run on a pair of hits to turn a 6-3 lead into a two-run advantage, before Tepera almost completed the implosion.
Tepera gave up a pair of one-out hits and then allowed the Phillies to cut the lead to one when he sent a wild pitch to the backstop.
Despite proceeding to load the bases from there on a pair of walks, Tepera gathered himself to retire the next two batters and escape with his first save of the season.
The entire bullpen is an adventure right now.
2—Another excellent outing for Gaviglio
Coming into the night hoping to build off his last start, an outing that saw him spin 5.1 innings of scoreless baseball, Sam Gaviglio did just that.
The soft-spoken righty allowed three runs over six innings, scattering just three hits and striking out six.
The only negative was that he did give up a pair of home runs, one to opposing pitcher Zach Eflin in the third inning, and then a two-run shot to Carlos Santana in the sixth.
Over his first 15.2 innings in a Jays uniform, Gaviglio is 2-0 with a 2.30 ERA.
3—Productive night for middle of the order
Dormant for the most part during their 1-6 homestand, Jays bats showed some life Friday with 11 hits.
Most of the production came from the middle of the order, as 3-4-5 hitters Justin Smoak, Teoscar Hernandez and Yangervis Solarte all enjoyed multi-hit nights and combined to go 6-for-12 with four RBI.
Smoak's seventh home run of the season, and third in the month of May, helped the Jays put up a three-spot in the fifth inning to jump out to what would be a needed 6-0 lead, thanks to the bullpen.
All but one player in the Jays' starting lineup — sorry, Gio Urshela — had a hit, including Gaviglio.
4—Biagini available out of the bullpen (for now)
With Jaime Garcia cleared to start Saturday in his return from left shoulder inflammation, soon-to-be 28-year-old Joe Biagini has been shifted to the bullpen.
Whether that's temporarily or permanently remains to be seen, but that's where he was to start the nine-game road trip through Philly, Boston and Detroit.
If Garcia looks as good as Gaviglio did in the series opener, the Blue Jays could decide to return Biagini to Triple-A to continue starting, or they could finally view him as a long-term way to mitigate the loss of Roberto Osuna, whose absence is starting to really show over the past week.
5—Tulowitzki ready to start running
After spending his last couple of weeks running on an anti-gravity treadmill, Troy Tulowitzki has been cleared to start actual running.
You know, on the ground.
The 33-year-old shortstop was recently checked out by the surgeon who removed bone spurs from both heels in April, and everything went well.
Tulowitzki won't be back in Toronto anytime soon, but he's at least on the right track after almost 10 months of inactivity.
UP NEXT: LHP Jaime Garcia (2-3, 6.28) vs. RHP Aaron Nola (6-2, 2.37) on Saturday, 4:05 p.m.
VLAD JR. WATCH: Since they went deep back-to-back in the seventh inning of the Fisher Cats' 10-3 win over the Hartford Yard Goats (Colorado Rockies) on Friday, we'll make this the Bo Bichette and Vladimir Guerrero Jr. update. While Bichette finished 3-for-4 with his third home run of the season to push his average to .261, Vladdy Jr. continues to toy with Double-A, enjoying another 3-for-4 night, which included his 10th homer. He's now hitting a scorching .435 on the year.​