The Mitchell Report: Jays get series sweep with trade deadline looming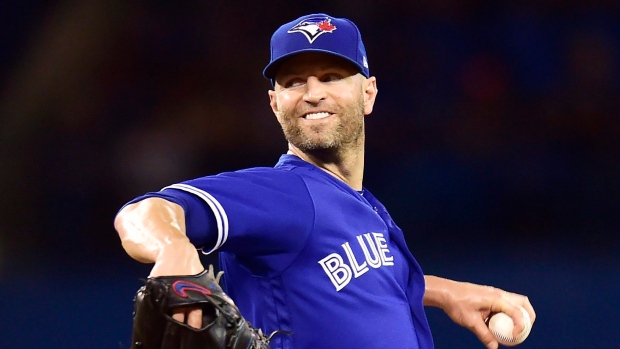 J.A. Happ struck out nine in a win over the Baltimore Orioles Sunday in what will likely be his final start at home. TSN Baseball Reporter Scott Mitchell provides his key takeaways from the series against the Orioles.
GAMES 96-98, JULY 20-22: ORIOLES AT JAYS
RESULT: Jays sweep series 3-0
RECORD: 46-52
STREAK: W3
1—Happ strikes out nine in final start in Toronto
Unless something goes unexpectedly sideways, J.A. Happ made his final start in Toronto on Sunday, spinning five solid innings against the lowly O's.
With the Jays on the road in the south side of Chicago next weekend and then Oakland during the trade deadline, Happ could get another start, but it definitely won't be at Rogers Centre.
After striking out nine and walking no one, Happ said he wasn't thinking about the fact it could be his last time on the mound in Toronto in a Blue Jays uniform, but he did admit he's looking forward to being done with the uncertainty that the last few weeks have brought.
Happ, who now holds a 4.18 ERA, wasn't perfect, as he got his pitch count up in the fifth inning, but he induced 19 swings and misses, showing the excellent stuff that has a host of contenders eyeing the 35-year-old lefty ahead of the trade deadline.
There's no shortage of suitors.
The New York Yankees, Seattle Mariners, Chicago Cubs, Milwaukee Brewers and Philadelphia Phillies have all checked in, and some expect teams like the Boston Red Sox and Arizona Diamondbacks to enter the fray once teams really start to finalize their deadline plans.
2—Rehab start for Estrada, bullpen day for Jays
Sidelined since July 3 with a strained left glute, Marco Estrada threw a bullpen Saturday but wasn't given the green light to return Monday, which was the original plan.
Instead, Estrada will throw for Double-A New Hampshire, with the Jays trying to get through Monday's series opener against the Minnesota Twins with a bullpen day.
Right-hander Luis Santos will draw the start, and manager John Gibbons believes his bullpen is in good enough shape to piece things together for a day.
If Estrada reports feeling good following Monday's rehab start, he'll be able to take the mound once prior to the trade deadline.
Even if that happens, Estrada is likely an August waiver trade candidate at best.
The veteran is carrying a 4.72 ERA this season in 17 starts, but he's coming off a month of June that saw him pitch to a 2.35 mark in five starts.
3—Interesting weekend for back end of bullpen
On Friday, Tyler Clippard was handed the ninth inning and fell apart, allowing a pair of homers to turn a 7-4 lead into an extra-inning ballgame.
On Saturday, Gibbons turned to Ryan Tepera, who locked down the save with a clean ninth.
But with Tepera, who's coming off a stint on the DL due to elbow soreness, having thrown two consecutive days, Gibbons was forced to go back to Clippard in the ninth on Sunday.
This time, Clippard rebounded to toss a clean inning of his own to earn his seventh save of the season.
It's hard to say which of the many bullpen pieces the Jays have to trade will be of interest to contenders in an overflowing relief market, but there's a chance Clippard, Seunghwan Oh, John Axford and Tepera could all draw varying degrees of interest.
4—Gurriel returns after passing concussion protocol
Getting kicked in the head last weekend in Boston put a temporary halt to Lourdes Gurriel Jr.'s best stretch in the big leagues, but the 24-year-old picked up where he left off Sunday.
Prior to being placed on the seven-day concussion DL, Gurriel was in the midst of a 9-for-18 run that saw him post multi-hit outings in four-straight games to raise his average over 40 points to .270.
After getting through the concussion protocol steps, Gurriel kept that hot streak going with a line drive single to the opposite field in his first at-bat Sunday against right-hander Andrew Cashner, and then he stroked another base hit in the eighth to make it five-straight multi-hit games.
The second baseman finished 2-for-3 and he now holds a .281/.299/.412 slash line over his first 32 games in the big leagues.
5—Solarte a name to watch in trade talks
We know GM Ross Atkins has put his expiring contracts on the market.
But things get interesting over the next nine days when it comes to a few of his controllable assets, Yangervis Solarte being one of them.
After bashing the go-ahead home run in the eighth inning Sunday to put him one away from equaling his career high of 18, Solarte's value may never be higher.
With the ability to play second base and third base, as well as club options for 2019 and 2020 at $5.5 million and $8 million, respectively, the 31-year-old could draw interest.
UP NEXT: Minnesota Twins at Rogers Centre
MONDAY: LHP Adalberto Mejia (0-0, 9.00) vs. RHP Luis Santos (0-0, 7.88)
TUESDAY: RHP Jose Berrios (9-7, 3.68) vs. LHP Ryan Borucki (0-1, 3.52)
WEDNESDAY: TBA vs. TBA​