The Mitchell Report: Jays suffer ugly loss in series sweep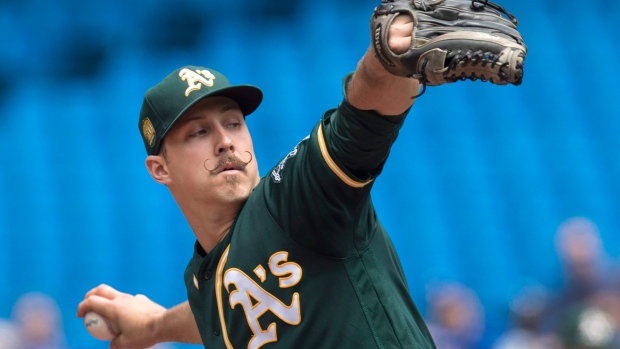 Daniel Mengden was solid over seven innings as the Oakland Athletics beat the Toronto Blue Jays 11-2 at Rogers Centre for a four-game sweep. TSN Baseball Reporter Scott Mitchell provides his key takeaways from the game:
GAME 47, MAY 20: ATHLETICS AT JAYS
RESULT: 9-2 loss (A's sweep series 4-0)
RECORD: 22-25
STREAK: L4
1—Sweep has Jays reeling heading into key series
Finding positives from a four-game sweep at the hands of the Oakland A's is just about impossible.
From the bats to the bullpen to the gloves, the Jays played poorly in just about every facet imaginable, and their fate was deserved.
How bad was it?
You have to go back 17 years to May 31-June 3, 2001, against Boston to find the last time the Jays were swept in a four-game set at home.
Overall, the last time they were swept away in a four-gamer in any venue was May 14-17, 2015, in Houston.
It won't get any easier for the Jays finishing off this seven-game homestand, as the Los Angeles Angels, a legitimate post-season contender, come to town for three games on Tuesday to face a Jays team that's on the ropes as the month of May comes to a close.
2—Donaldson slumping in every way possible
Josh Donaldson is out of sorts.
Not only does his arm still look to be less than 100 per cent, but his bat is cold, and on Sunday, the glove let him down.
Donaldson was charged with one fielding error, but should've been charged with another, and also made a late throw that allowed an A's runner to reach.
At the plate, he struggled through another 0-for-3 day, before being replaced by Gio Urshela late in the blowout.
Donaldson came into the day slashing .173/.279/.250 with no home runs and 19 strikeouts in his last 14 games, and his average now sits at .214 on the season.
For what it's worth, Donaldson said after the game that he feels great, health-wise, and he just hasn't been getting many good pitches to hit.
But Donaldson wasn't the only Jays defender struggling Sunday.
The Jays committed four errors — the most they've made in a game since May 18, 2014, in Texas — and that doesn't count a handful of other misplays that could've been scored differently.
Shortstop Richard Urena booted a pair of balls in the dirt, and right fielder Teoscar Hernandez dropped a fly ball.
It wasn't pretty.
3—Morales makes mound debut in blowout
After begging manager John Gibbons to let him pitch in a blowout, Kendrys Morales finally got his wish, entering the game in the ninth inning and shutting the A's down.
Morales topped out at 86.9 mph, spun a few breaking balls, and issued just one walk in the scoreless frame.
On an otherwise dark day, Morales was the bright spot, and he even went 2-for-4 at the plate, one of them a single rocketed off the right field wall.
Morales said when he pitched back in Cuba in 2002-03, he was topping out around 91-92 mph.
4—Biagini still can't get deep into the game
With the way the Jays rotation has performed this season, it's easy to find positives.
Sure, Joe Biagini couldn't make it out of the fifth inning and allowed four runs (only three were earned), but at least he didn't get completely blown up.
Biagini scattered six hits and there was a lot of hard contact at times, but his defence certainly didn't help him and this outing is tied with his first one of the season for the fewest earned runs he's allowed.
Both Gibbons and Biagini said they're seeing progress, and without many legitimate options to turn to, he's likely going to be given even more time to work the kinks out.
5—Third base coach gets a day off
Third base coach Luis Rivera, who has drawn the ire of fans in recent weeks for a handful of ill-advised sends that resulted in runners being thrown out at the plate, was away from the team Sunday for his son's graduation.
That forced the Jays to send quality control coach Mike Mordecai out to coach first base, flipping Tim Leiper over to third.
When asked about Rivera's calls to send runners in recent days, Gibbons has staunchly defended his third base coach, saying he does a lot of good things for the club.
UP NEXT: Los Angeles Angels starter TBA vs. LHP J.A. Happ (5-3, 4.15) on Tuesday, 7:07 p.m.
VLAD JR. WATCH: After being rained out Saturday evening, Guerrero Jr. came out of the gates hot in Sunday's double dip, going 4-for-4 with three singles and the walk-off home run to win it, his eighth bomb of the season. In the second game, Vladdy added a single and an RBI in a 10-8 loss to the Binghamton Rumble Ponies.