The Mitchell Report: Reid-Foley's impressive cameo might be over
One night after lasting four innings in his sixth big-league start, Jays manager John Gibbons admitted it might have been Sean Reid-Foley's last of the season. TSN Blue Jays Reporter Scott Mitchell has more.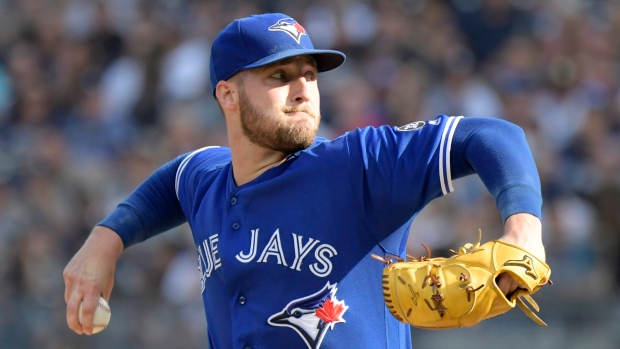 1—Reid-Foley's impressive cameo might be over
One night after lasting four innings in his sixth big-league start, Jays manager John Gibbons admitted it might have been Sean Reid-Foley's last of the season.
It's not that he doesn't deserve another turn, it's more about preserving the 23-year-old's arm and watching his innings as the season winds down.
The right-hander has pitched to a 5.40 ERA in 30 innings with the Jays, but when you factor in his rise from where he started the season in Double-A, Reid-Foley is now at 159.2 innings.
Last year, the 6-foot-3, 220-pounder tossed 132.2 innings in Double-A, a jump of 27 frames.
Reid-Foley's first taste of the majors has been a bit of a mixed bag.
He's walked too many (6.0 BB/9) and given up too many home runs (1.8 HR/9), but he's missed bats (11.1 K/9) and his slider has been lethal, holding batters to an .088 average and a .118 slugging percentage.
Gibbons said they'll debate whether to give Reid-Foley another start over the next couple of days.
2—Pannone runs quality-start streak to three
Tossing a third-straight quality start is impressive.
But even more impressive for Thomas Pannone is the opponents he's carved up to get to this point.
The 24-year-old lefty's three-start streak has included limiting the post-season-bound Cleveland Indians to two runs over 6.1 innings, followed by going seven strong with just two runs allowed against another playoff team in the New York Yankees.
On Saturday, Pannone shut down the feisty Tampa Bay Rays, a team that came into the day 19 games over .500, holding them to another two-spot over 6.2 innings.
Prior to the game, Gibbons talked about Pannone's 88-mph fastball being deceptive, also noting that the development of his curveball is going to be the key to where things go from here.
There have been many positives for the Jays in the month of September, and the performances of young starters like Reid-Foley, Pannone and Sunday's starter, Ryan Borucki, might top that list.
Paulino could make impact in 2019 bullpen
Once a top-50 prospect as a starter, David Paulino's future now resides in the bullpen.
Acquired in the Roberto Osuna trade with the Houston Astros, Paulino spent most of his minor-league days trying to work out the kinks in the rotation — including all seven of his appearances in the Astros organization this season being starts — but the Jays aren't going down that road with the 24-year-old.
After recovering from a minor shoulder issue, Paulino's tenure in Toronto has started with four relief appearances, and the club believes he could be a weapon out of the bullpen down the road.
Armed with a four-pitch mix that includes a four-seam fastball, curveball, slider and changeup, the 6-foot-7 right-hander will compete for a bullpen spot next spring.
3—Pompey only player on 40-man not to get recall
There are currently 38 players on the Blue Jays roster.
A 39th, injured infielder Brandon Drury, resides on the 10-day DL.
That's 39 names from the 40-man roster in Toronto to finish out the season.
The only player not to get a call?
Mississauga product Dalton Pompey, a player once handed the starting centre field job and seen as a key building block.
These days, he's an afterthought.
A change of scenery might do the oft-injured 25-year-old some good.
In 41 games at Triple-A this season, Pompey slashed .255/.325/.393 with four home runs and eight stolen bases.
4—Stroman, Drury done for the season
The club hasn't made anything official, but Marcus Stroman (blister) and Brandon Drury (fractured left wrist) are both shut down for the season.
Stroman's last start came Sept. 3 when he was lit up for six hits and four earned runs over 1.2 innings by the Rays, while Drury's Jays debut lasted just eight games before he hit the disabled list Aug. 7.
Drury arrived as damaged goods in the J.A. Happ trade, as the Yankees originally diagnosed the injury as a bone bruise, not a fracture.
Both players suffered through multiple issues this season.
Stroman spent time on the disabled list with shoulder inflammation in the first half, and finishes with a career-worst 5.54 ERA.
Drury, meanwhile, played in just 26 games total as, in addition to the hand injury, he dealt with migraines and blurred vision, a situation he disclosed to the Yankees after being acquired from the Arizona Diamondbacks.
He slashed just .169/.256/.260 with one home run in 86 plate appearances this season.