The Mitchell Report: Trout homers, Estrada struggles as Angels top Jays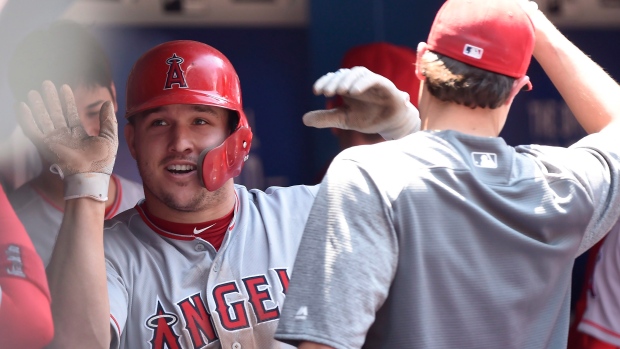 Marco Estrada struggled and the Angel bats did not let up as the Blue Jays lost the rubber match 8-1 to close out a difficult homestand where they went just 1-6. TSN Baseball Reporter Scott Mitchell provides his key takeaways from the game:
GAME 50, MAY 24: ANGELS AT JAYS
RESULT: 8-1 loss (Angels win series 2-1)
RECORD: 23-27
STREAK: L2
1—Jays finish homestand with just one win
A 1-6 homestand against a pair of AL West foes isn't what the Jays had in mind, but that's exactly the result after the Angels took the series rubber-match Thursday afternoon.
Each facet took turns letting the Jays down, too.
A bullpen that was worked hard early in the season has shown signs of cracking, while the starting pitching still hasn't been very good when J.A. Happ isn't on the mound.
The offence, however, is another big issue right now.
The Jays scored just 22 runs over the seven games, and 3.1 runs per game just isn't going to get you many Ws.
On Thursday, they managed just five hits and fell to 12-17 at home.
2—Estrada can't get out of fifth inning
After completing at least five innings in his last six starts, Marco Estrada failed to get out of the fifth on Thursday.
Estrada allowed four earned runs on seven hits, including four that went for extra bases, one of which was a solo home run off the bat of Mike Trout.
The big fly has been a serious problem for Estrada, who's now given up 12 home runs this season, the fourth-most in baseball.
Estrada now owns a 5.40 ERA and is scheduled to go again on Tuesday night in Boston.
3—Smith Jr. gets first look in leadoff spot
Making the first start of his career in the leadoff spot, left fielder Dwight Smith Jr. also popped his first-career home run, lofting a 361-foot shot that left his bat at 96 mph and landed in the Angels' bullpen in right field.
Smith has taken advantage of his limited playing time, slashing .318/.400/.591 and showing much improved pitch recognition from his first big-league cup of coffee last year when he struck out 10 times in 29 plate appearances.
In this go-round, he's whiffed just three times in 25 trips to the plate.
4—Tropeano silences Jays' bats
The struggling Jays never mounted a threat against Angels starter Nick Tropeano, scoring just one run on four hits over seven innings.
It's the type of performance the Jays would love to get out of one of their own starters.
Tropeano struck out six and needed only 92 pitches to carve up the Jays, who will now head to Philadelphia to face a rotation carrying the fourth-best ERA in baseball at 3.27, followed by a three-game set in Boston against the eight-best rotation (3.54 ERA).
5—Loup dominates Ohtani
There haven't been many positives in the bullpen to talk about lately, but Aaron Loup's dominance of Shohei Ohtani is tiny bright spot.
The lefty struck out the Japenese phenom in his only assignment Wednesday, and then did it again Thursday as he went 1.2 scoreless innings to lower his ERA to 3.05.
Ohtani looked helpless against Loup in both at-bats.
UP NEXT: RHP Sam Gaviglio (1-0, 0.93) vs. RHP Zach Eflin (1-0, 1.56) on Friday, 7:05 p.m.
VLAD JR. WATCH: The Fisher Cats lost 4-3 on Thursday, but nobody cares because Vladimir Guerrero Jr. went 2-for-4 once again, hitting his ninth home run of the season to push his average to .427 on the year.