The stakes are high in NBA Playoffs tripleheader on TSN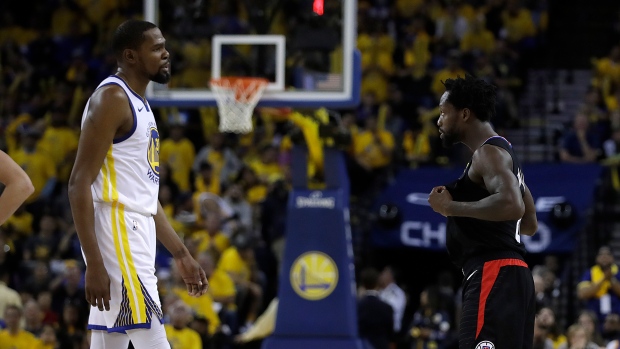 The first round of the NBA playoffs kick back into high gear on TSN with a tripleheader of Game 3 matchups featuring a trio of series deadlocked at 1-1 as the action shifts to the home of the lower-seeded teams.
The night will start in Brooklyn where the Nets will entertain the Philadelphia 76ers with acrimony already developing between the two teams.
After Ben Simmons struggled mightily in a 111-102 Game 1 loss, scoring just nine points, last season's Rookie of the Year bounced back in a big way with a triple-double to the tune of 18-10-12 as the Sixers claimed a free-scoring Game 2, 145-123.
What was the difference? Well, Jared Dudley thinks it was him. After being Simmons' shadow during Game 1, an injured Dudley missed out on Game 2 with a calf ailment.
You can catch Game 3 between the Philadelphia 76ers and Brooklyn Nets LIVE at 8 p.m. ET/5 p.m. PT on TSN1/3/4, on TSN Direct and streaming on TSN.ca.
On Wednesday, Dudley offered a critique of the second-year Australian's abilities and why he was able to neutralize him.
"Ben Simmons is a great player in transition," the 33-year-old Dudley said. "And once you get him into halfcourt, he's average. He's a player that when he picks up speed he's a load, so you have to [send] guys with him. It's taking away his easy baskets."
Naturally, that didn't sit too well with Simmons, who's had his run-ins with other players through the media over his short career, most notably with his ROY challenger from last season, the Utah Jazz's Donovan Mitchell, over what actually constituted a "rookie."
"That's coming from Jared Dudley," Simmons said disparagingly of his new rival's remarks. "Come on."
Dudley is expected to return for Game 3, so this battle should continue on Friday night at Barclay Center.
For the 22nd straight year, the NBA Playoffs will be live from San Antonio when the Spurs host the Denver Nuggets. After the Spurs stole homecourt with a 101-96 victory in Game 1, the Nuggets stormed back in Game 2 for a 114-105 win, led by a 21-point fourth-quarter explosion from Kitchener, Ont.'s Jamal Murray.
You can catch Game 3 between the Denver Nuggets and San Antonio Spurs LIVE at 9 p.m. ET/6 p.m. PT on TSN5, on TSN Direct and streaming on TSN.ca.
Prior to the final frame, Murray had a scant three points and couldn't hit from seemingly anywhere.
"Everybody told me to stick with it," Murray said. "I don't think I scored a field goal until the fourth. I just stuck with it. They all believed in me."
The second-seeded Nuggets, who had the NBA's best home mark at 34-7, are confident that they can hold off the seventh-seeded Spurs, but are well aware that even the best teams can be upset.
This postseason marks the 25th anniversary of one of the biggest upsets in NBA history when the top-seeded Seattle SuperSonics, with a 2-0 lead in the best-of-five series, lost three straight and fell to the eighth seed in the Western Conference. The team that beat them? These very same Nuggets.
One other note from this series has been the play of DeMar DeRozan. After 18 points in Game 1, DeRozan took control on offence for the Spurs in Game 2, pouring in a game-high 31. Despite criticism about his inconsistency in the postseason throughout his career, DeRozan has averaged 22.0 PPG in 53 career playoff games.
The Staples Center in Los Angeles will play host to Game 3 between the Clippers and the defending champion Golden State Warriors, who are coming off of an historical defeat in Game 2, blowing a 31-point lead – the largest in the playoff history – in a shocking 135-131 loss.
If that weren't enough to shellshock the Dubs, they must move forward without centre DeMarcus Cousins, who tore his left quad in Game 2. Though the injury doesn't require surgery, it will end Cousins's playoffs.
You can catch Game 3 between the Golden State Warriors and Los Angeles Clippers LIVE at 10:30 p.m. ET/7:30 p.m. PT on TSN1, on TSN Direct and streaming on TSN.ca.
The Warriors will now turn to veteran centre Andrew Bogut to shoulder the load in the middle of the frontcourt.
"I think Bogut will do a great job," Warriors coach Steve Kerr said on Wednesday. "He's been great since he's been back. This is why we got him – just in case. We were hoping we wouldn't have any injuries obviously but that was our most vulnerable position."
There is also the Patrick Beverley problem that Kerr and Kevin Durant must contend with in Game 3. The veteran point guard is one of the great pests of the NBA and had no trouble baiting Durant into getting thrown out of Game 1. He also helped limit him to only eight field-goal attempts in Game 2.
Calling the Clippers' locking down of him a "gimmick defence," Durant elaborated on what exactly it is that Beverley and Doc Rivers' team is doing to him.
"I got a pest Patrick Beverley who's up underneath me, who I could definitely shoot over the top and score every time if it's a 1-on-1 situation," Durant said on Wednesday. "But we've got a guy that's dropping and helping and then we got another guy that's just sitting on me waiting on me to dribble the basketball. If I put the basketball on the floor I can probably make 43 per cent of my shots if I shoot them like that, but that's not really going to do nothing for us for the outcome of the game because we've got a nice flow."
In order to get back on track, Kerr will need Durant to start shooting the ball more and stop falling into Beverley's traps.