The surprising development of the Florida Panthers
Travis Yost says there's an argument to be made that Gerard Gallant's Florida Panthers are the ultimate X-Factor as it pertains to the Eastern Conference playoff race.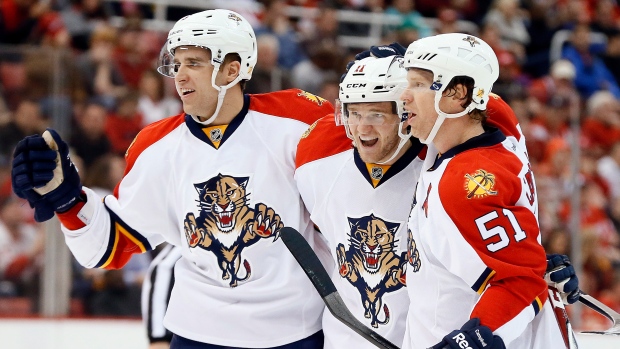 I think there's a reasonable argument to be made that Gerard Gallant's Florida Panthers are the ultimate X-Factor as it pertains to the Eastern Conference playoff race, primarily due to the fact that most prognosticators had this team suffering through another tough year as their young team develops.
The fact that Florida has suddenly developed into a quality playoff hockey team has to be particularly disheartening to the couple of Eastern Conference teams who are hanging on for dear life right now. In particular, Toronto. One of the biggest – and really, only – endorsements one can give Randy Carlyle's team right now is that there isn't a whole lot of competition outside of the top eight with the ability to throw them from a potential playoff berth. Beyond that, the Maple Leafs once again stand on shaky ground.
What makes Florida particularly fascinating as a contender is that it seems as though everything's come together at the right time. Obviously, competition isn't ripe right now in the East. But, they've benefited greatly from a combination of faster-than-expected player development and the venerable Roberto Luongo in net, who is able to bail the team out of trouble when things get dicey.
As to this Panthers team as a whole – let's first look at the team historically. It's important to remember that this isn't a team that's really ever been 'above average' for a lengthy period of time, especially in the analytics era (2007-Present).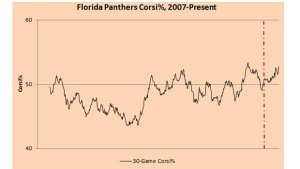 The red vertical dotted line signifies the beginning of the 2014-2015 season. Notice two things – one, Florida has been able to control possession this season consistently above break-even, and two, it's verging towards becoming the highest point of success for this team in the last eight years.
The laundry list of young talent keying this run is something to behold: Aleksander Barkov, Nick Bjugstad, Jonathan Huberdeau, Vincent Trocheck, and Aaron Ekblad are something of a 'big five', all at or under the age of 22. The amazing thing? Every one of these players is in the black as it pertains to Corsi%. In a league where being successful at an extremely young age is quite difficult, the Panthers are making it look relatively easy.
The play of these youngsters is one of the big reasons why they've picked up 40 points in 33 games, and the team's collective underlying numbers continue to spike. To illustrate that climb, let's look at the Eastern Conference by Score-Adjusted Corsi% over the last twenty games, to see how the Panthers stack up recently against other playoff hopefuls.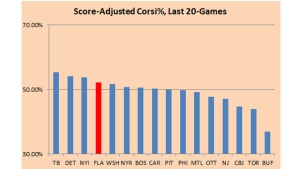 Over the last twenty games, only three Eastern Conference teams – Tampa Bay, Detroit, and the New York Islanders, all of whom feel like playoff locks – control play better at 5-on-5 than Florida. And, perhaps more importantly, they sit significantly ahead of other teams fighting for those final playoff berths.
But, as we know all too well, simply controlling play at 5-on-5 does not guarantee victory. Goaltending is a crucial part of hockey, and even quality possession teams – like, say, this year's Minnesota Wild! – have extreme difficulty winning with ugly save percentages.
Here's where the acquisition of Roberto Luongo comes into play. We know, based on years and years of performance, that Roberto Luongo is a great goaltender. So, whereas a .927 EVSV% for one team may be a bit suspicious, it's not for Florida – a team with a goaltender as established as any in the National Hockey League.
Luongo, over the past few years, is just about as good as it gets in the crease. A quick comparison of his performance against other regular goaltenders in the Eastern Conference highlights just how awesome he has been. (Note: bubble size indicates ice-time; the larger the bubble, the more the goalie has played).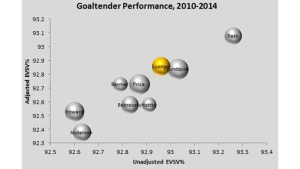 Henrik Lundqvist is universally accepted as one of the league's three best goaltenders. His performance since 2010 is virtually indiscernible from that of Roberto Luongo.
So, here's what we have in Florida: a team that generally out-shoots the competition, backstopped by one of the league's better goaltenders. In a league where sixteen of thirty teams reach the post-season, and barring something drastically changing, that's generally going to be enough to get beyond game eighty-two.
Oh, and one more thing. The Cats currently have over $10-million in cap space, which makes them a team to watch both on and off of the ice over the next few months.